01-04-2022, 08:48 AM
New Mercedes-Benz Vision EQXX is hyper-efficient EV saloon
EQXX shows how EV range can be boosted without simply installing bigger batteries
Aerodynamically optimised concept previews future EVs with trick tech and 620-mile range
The new Mercedes-Benz Vision EQXX concept is claimed to set new energy efficiency benchmarks to get a "real-world range of more than 620 miles" – 167 more than the EQS flagship EV. 
The rakish compact saloon is the latest in a long line of design studies made public by Mercedes-Benz. It has been conceived to challenge existing EV principles in a programme aimed at hatching new ideas, processes and innovations for adoption on upcoming EVs. But asked what would stop Mercedes putting the radical concept itself into production, chief technology officer Markus Schäfer told Autocar: "Basically, not much. You can have a spin with it in a few months."
Schäfer noted that the concept is a running and driving protoype, which even uses a version of the existing MBUX infotainment system. It uses a prototype of Mercedes-Benz's next-generation EV drivetrain, with innovative battery technology that will enter production in 2024.
"There are many, many elements of the vehicle which are very close to moving into series production," he added. "We can look at the shape and form of the vehicle, and we are very close to the series car that we are going to see in 2024 with all the ingredients to make it one of the most efficient electric vehicles that exists". 
Chief designer Gordon Wagener confirmed that the EQXX is "at least one segment smaller" than the recently revealed EQE, hinting at its eventual production potential as an electric equivalent to the C-Class, which Autocar has previously reported is due around that time, likely using the all-new MMA platform for compact and mid-sized EVs. 
Despite conforming to all existing German roadworthiness regulations and providing seating for four adults, the EQXX is claimed to set a new record for aerodynamic efficiency, with a drag rating of below 0.18Cd. This compares with the 0.20Cd of the EQS. 
The development programme for the EQXX is said to have seen key contributions from UK-based Mercedes-AMG High Performance Powertrains, which builds the complex V6 turbo-hybrid powertrains for Mercedes' Formula 1 cars. 
In developing the one-off prototype, Mercedes not only focused on the drivetrain but also challenged its designers and engineers to rethink other key areas of EV development. 
Central to the outstanding range achieved by the rear-wheel-drive saloon is its high efficiency rating, which at more than 6.2 miles per kWh is almost double that of the Mercedes-Benz EQS on the WLTP test procedure – a figure that Mercedes says is the equivalent of more than 282mpg in a petrol car. 
It has been achieved using a newly developed motor and a bespoke lithium ion battery, which, at just under 100kWh, has a lower overall energy capacity than the EQS – the longest-range version of which lasts 453 miles. 
Using cells supplied by Chinese battery specialist CATL, the 1750kg EQXX's new battery is also claimed to be "50% the size" of the EQS's 107.8kWh pack and is some 35% lighter, at about 495kg. 
Mercedes said that the new high-silicon-content battery operates at more than 900V and features "active cell balancing" – a process whereby energy is drawn evenly from each cell for enhanced efficiency at a cruise.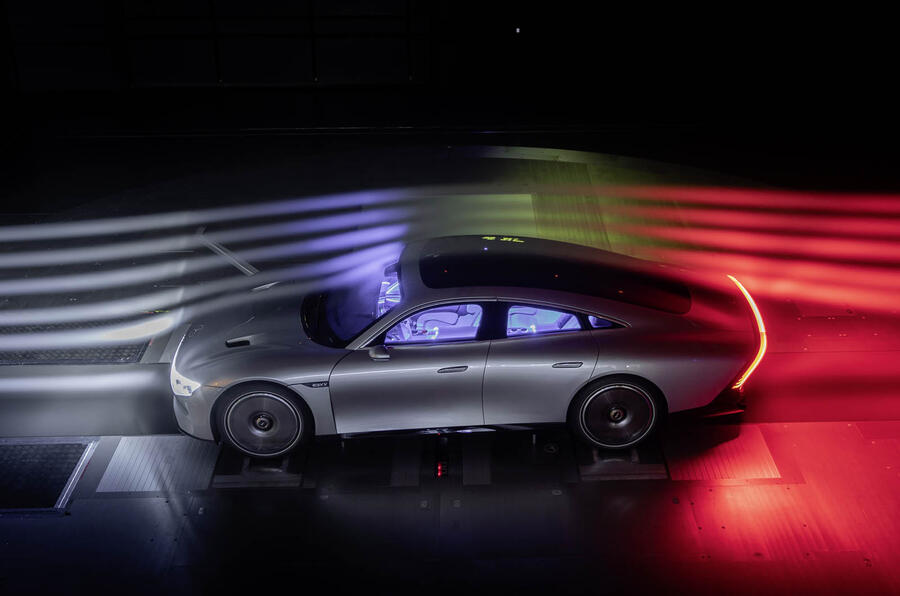 Further developments include a new thermal system that is said to save significant energy by using warmth from the drivetrain to heat the cabin, while a plate underneath the car takes advantage of airflow along the underbody for cooling. 
Mercedes claims that up to 95% of the energy from the EQXX's battery ends up at the wheels. By comparison, ICE vehicles typically operate at around 30% efficiency. 
Rated at 201bhp, the EQXX's compact new motor is mounted within a lightweight carbonfibre subframe at the rear and drives through a single-speed transmission. 
It's controlled by a power electronics system based heavily on that of the Mercedes-AMG One hybrid hypercar, albeit with a new generation of silicon carbides for what Mercedes said is a significant reduction in losses compared with the systems in place on EQ-badged models today.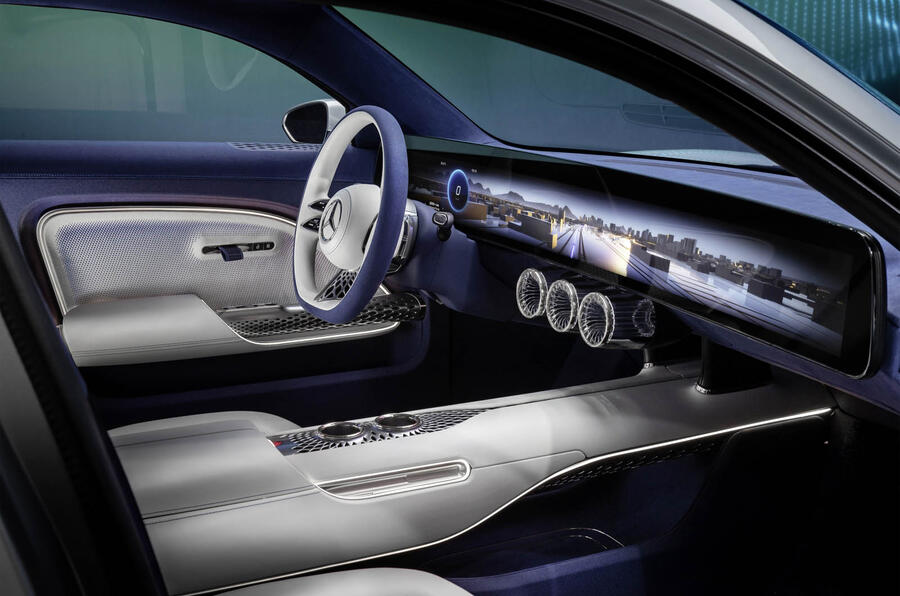 "Electric range sounds easy but is a complex technical challenge," said Joerg Bartels, head of the EQXX engineering team. "The easiest way is to put a bigger battery in the car. However, this leads to diminishing returns, due to size and weight. With the Vision EQXX, we've managed to push efficiency to a new level." 
The front of the EQXX takes on a sports car-like appearance, with a low leading edge, a short bonnet, shapely fenders and large wheelhouses. The signature Mercedes grille is replaced by a star graphic incorporated within the front bumper, while the digital LED headlights are conjoined by a full-width LED light bar. 
To save weight and ensure maximum aerodynamic efficiency, Mercedes' star logo is stencilled into the bonnet. A so-called 'air control system' channels air through the front section of the new concept car using a series of air curtains and air breathers. 
Mercedes has also fitted the EQXX with what it calls 'ninth-generation' exterior mirrors and newly developed, aero-optimised wheels.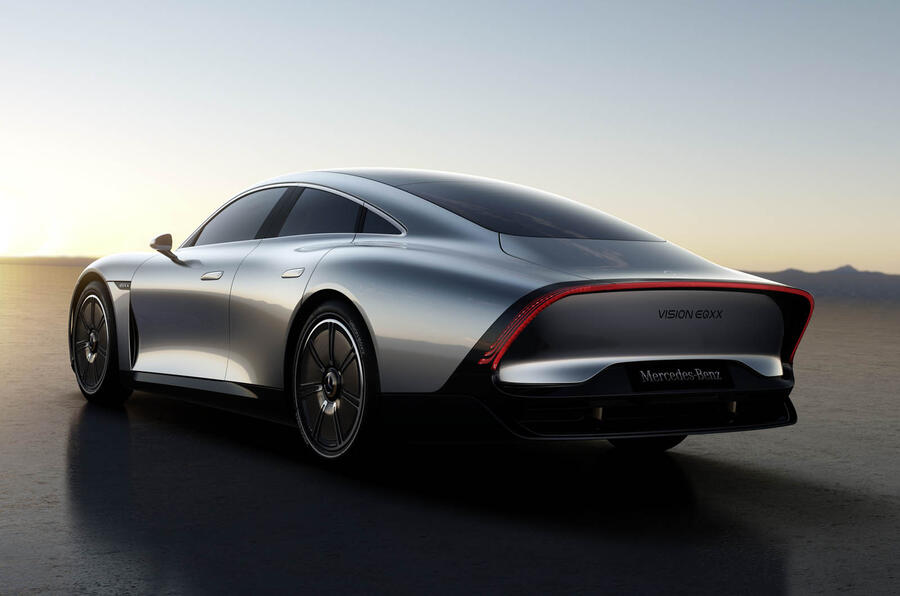 The EQXX's A-pillars are set well forward, because there are no drivetrain components in the nose section, and its wheelbase stretches to 2800mm, maximising space in the cabin. 
At the rear, the EQXX draws on the active aerodynamic developments first explored by Mercedes on the Concept IAA of 2015. Included is a diffuser element that automatically extends at speed to smooth airflow and reduce turbulence at speed. 
The EQXX is also slightly tapered, with a rear track that's 50mm narrower than the front track.
Other future-looking Mercedes concepts
2015 F015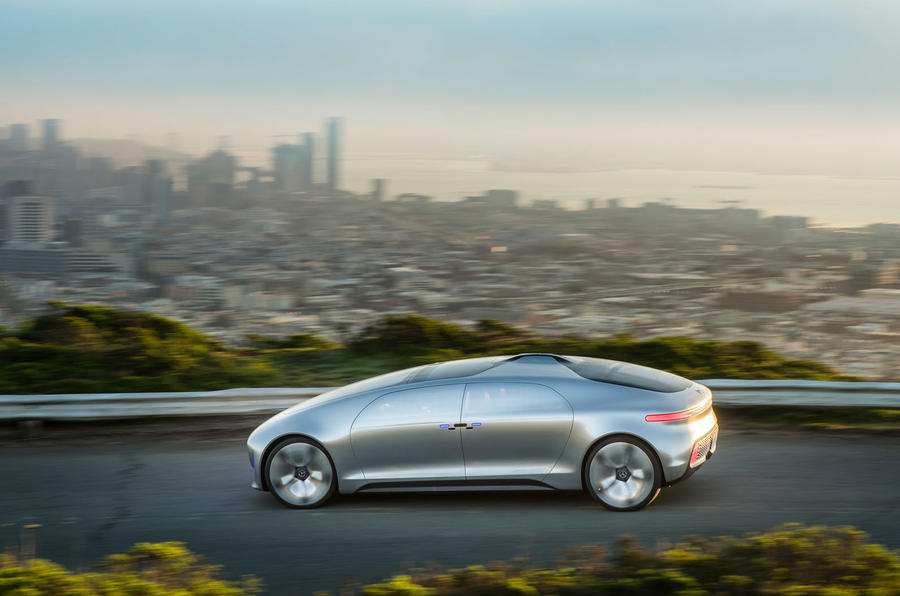 This luxurious hydrogen fuel cell EV showed Mercedes' vision for living spaces that could drive with no human input. It took a step closer to that goal last month, gaining approval for level-three autonomous technology to be deployed in the S-Class and EQS on German autobahns. 
2018 EQ Silver Arrow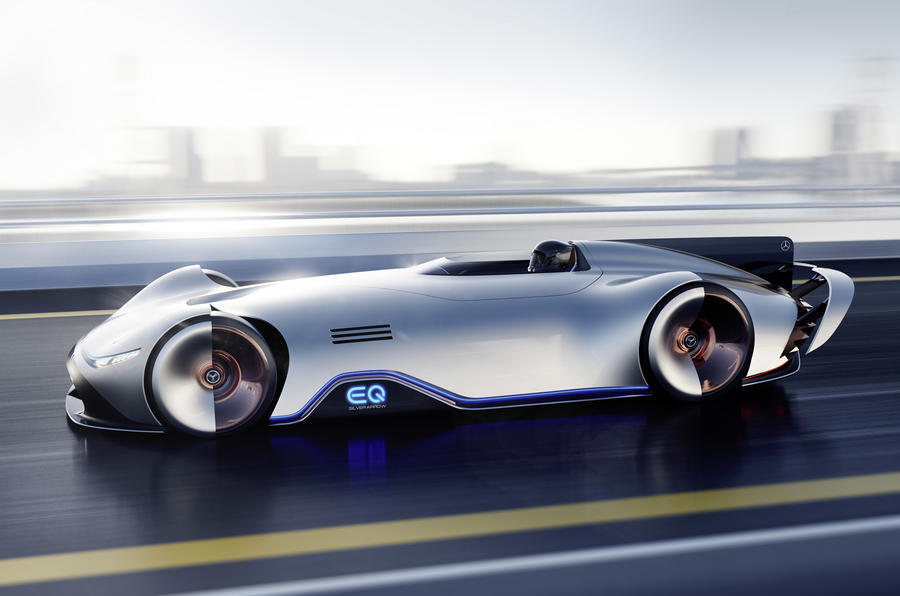 This 738bhp single-seater was influenced by the Silver Arrow racers of the 1930s but also embodied Mercedes' enhanced focus on aerodynamics as it embarked on an EV product offensive. Like the EQXX, it featured an extending rear diffuser to improve airflow at speed. 
2020 Vision AVTR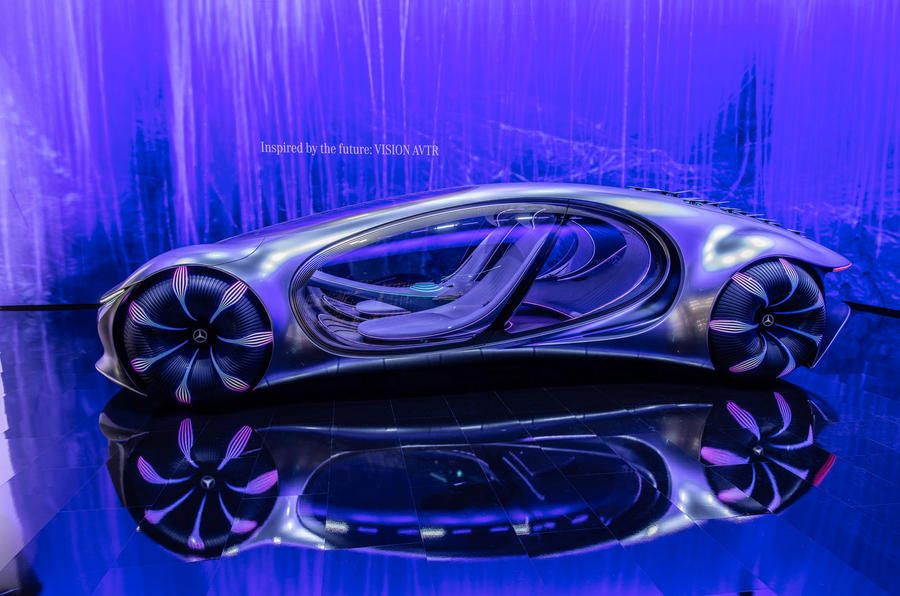 Developed with the makers of hit sci-fi film Avatar, the AVTR explored the relationship between machines and humans. Spherical tyres and open sides were its most outlandish cues, but active aero and holographic infotainment more closely previewed real-world tech.
Additional reporting by Felix Page
https://www.autocar.co.uk/car-news/new-c...-ev-saloon