09-02-2022, 04:30 PM
New Panamera and Taycan to lead Porsche's EV future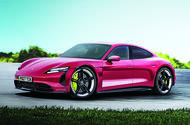 Porsche's new era to bring next-generation saloon duo plus four more EVs
Porsche is preparing to introduce a second generation of the wildly successful Porsche Taycan EV – and it will be twinned with an electric version of the Porsche Panamera as part of a new "electrified luxury" plan under which up to six electric models will be ushered in by the end of this decade.
Both new EVs are based on a sporting version of the Volkswagen Group's Scalable Systems Platform (SSP), which is being developed by Porsche.
The so-called SSP Sport structure adopts the backbone of the SSP architecture set to be used by other more volume-orientated electric Volkswagen Group models. However, it will be combined with what have been described to Autocar as "Porsche-specific modules".
Among the key architectural developments being pushed by Porsche for the new SSP Sport platform is a low cabin floor, courtesy of a slimline battery pack, and rear footwells (or foot garages, as they're known at Porsche) similar to those of the J1 platform used by the existing Taycan. 
These are also described as being crucial to providing the electric Panamera with packaging comparable with the current Panamera's and a low centre of gravity for optimised dynamics.
The electric Panamera will be sold alongside today's combustion-engined and plug-in hybrid Panamera models, which are based on Porsche's MSB platform. The engineering for the electric Panamera is twinned with that of the new Taycan, due out in 2027.
The Panamera EV is still in the infancy of development, but the suggestions are that it will have a wheelbase and overall length similar to those of the existing long-wheelbase Panamera sold in China (3100mm and 5199mm).
That would place it in direct competition with the likes of the Mercedes-AMG EQS 53 and Lucid Air in terms of size.
By comparison, the existing Taycan has a 2900mm wheelbase and runs to 4963mm in length and the follow-up is likely to be similar – so the two models will be differentiated in size.
Although the electric Panamera and second-generation Taycan will be based on the SSP Sport platform, the new electric Porsche Macan and Porsche Cayenne SUVs will use the Premium Platform Electric (PPE), which Porsche is developing with Audi.
The first car based on the SSP Sport platform, though, will be Porsche's recently announced seventh model line: a five-metre-plus, seven-seat SUV that's confirmed to make its debut "around the middle of the decade".
Codenamed K1 (see right), it's scheduled for production at Porsche's Leipzig factory in Germany.
That's also the site that Porsche sources tip to receive the contract to produce the Panamera EV. The upmarket electric liftback is set to offer the choice of either a single or dual-motor drivetrain.
It will also gain a further-developed 800V battery with what has been described to Autocar as more energy-efficient cell technology and a higher-silicon-content anode than that used by Porsche today.
"We're targeting higher-margin segments in particular and aim to tap into new sales opportunities in this way," said Porsche CEO Oliver Blume on the decision to build on the success of the Taycan with an electric version of the larger Panamera.
The two new electric Porsche models will share key structural, drivetrain and chassis components as well as a newly developed electrical architecture that's designed to support level-three autonomous driving functionality, 5G-enabled digital features and an operating system developed in partnership with the Cariad software division of Porsche's parent company, the Volkswagen Group.
The electric Panamera will be sold alongside a facelifted version of the existing second-generation model, which will be launched in 2023. It's planned to be in production until 2030 on an extended model cycle, according to Porsche sources, providing customers with the choice of traditional ICE, plug-in hybrid or electric power, depending on the market and regulatory framework.
The new zero-emissions Panamera is set to receive similar styling to its ICE and PHEV siblings. This approach mirrors that of the Macan and Cayenne, which are set to go electric in 2024 and 2025 respectively.
"There will be some unique design elements within the front and rear ends," said a highly placed Porsche source. "However, the core Panamera design will be the same for both." At this early stage, it's unclear whether Porsche plans to mirror the strategy of the existing Panamera and Taycan by offeringtwo distinct body styles – liftback and estate – for its latest electric model.
As with the current Taycan, Porsche is expected to launch a full range of electric Panamera variants, with a single-motor, rear-wheel-drive Panamera and S as well as dual-motor, four-wheel-drive 4S, GTS, Turbo and Turbo S.
https://www.autocar.co.uk/car-news/new-c...-ev-future