02-08-2023, 12:45 AM
New Pininfarina CEO confident of firm's future success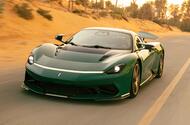 The company plans to build up to 150 examples of the Battista
Italian coachbulder is "becoming more robust" as it readies for milestone Battista production, says Paolo Dellacha
Automobili Pininfarina is a "company that's growing" and "becoming more robust", according to its newly-appointed CEO.
Paolo Dellacha has been promoted from his current role of chief product and engineering officer and succeeds Per Svantesson, who is retiring. He has previously held roles at Ferrari and Maserati, and joined Pininfarina in 2018.
"We're still a start-up, but we're getting more robust," he told Autocar. "We have achieved many milestones. 2022 was a very important year. We finally brought the Battista to the final phase of development, and produced and developed the first car to deliver to the first customer in October."
Dellacha was responsible for the development of the £2 million Battista supercar in his previous role. He confirmed that three Battistas had been delivered to customers, two in the US and one in Europe, but none yet in the UK. "Very soon for the UK," he said, "but it's left-hand drive only." 
The company plans to build up to 150 examples of the Battista, and can build them at a rate of one every two weeks. They are built by hand in Turin, and there are six stages to production allowing six cars to be in build at any one time. Dellacha said the company did not discuss sales figures, including how many of the 150 had been sold, but all of the current and imminent build slots were filled.
The immediate focus of the company remained on the Battista, said Dellacha, and ensuring that the car is "very reliable" and easy to use. "The car is designed to last, to be reliable and to have a higher level of durability," he said. 
Beyond the Battista, there are plans to expand, but Dellacha did not discuss specifics. "We want to be among the leaders of the electric luxury segment," he said. "We set a milestone of that with [the] Battista and we are there. We want to be the best of the best for design and performance and also all-round attributes like the customer journey and ergonomics of the car.
"We're fully focused on [the] Battista, but working on the future. New products will devote the same level of care and attention as Battista and have the same focus on exclusivity and rarity. 
Dellacha said the Automobili Pininfarina brand has excellent awareness among the firm's target customers, and had been well received in the upper-echelons of the industry. He also said the company had the full support of parent firm Mahindra & Mahindra, and the pair were "making exciting plans for the future. It's a good collaboration". 
The company now employs 115 people across two sites: two thirds its design, engineering and manufacturing facility in Turin, and one third at its Munich office. "Strategically Munich is good as it gives access to expert technical partners and talent," Dellacha said.
https://www.autocar.co.uk/car-news/new-c...re-success