06-13-2022, 12:04 PM
New Plasan Wilder is groundbreaking mid-engined armoured vehicle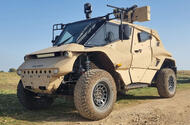 Wilder can carry four soldiers inside, cargo on external rear bed
Radical light armoured vehicle features separate trailer for EV propulsion and attack helicopter-style cabin
Israeli company Plasan has revealed a groundbreaking light armoured vehicle with a mid-mounted engine and an attack-helicopter-style cabin.
The Wilder, designed by Briton Nir Kahn, moves away from the trend for protected military vehicles to grow ever bigger by accommodating four soldiers and a useful pick-up load bay into a footprint similar to that of the modern Jeep Wrangler.
Kahn and the engineers in Sasa have thrown out the military-vehicle rulebook.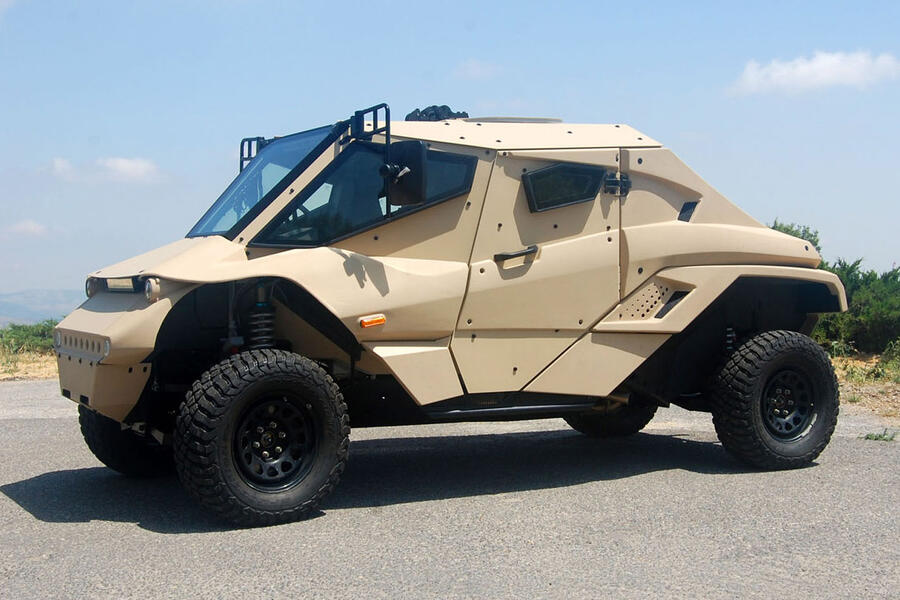 Taking inspiration from off-road buggies, they've mid-mounted the engine and gearbox in a tubular subframe, which is hung off a monocoque 'kitted hull', with a second subframe supporting the front suspension.
"The Wilder is like an Apache attack helicopter on wheels," Kahn said.
Key elements of the design are Plasan's All Terrain Electric Mission Module (Atemm), a fully robotic two-wheel trailer that can hitch on to provide electric drive; plus fully integrated remote-driving technology with planned future upgrades to Level 4 autonomy and battery-electric powertrains.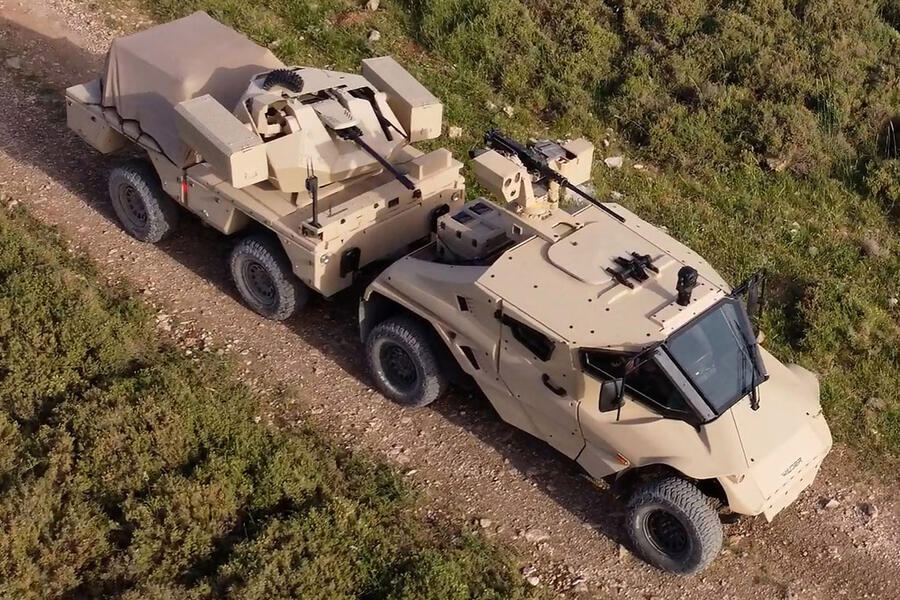 "Self-driving in the battlefield environment is very different to civilian autonomy," said Kahn. "The challenges are very different: the vehicle can go anywhere, but there's no infrastructure, like white lines for guidance."
The Wilder or some of its technology might yet find a place in the British Army, since Plasan is one of several companies competing in Project Thesius, a field trial of autonomous technology to replace manned vehicles for the final mile of transport into hostile environments.
UK-based Horiba MIRA has already won contracts to supply unmanned self-driving Viking 6x6 vehicles, similar to Plasan's Atemm, to the British Army for trials.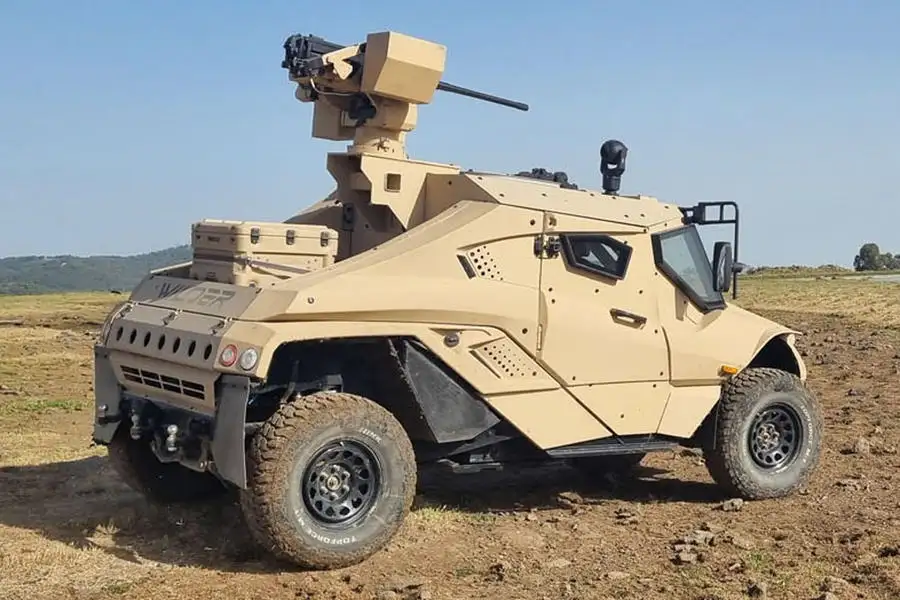 Although the Wilder can be operated remotely (and in future in autonomous mode), it can also be conventionally driven into combat with four soldiers in its hull (resistant to rifle bullets), while its relatively light weight of 4.5 tonnes and compact footprint make it airportable by Chinook helicopter.
Power comes from a 159bhp 2.8-litre Cummins turbodiesel engine, mated to a ZF eight-speed automatic gearbox, driving both axles and capable of taking it to a limited 75mph.
When linked to the rigidly mounted Atemm (which makes manoeuvring easier for untrained drivers), the Wilder can draw power from it in three modes: Power (for pushing), Eco (a hybrid model to extend range) and Regeneration (to recharge the battery pack).
"We're working on machine-learning that will know the route and switch between modes automatically for the best mission performance," Kahn added.
Under the skin
Attem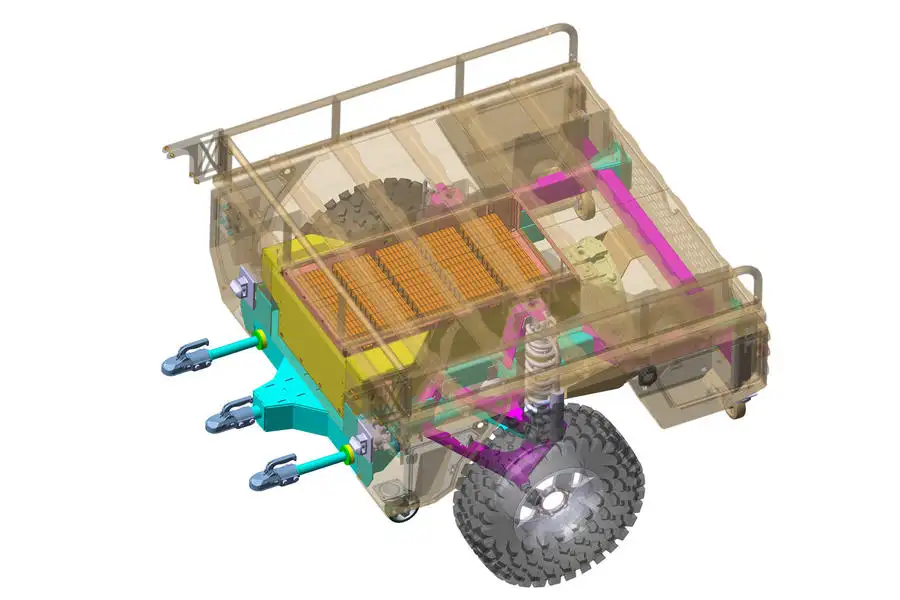 Built around a 47kWh battery and a 34bhp, 738lb ft electric motor, the Atemm can drive the Wilder forwards or backwards. When coupled to a second Atemm, it can operate silently as a 4x4 autonomous weapons platform.
Lower body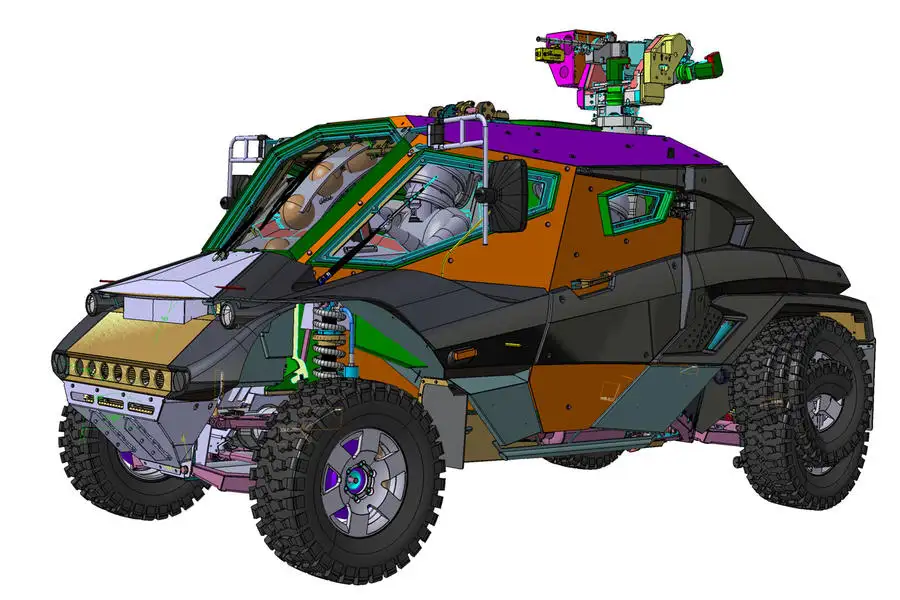 Plasan's monocoque body of Stannag 2-rated composite armoured panels and bulletproof glass weighs 1500kg, has a roomy interior accessed by a pair of wide-opening doors and supports both the front and rear subframes.
Packaging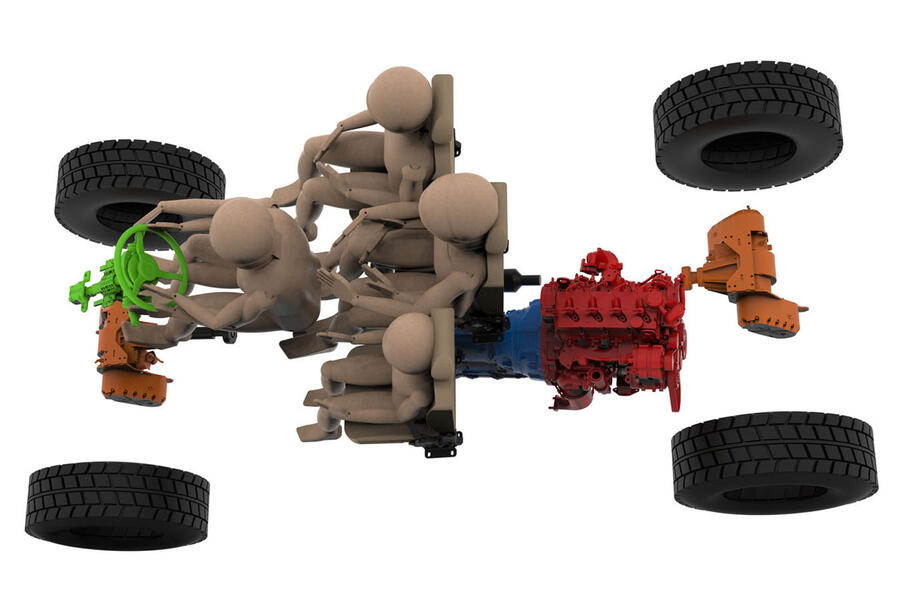 The Wilder places the passenger compartment, with its one-plus-three seating and helicopter-like driver visibility, at the front of the vehicle, with the engine amidships, clearing space above the engine for a useful loadbay.
Front suspension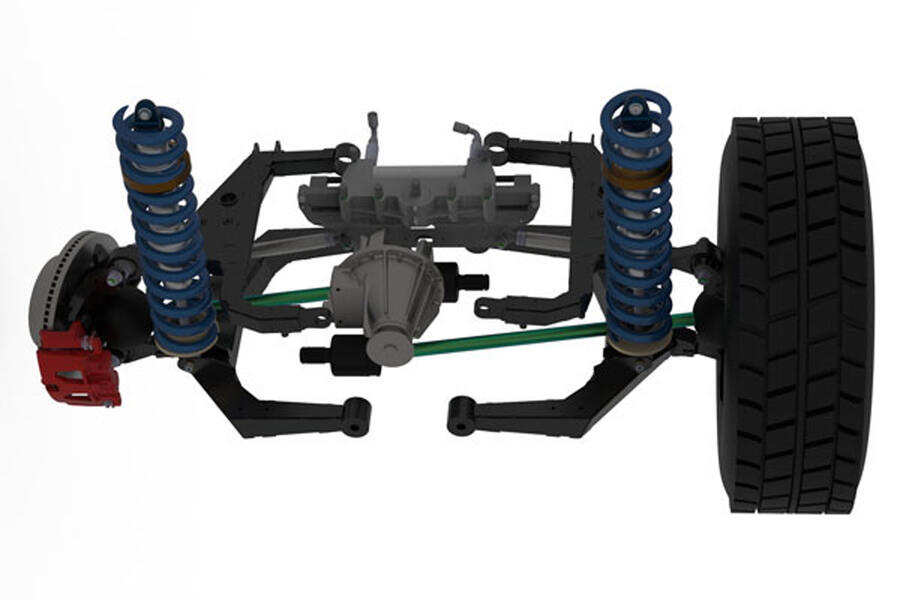 The front end gets the same wishbone set-up as the rear to reduce costs and simplify assembly. It's also shared with the Atemm to ease spare-part support and maintenance. The steering is electrohydraulic, the turning circle 15 metres.
Rear suspension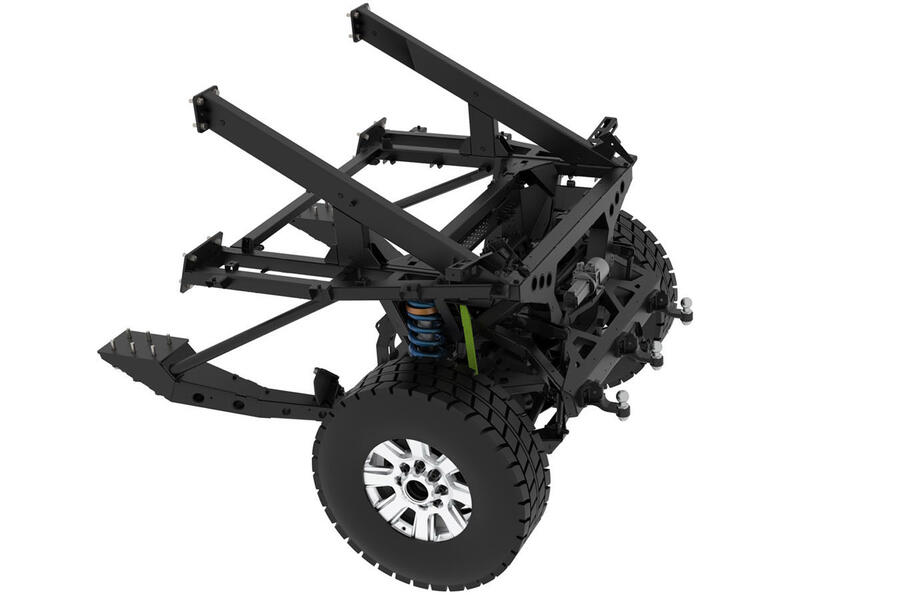 The double-wishbone rear suspension has very long (370mm) travel, possible because of patented 'crosslinked' driveshafts. It's fabricated from simple tubes to allow for easy setting up of local assembly. Rear-steering is optional and aimed at manoeuvrability in urban and forested areas.
Q&A: Nir Kahn, global vehIcle design director, Plasan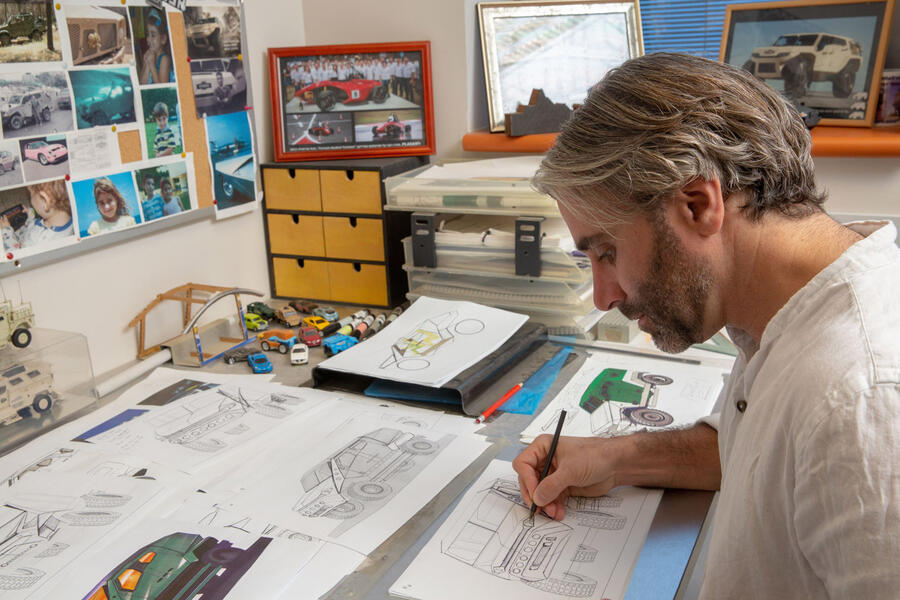 How did the Wilder concept start?
"Light armoured vehicles are on a trend to grow in size and weight. Most are approaching eight tonnes, and that's not light any more, so we could see a gap in the market for smaller vehicles."
How did the mid-engine format evolve?
"We played around with a couple of ideas, but right from the start, none of them had a front engine, because we knew our kitted hull could be the main structural component and that opened up the packaging."
And after that?
"Rather than add armour to a conventional chassis, like an afterthought, we approached the design as a blank-sheet of paper. We optimised the armour package first and added the automotive package around that, setting the engine low-enough down for a full-size flat bed over the back."
https://www.autocar.co.uk/car-news/new-c...ed-vehicle