04-21-2023, 06:30 AM
New Porsche Cayenne shows that super-SUVs can do subtle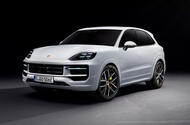 The new Cayenne majors on ergonomics, comfort and daily drivability
Stuttgart's heavily refreshed flagship stands out in a busy segment by virtue of its comparative restraint
Who'd have thought, when it launched 20 years ago, that the Porsche Cayenne would ultimately emerge as the most attractively understated and sensible of all the super-SUVs? 
In a segment saturated with opulence and flamboyance – favoured by the most characteristically extroverted of buyers – this subtly updated Cayenne feels like a breath of fresh air by virtue of its comparative restraint. 
Touting markedly improved powertrain stats and a techy, touchscreen-heavy cabin, the 2023 Cayenne is – sensibly – an exercise in not fixing what ain't broke, and not 'enhancing' what is already optimised. It's been usefully and noticeably upgraded - just enough to ensure it remains attractive and competitive up until the end of the decade.
Of course, it helps that it has been revealed at the same time as BMW has just introduced the markedly more garish 'Label Red' version of its similarly conceived BMW XM plug-in hybrid SUV, which will no doubt appeal to a wholly different clientele. 
There are versions of Porsche's flagship that will cater to the Lamborghini Urus crowd (most obviously the notfor-Europe Turbo GT) but that the latest Cayenne majors so overtly on ergonomics, comfort and daily drivability will only serve to curry more favour with the discerning Range Rover or Aston Martin DBX owner.
https://www.autocar.co.uk/opinion/new-ca...-do-subtle