06-21-2022, 05:12 AM
New Prodrive P25 is 400bhp Subaru Impreza 22B restomod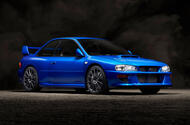 The Prodrive P25 is a remake of the iconic Subaru Impreza 22B
Stunning homage to 1990s poster car costs £552,000, weighs just 1200kg and gets from 0-62mph in 3.5sec
The legendary Subaru Impreza 22B – essentially a road-going version of the car that won the firm the Manufacturers' title in the 1997 World Rally Championship – has returned as an updated, ultra-exclusive and highly charged restomod. 
Called the P25, the new arrival is the work of Banbury-based motorsport outfit Prodrive, which successfully ran Subaru's works rally team from 1990 to 2008. 
It arrives 25 years on from the introduction of the Prodrive-engineered Impreza 22B, of which just 424 examples were built.
The British firm says it has "reimagined what this car would have been today". As such, while the styling is left largely untouched, the two-door saloon's construction and underpinnings have been almost completely re-engineered.
Just 25 examples will be produced, each using an original two-door Mk1 Impreza WRX as its basis and, while dramatically enhanced, staying true to the fan-favourite original's ethos. 
Each will be supplied with a UK numberplate and priced at £460,000 before taxes - so £552,000 including VAT. Around a year ago, one of just 16 original 22Bs officially imported to the UK in 1999 sold for £171,000 with 49,000 miles on the clock. 
So the new model keeps its charismatic, burbling flat-four boxer engine – but with capacity raised from 2.2 to 2.5 litres and with outputs boosted to more than 400bhp and 443lb ft.
It drives both axles through a six-speed semi-automatic gearbox with helical-cut gears, which Prodrive claims can shift gears in as little as 80 miliseconds. 
The engine at its core is Subaru's latest-generation boxer unit – as used by the naturally aspirated Subaru BRZ coupé and its Toyota GR86 sibling – but for this application paired with a monstrous Garrett motorsport turbocharger, a performance intercooler and a titanium-and-stainless-steel race exhaust supplied by Akrapovič. 
The engine's cylinder liners, pistons, con rods and valve train are all bespoke, too. 
Prodrive has kept the P25's kerb weight to less than 1200kg (the Alpine A110 weighs a little over 1100kg, for context) and says that "WRC-derived" launch-control and anti-turbo-lag systems help it sprint from 0-62mph in just 3.5sec. 
The low kerb weight is attributed chiefly to the use of replacement carbon-composite panels for the boot, bonnet, roof, sills, wing mirrors and quarter panels. Prodrive has also installed carbon door cards and a lighter, lithium ion battery. Less bulky race seats are an option.
The P25 rides on MacPherson-strut suspension front and rear and gains machined aluminium uprights that "can be tuned for camber and geometry optimised for the wider 1770mm track". 
AP Racing supplies the brakes: fearsome-looking 380mm vented discs at the front, clamped by six-piston callipers, and 350mm items at the back with four-piston callipers.
They're fronted by Prodrive's own 19in alloy wheels wrapped in sticky Bridgestone Potenza tyres.
Prodrive has yet to reveal the interior ahead of the P25's public debut at the Goodwood Festival of Speed this week but says the dashboard has been swapped for a "full-width high-definition multi-page display including a data logger".
It's not all rally-inspired, though: Prodrive has upholstered the cabin in a mixture of leather, Alcantara and carbon in what it says is a recreation of an "authentic late-1990s Impreza interior". 
The back seat is retained, but if any of the 25 buyers want a more purposeful two-seat proposition, it can be swapped for a partial roll cage. 
The exterior is less dramatically overhauled, but Prodrive has once again called on the services of Peter Stevens – designer of the 1997 Impreza rally car and various road-going Prodrive Imprezas – to refine the silhouette. 
Prodrive chairman David Richards said: "The iconic blue Subarus bring back memories of an extraordinary era of the WRC, and it was the Impreza 22B that brought this rally-car performance to the road. 
"By reimagining this car using the latest technologies and materials, the Prodrive P25 pays homage to its roots, and there will be little else able to match its performance on the open road.
"I therefore believe we've achieved our vision of creating our own modern interpretation of the most iconic Subaru Impreza ever."
https://www.autocar.co.uk/car-news/new-c...b-restomod