06-01-2023, 07:17 PM
New Range Rover Sport SV: mild-hybrid super-SUV gets 626bhp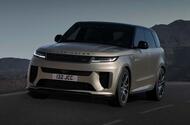 The new Sport SV promises to be "the most dynamic and technologically advanced" version yet
Most powerful production Range Rover introduces game-changing tech and will be sold by invitation only
The Range Rover Sport's performance flagship has arrived as the fastest and most powerful production Range Rover yet, offering supercar performance at 2560kg thanks to a 626bhp 4.4-litre V8. 
Called the SV – dropping the 'R' suffix of the previous car – it is the latest project from JLR's Special Vehicles team and is "the most dynamic and technologically advanced" version of the sports SUV yet. 
Based on the latest-generation Range Rover Sport, the new halo SV is one of Land Rover's final new combustion cars. JLR, under its Reimagine transformation plan, will launch a Range Rover EV next year, before the Land Rover Discovery Sport, Range Rover Sport, Evoque and Velar go electric from 2025. 
Pushing out 626bhp from a 4.4-litre BMW-sourced engine, which is twin-turbocharged and mildly hybridised, the SV trumps the previous SVR's 542bhp, achieved from a supercharged 5.0-litre V8.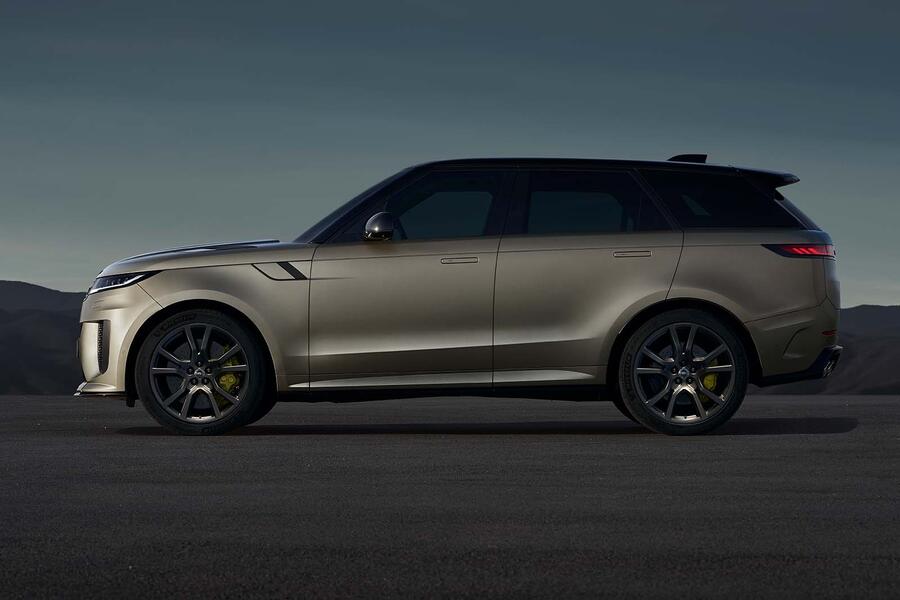 With peak torque of 590lb ft (briefly available under launch control conditions), the SV can go from 0-62mph in 3.6sec, and all the way to 180mph. It drives four wheels via an eightspeed automatic gearbox. There are subtle design changes over the P530 model, including wider front and rear tracks, increased camber, a new front bumper and grille treatment, side skirts, and a rear bumper with four round exhausts said to be more "honest" than the previous SVR's square tailpipes. 
The new front treatment is partly necessitated by the increased cooling requirements of the V8 engine – and the brakes. For the first time on a Land or Range Rover, Special Vehicles is offering carbon-ceramic brakes with eight-piston calipers – standard on the limited-run launch-edition model – as well as the first carbonfibre wheels in 23in offered by an OEM. 
Fitted with the optional carbonfibre wheels (saving 36kg) and carbon-ceramic brakes (34kg lighter), the car's unsprung mass is reduced by 70kg over the regular Sport, says Special Vehicles. With standard cast-iron rotors and forged alloy wheels, also 23in, the car's unladen weight is 2560kg.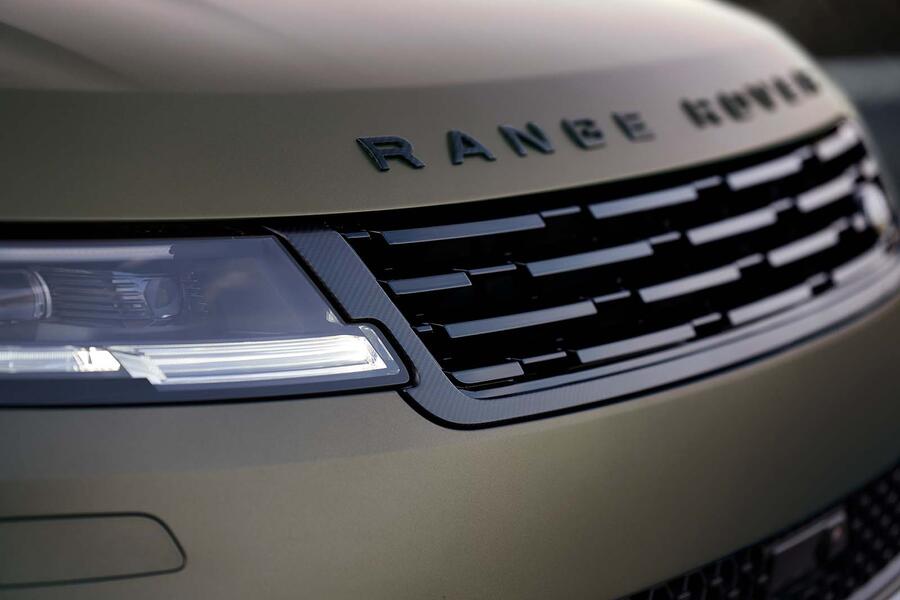 A carbonfibre bonnet is also optional, as is carbonfibre or carbon-look detailing both inside and outside. The front splitter is customer-removable to improve the car's approach angle and it retains Land Rover's off-road-centric Terrain Response system. 
The towing capacity is the same 3500kg as the standard Sport. The chassis is a development of the P530 model's, although it sits 10mm lower. 
Like all current Sports it features air suspension, but making its debut on the SV is a linked hydraulic system. Unlike other hydraulic damping set-ups such as those on McLarens, the unit isn't just diagonally linked across the car but also directly linked left-right, and front-rear, to help contain both pitch and roll movements. 
As a result, there are no mechanical anti-roll bars and, says Special Vehicles, the system is incredibly powerful. An active 48V mechanical anti-roll bar system is claimed to be able to put a total force of 1600Nm into roll control.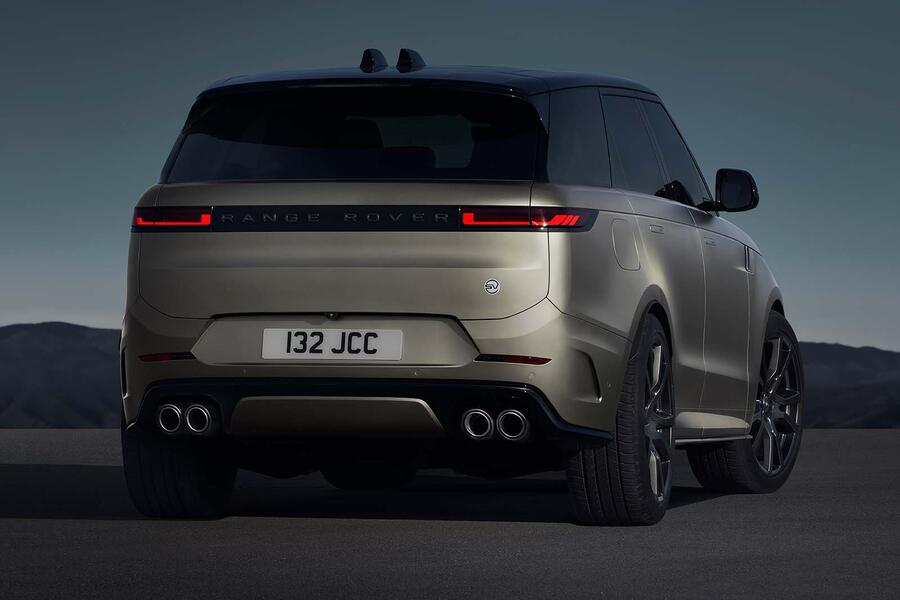 This system can effectively put 2300Nm into roll control and 4000Nm into pitch control. JLR says the SV can pull 1.1g laterally, at which point it only has 3.5-4deg of lean. "In order to generate that speaks some chassis magic," said Special Vehicles director Jamal Hameedi, particularly given it is a figure quoted on all-season tyres. 
Whereas the previous SVR came with regular 'summer' tyres as standard, here the factory-fit tyres are all-season Michelin Pilot Sport 4s – 285/40 R23s at the front and 305/35 R23s at the rear. 
As well as off-road modes, there are different road-focused drive modes, including SV, which brings a further 15mm suspension drop. There's also an electronically controlled rear differential (at times in sporty modes, the SV is effectively rear driven) and active rear steer as standard. 
The steering ratio has been quickened from 17.5:1 to 13.6:1. Inside, the SV has new seats with integrated head restraints, which can be specified in leather or a technical fabric.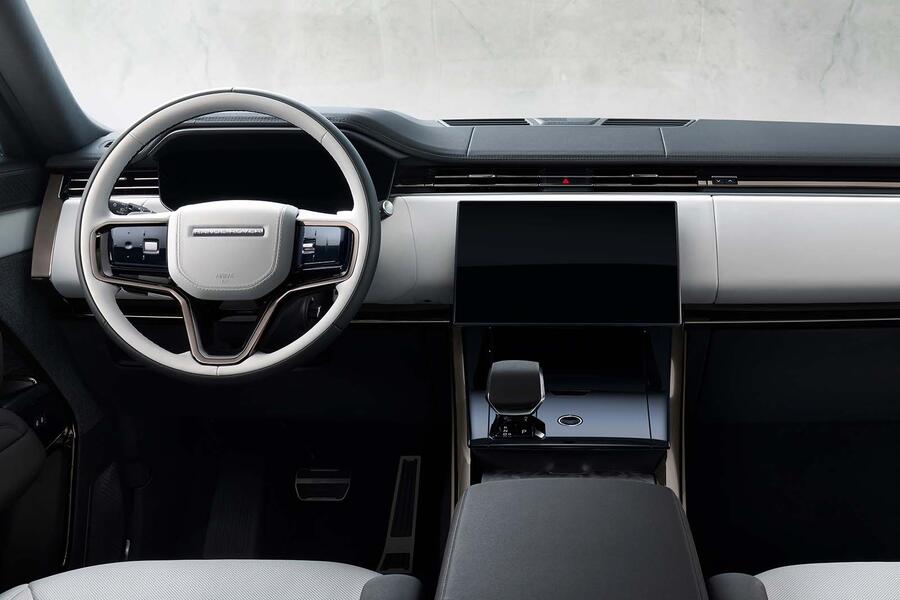 A new design of steering wheel is smaller and has a thicker rim, with clearly moulded hand positions. It also incorporates an SV button to activate the SV or a personalised drive mode. 
The integrated head restraints make it onto two rear chairs too, but otherwise the interior architecture largely continues unchanged.
Transducers (speakers but they put out vibrations) can be optionally fitted in the backs of the front seats. Developed in conjunction with a company called SubPack, the tech produces a wearable system that transmits music to the body via vibrations. 
This enables people to experience what music will feel like when it's loud, but at length without harming their hearing, as well as bringing music to hearing-impaired people who wouldn't otherwise experience it. JLR engineers prefer to say the transducers 'emit energy' rather than 'vibration' as vibration is a bad thing. 
But it comes in accompaniment with low frequencies in very hi-fidelity, so while a subwoofer would just shake the car, transducers put out more distinctly defined vibrations towards a passenger's spine or kidneys. If optioned, its amplitude can be increased, or switched off.
JLR says the first year of production, comprising exclusive Edition 1 models, is already sold. This constitutes 550 cars in the UK, although Special Vehicles declines to say how many will be worldwide. As befits the company's push towards the luxury sector, Edition 1 cars will cost from around £169,000, or £190,000 with the carbonfibre options specified. The first customer deliveries will be before the end of this year.
https://www.autocar.co.uk/car-news/new-c...ets-626bhp