07-24-2023, 05:37 PM
New Skoda Kamiq and Scala to gain midlife refresh next month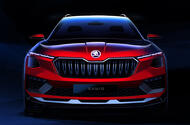 Kamiq will sport a more rugged appearance, slimmer headlights and a reworked front end
Design revisions and new technology aim to bring both models in line with more premium offerings
The new Skoda Kamiq small SUV and Skoda Scala hatchback will both gain an extensive redesign as part of a midlife facelift – and the Czech firm has previewed the two models ahead of their launch. 
Revealed in a set of official images, the two cars will be fully unveiled on Tuesday 1 August, four years after they first went on sale in the UK.
The Kamiq gains a more rugged look, with slimmer headlights and a reworked front end. It also features a redesigned grille and new air intakes, plus new diffusers that incorporate skid plates to bolster underbody protection. Minor changes have also been made to the model's rear lights.
The Scala, meanwhile, appears with a sleeker design than the current model. Like the Kamiq, it receives slimmer headlights and a more effective air intake aided by new side wings, as well as an updated diffuser. Skoda has also given the Volkswagen Golf rival's rear lights a more "graphic" design. 
Both cars also feature new wheel designs and continue the firm's expansion of its new brand identity by gaining tailgate lettering. 
We'll have to wait until the Kamiq's and Scala's official world debut to hear details about technology updates, but the firm indicated the two cars will now challenge more premium offerings with some new features.
These are likely to include a larger, updated 12.9in infotainment system and a relocated gearlever, which was moved onto the steering column for the new Skoda Kodiaq, due to arrive in 2024. 
Skoda will also disclose the two cars' engine line-up at the official reveal, but a selection of petrol and hybrid powertrains is likely to feature. 
The Scala and Kamiq first went on sale in 2019. The Kamiq was the firm's second most popular car sold last year, with 96,300 units reaching customers around the world. The Skoda Octavia was its best-seller, achieving 141,100 units worldwide. 
The Scala, which is heavily related to its Volkswagen Golf stablemate, was the firm's eighth best-selling car, with 39,500 units shifted across the globe last year. 
https://www.autocar.co.uk/car-news/new-c...next-month