06-06-2023, 07:42 PM
New Volkswagen ID Buzz LWB gets 7 seats, 355bhp GTX variant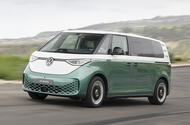 ID Buzz LWB will be the first VW model to use a new 282bhp rear electric motor
MPV gains third row; larger 85kWh battery with improved heat pump; and sporty variant
Volkswagen has revealed the long-wheelbase ID Buzz, describing the new electric seven-seat MPV as a modern-day incarnation of its iconic Samba bus.
Planned for UK sale by the end of 2023, the large, rear-wheel-drive van will be the first Volkswagen to feature a newly upgraded 282bhp rear electric motor, as well as a larger 85kWh battery and the largest panoramic glass sunroof yet produced by the German firm.
The Volkswagen ID Buzz LWB mirrors the retro-inspired appearance of the standard ID Buzz, albeit with stretched proportions and, for markets where the regulatory framework permits (which now include the EU but not yet the UK), an illuminated VW logo at the front.
At 4962mm in length, the LWB is 250mm longer than the standard model, which was launched in 2022. The increase in length is achieved through a 250mm lengthening of the wheelbase from 2989mm to 3239mm.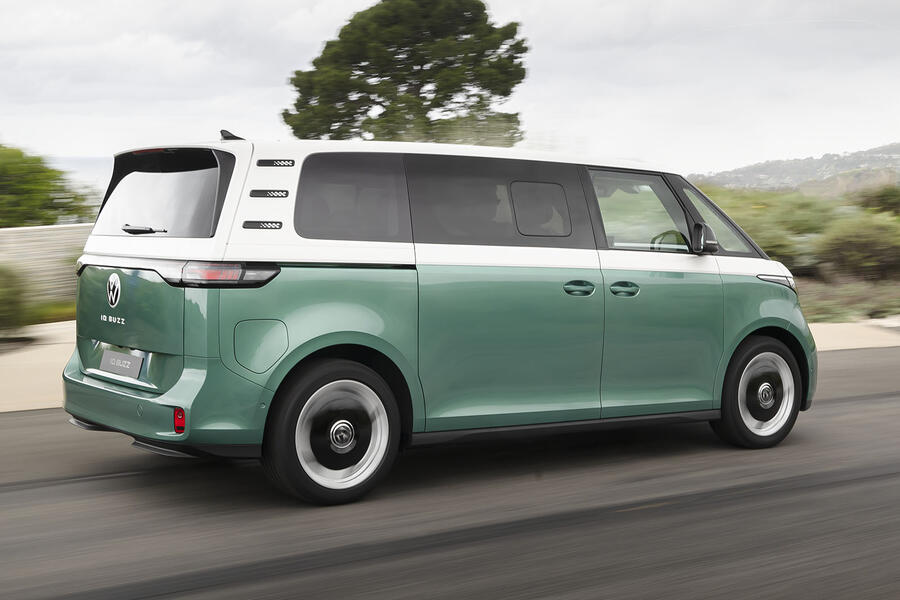 The LWB model offers buyers the choice of three different interior arrangements: a five-seater, a six-seater and a seven-seater with a two-plus-three-plus-two layout.
UK models will come as standard with a five-seat layout, with the six-seat and seven-seat layouts available as an option.
A Cargo commercial van derivative is also planned. 
Nominal luggage space rated at 1340 litres in five-seat form – an increase of 219 litres over that of the standard-wheelbase ID Buzz, reducing to 306 litres in seven-seat form.
The cabin gains a new central Infotainment display, now measuring 12.9in, up from 10.0in. The touch-sensitive sliders for the air conditioning and audio volume also receive illumination for easier adjustment at night.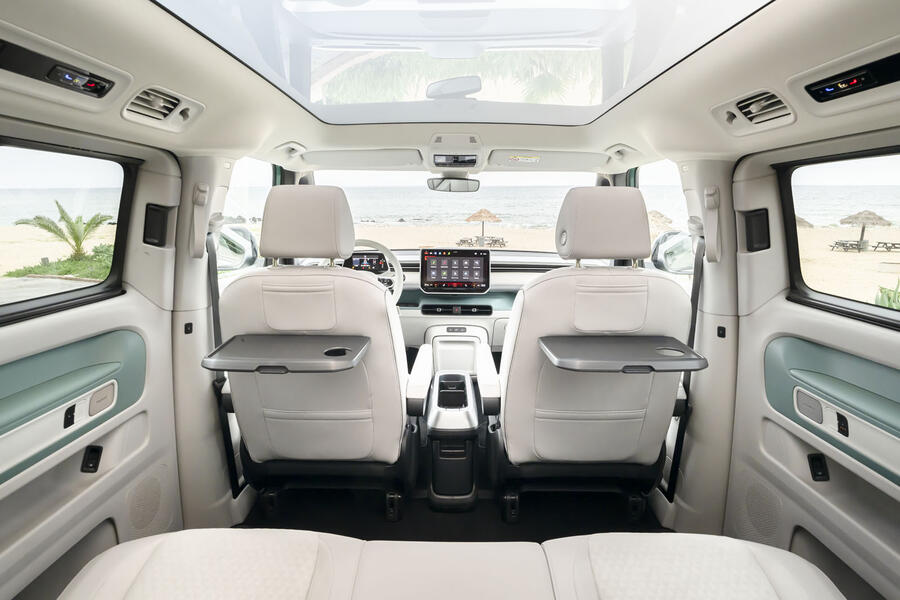 The panoramic sunroof, meanwhile, features an electronically controlled liquid-crystal function to switch from transparent to opaque via a slider controller in the headliner.
The ID Buzz LWB will initially be sold in rear-wheel-drive form with 282bhp and up to 413lb ft of torque. Volkswagen is yet to provide a kerb weight figure but has claimed a 0-62mph time of 7.9sec and a top speed limited to 99mph.
Buyers can choose a 77kWh or 85kWh battery, with both offering 11kW AC and 200kW DC charging capability. No official energy consumption or range claims have been revealed yet.
Looking forward to 2024, Volkswagen says the top-of-the-line, four-wheel-drive, long-wheelbase ID Buzz GTX will offer up to 355bhp and a 0-62mph time of 6.4sec.
Volkswagen plans to sell the ID Buzz LWB in traditional markets such as the US and Canada, which don't take the standard-wheelbase ID Buzz.
LWB production will take place alongside the standard model at the Volkswagen Commercial Vehicles manufacturing plant in Hanover, Germany. 
https://www.autocar.co.uk/car-news/new-c...tx-variant