03-30-2023, 10:55 AM
New Volkswagen Multivan California confirmed for 2023 reveal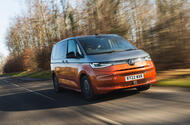 The Multivan California will replace the current Volkswagen California 6.1
Camper version of the new MPV will be detailed later this year; expected to launch in 2024
Volkswagen has confirmed that it will reveal a California camper version of the Multivan later this year.
Speaking at the company's annual press conference, Volkswagen Commercial Vehicles CEO Carsten Intra announced plans to grow the California brand.
He said: "We want to expand the range around the business with our camper models and offer what people really like in our products - what we call the 'California feeling'.
"It includes digital services for the California community, new services to complement the purchase of a vehicle and the presentation of a new California vehicle based on the Volkswagen Multivan. This is what we are planning for later this year."
The Multivan California will replace the current Volkswagen California 6.1, which is based on the outgoing Transporter van. The only Transporter 6.1-based model still on sale in the UK, it is priced from £60,398.
The Multivan signalled a shift in the brand's commercial vehicle line-up, doing away with the Transporter's underpinnings in favour of the MQB platform, which underpins most Volkswagen cars.
Volkswagen has yet to confirm any details of the Multivan California, but it may become the only plug-in hybrid camper van on sale. The rival Mercedes-Benz V-Class Marco Polo and Ford Transit Custom Nugget are available with diesel engines only.
As for the long-awaited Volkswagen ID Buzz California, Intra said this will arrive in 2025, following the release of a long-wheelbase model later this year.
This LWB variant – slated to offer greater seating flexibility than the current model – will also be sold in the US. Volkswagen R&D boss Kai Gruenitz previously told Autocar that "it will have three rows and seven seats, and you can pull them all out of the back," as well as rotating captain's chairs.
He also confirmed that a performance-focused ID Buzz GTX will also be revealed later this year, offering 335bhp and a bespoke interior.
https://www.autocar.co.uk/car-news/new-c...023-reveal