09-01-2023, 03:51 PM
New Volkswagen Passat brings more space and 62 miles of EV range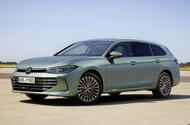 New Volkswagen Passat offers a combustion alternative to the similarly sized electric ID 7
Sensible estate takes a step up in size and plushness for its ninth generation
Volkswagen marks the 50th anniversary of its hugely popular Passat with the unveiling of the slick new ninth-generation model, which provides a combustion alternative to the similarly sized ID 7 EV. 
Set for UK sale before the end of the year, it will be sold exclusively in estate form with a choice of updated four-cylinder petrol and diesel engines, together with new plug-in hybrid drivetrains - the latter offering an electric range of more than 62 miles thanks to a larger-capacity battery.
Twinned with the upcoming third-generation Skoda Superb – alongside which it will be built in Slovenia – the new Passat is the first in a series of new Volkswagen models to be based on an updated version of the MQB Evo architecture.
The revised platform, also used by the upcoming third-generation Volkswagen Tiguan, has received a series of significant upgrades, including a stiffer rear axle carrier that is claimed to improve rolling refinement and control.
It has also been designed around the need to accommodate an electrified drivetrain, meaning the Passat gets significantly more advanced connectivity and chassis functions than its predecessor.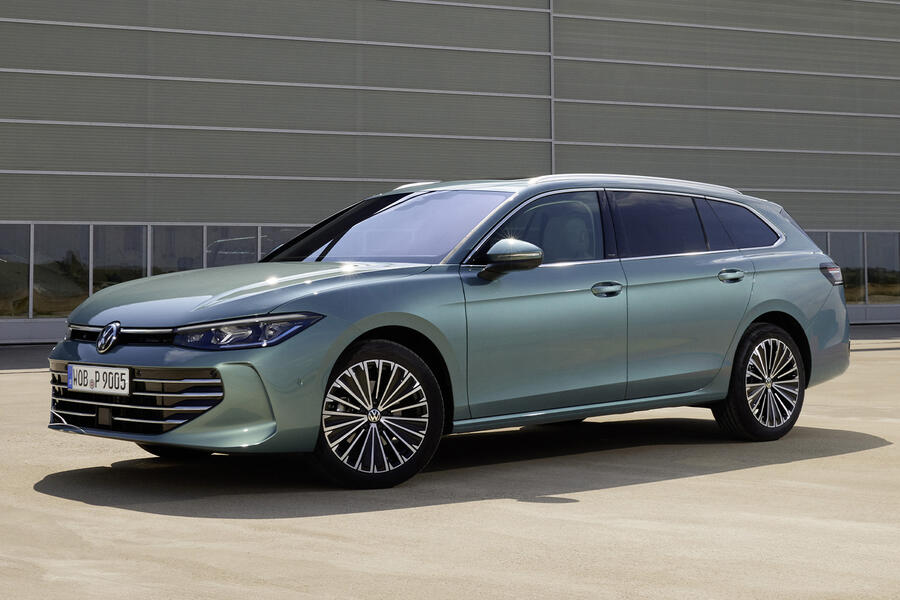 The Passat retains MacPherson-strut front and multi-link rear suspension, but it has been heavily reworked with new two-valve dampers and Volkswagen's new Vehicle Dynamics Manager (VDM) system in a move that, Volkswagen claims, brings added comfort and a greater breadth of driving characteristics between the various driving modes.
VDM allows wheel-specific braking interventions by the electronic stability control, as well as wheel selective adjustment of the dampers. Buyers can also specify an optional Dynamic Chassis Control Pro system, which brings further adaptive damping properties.
The new Passat has also grown considerably. Length is up by 144mm at 4917mm and width by 20mm at 1852mm, while height is reduced by 10mm at 1506mm. Crucially, though, the wheelbase is 50mm longer than before, at 2841mm.
The increase in size makes for a roomier interior: Volkswagen claims rear leg room is up by 50mm and luggage capacity is boosted by 40 litres at 690 litres – extendable to 1920 litres with the rear seats folded down.
Up front, it receives a heavily restyled dashboard among other changes aimed at providing a cleaner and more upmarket driving environment than before. Included as standard are new 10.3in instrument and 12.9in infotainment displays – the latter optionally upsized to 15.0in on top-spec trims.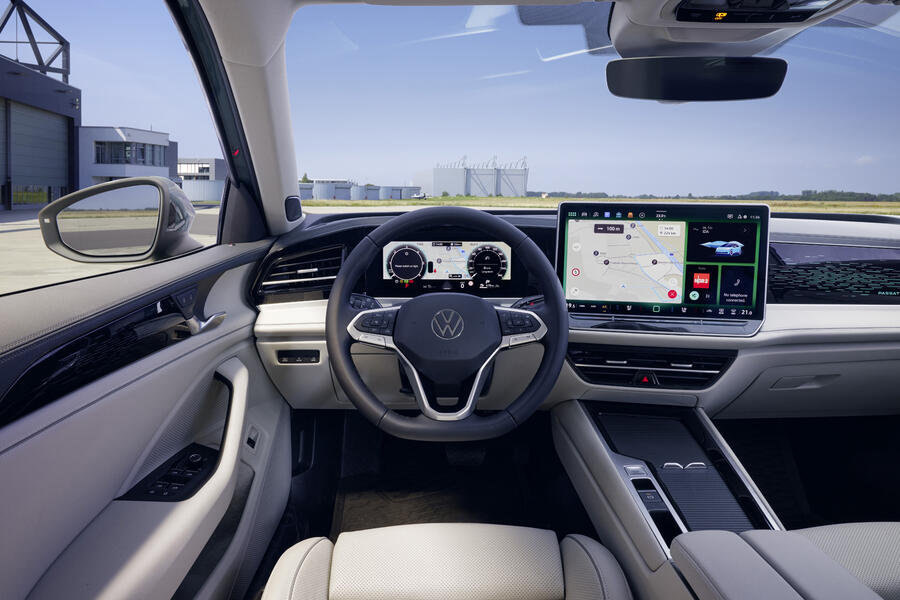 The new displays run the fourth-generation of Volkswagen's MIB operating system, with revised menu structures, higher-resolution graphics and conversational voice control for the first time.
The controversial slider control unit is carried over from other Volkswagen models but now lights up for easier adjustment of the sound system and air conditioning at night.
There's a new multifunction steering wheel too and the gear selector has moved to the steering column, which frees up space within the centre console for larger cupholders and an optional smartphone charging pad.
The new executive class model is set to launch in four equipment lines: Passat, Business, Elegance and R-Line. Standard equipment includes LED headlights and tail-lights, smartphone mirroring, USB-C charging ports and roof rails. Prices are expected to start at around £30,000 for the entry-level petrol car, climbing to around £50,000 for the top-rung hybrid cars.
The new Passat will be offered with eight different drivetrains from the start of production in September, though VW has yet to confirm exactly which ones will come to the UK.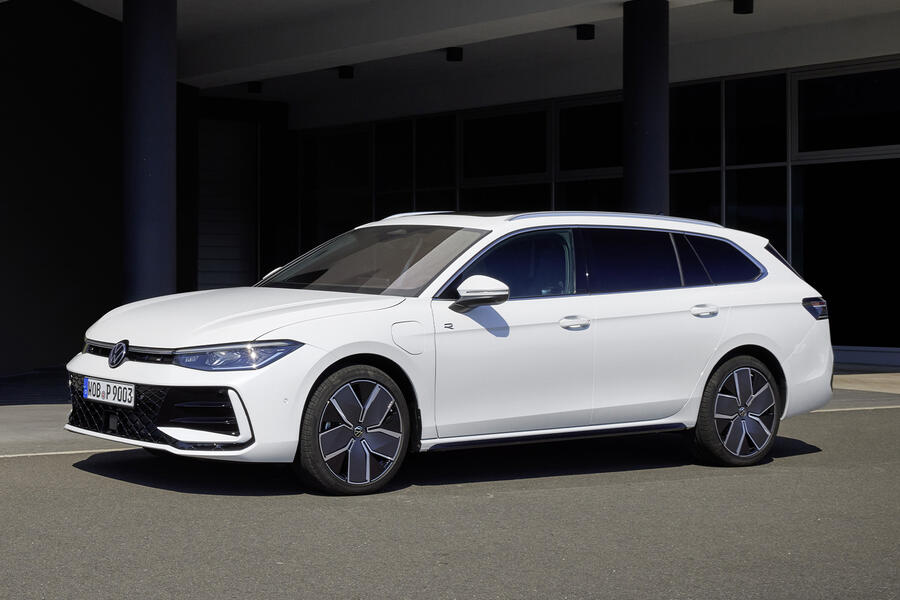 Included are two turbocharged 2.0-litre four-cylinder TSI petrol units developing 201bhp and 262bhp, as well as three turbocharged 2.0-litre four-cylinder diesels with 121bhp, 148bhp and 190bhp. For the first time, the Passat also receives a 48V mild-hybrid engine in the form of a turbocharged 1.5-litre four-cylinder petrol, developing 148bhp. 
Reacting to growing sales of plug-in hybrids in key European markets, Volkswagen also offers the choice of two petrol PHEVs, featuring a turbocharged 1.5-litre four-cylinder petrol engine in place of the older 1.4-litre four-pot. The 1.5-litre engine works in combination with a more powerful electric motor to provide overall system outputs of either 201bhp or 268bhp.
The PHEVs' battery is nearly double the size it was previously, at 19.7kWh, which increases the electric range to more than 62 miles on the WLTP test cycle. It also supports charging at up to 50kW on a DC system, providing much faster charging than the outgoing model, which was limited to just 3.6kW AC charging.
The TSI petrol, TDI diesel and eTSI mild-hybrid models all receive a seven-speed dual-clutch gearbox, while the eHybrids PHEVs get a six-speed dual-clutch gearbox as standard. Front-wheel drive features in all models except the 262bhp TSI and 190bhp TDI engines, which get 4Motion four-wheel drive and a braked trailer towing capacity of 2200kg.
Further engine options are planned, including a 300bhp turbocharged 2.0-litre four-cylinder unit in a hot four-wheel -drive Passat R estate due to be unveiled in 2024 as a rival to the Peugeot 508 PSE and BMW M340i. 
2024 Volkswagen Passat prototype drive
In a world increasingly preoccupied with electric cars, it can be easy to lose sight of the fact that combustion-engined models such as the Volkswagen Passat continue to do the biggest business across the globe.
For this reason, VW has decided to extend the life of the Passat into a ninth generation despite the impending introduction of an electric-powered alternative in the form of the new Volkswagen ID 7.
The two-pronged approach mirrors that of other Volkswagen models, including the Golf and ID 3 as well as the Tiguan and ID 4. It is intended to enable the Passat, which joined the Volkswagen line-up in 1973, to build on the 30 million sales it has racked up to date against a backdrop of the German car maker's multi-billion-pound spend on new electric models.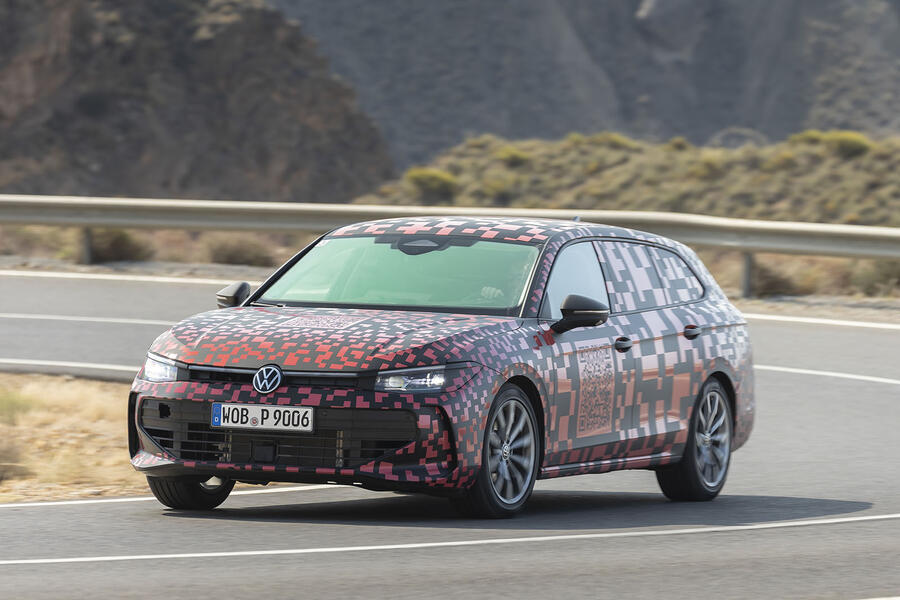 The Passat prototype driven here on Volkswagen's Ehra-Lessien test track and surrounding roads is one of a fleet of validation mules pressed into action ahead of the new car's unveiling in September.
Development of the new model, which will be sold exclusively in estate form in the UK and other European markets, has been twinned with the upcoming third-generation Skoda Superb – alongside which the new Passat will be produced at Volkswagen's plant in Bratislava, Slovakia.
As part of Volkswagen's modular approach to manufacturing, it also shares key components with the third-generation Tiguan, including its MQB EVO platform, electric architecture and petrol, diesel and plug-in hybrid drivetrains, providing it with valuable economies of scale with its equally new stablemate.
Despite the Q-code-inspired disguise worn by the prototypes, there is a clear evolutionary approach to the exterior styling. One notable change is the introduction of a blanked-off upper-grille element housing a horizontal light bar. All of the engine bay and front brake cooling is now handled by ducts within the lower part of the front bumper.
Dimensionally, the Passat has grown. Length, width and height are up by 144mm, 20mm and 7mm respectively at 4917mm, 1852mm and 1482mm. The wheelbase has also grown by 50mm to 2841mm, essentially taking it up a class in overall positioning.
Inside, there's an all-new cabin. The changes here are arguably even more pronounced than with the exterior. They revolve around a new-look dashboard that features a 10.25in digital instrument display with up to four different skins and a standard 12.9in or optional 15.0in infotainment display.
Ahead of the driver is a new flat-bottomed multifunction steering wheel with traditional buttons in place of the fiddly capacitive controls of recent Volkswagen models. The traditional gearlever has also given way to the same steering-column-mounted controller used by the ID Buzz and ID 7, freeing up space on the centre console for larger cupholders and added oddment space as well as a charging pad for smartphones.
The extra length liberates an added 50mm of rear leg room, according to Volkswagen. Boot space has also increased by 40 litres to a nominal 690 litres underneath the luggage cover. With the rear seats folded down, luggage capacity grows by 140 litres over the existing Passat to 1920 litres.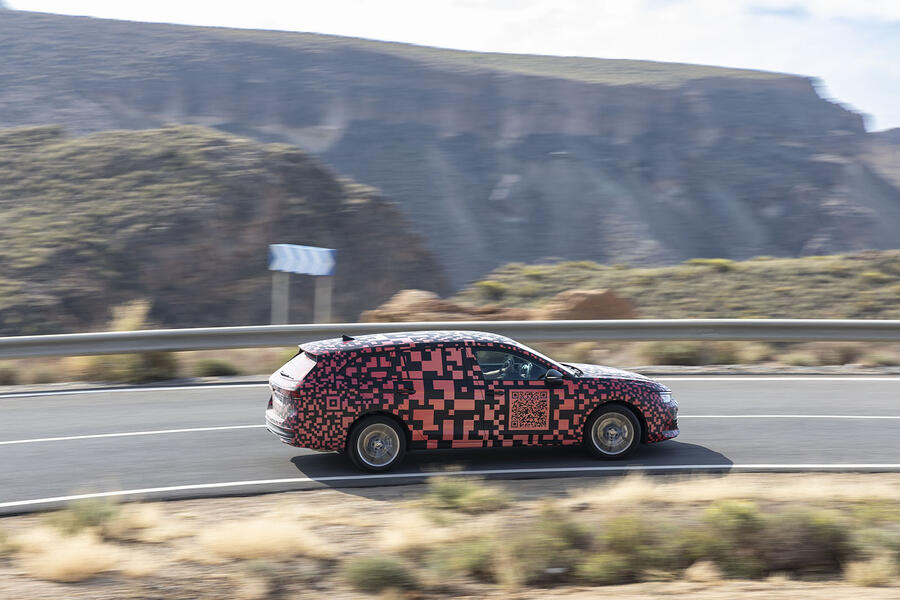 To get under way, you hit the start button within the centre console and twist the end of the gear controller to the 'D' position.
The changes to the interior, including a new interface and menu structure for the infotainment system, make this Passat a straightforward car to operate. There's a higher level of perceived quality, too.
The strongest of the turbocharged 2.0-litre four-cylinder diesel engines provides brisk step-off and in-gear performance, with plenty of low- to mid-range flexibility and relatively refined characteristics.
The seven-speed dual-clutch gearbox (DSG) is quick to react, a feature that combines with the engine's low-rev flexibility to make the car feel pleasingly long-leggged at motorway cruising speeds. As is typical for a modern DSG, it can be reluctant to grab a lower gear if you ask for more acceleration.
The steering is accurate and nicely weighted, with eager self-centring and greater feedback than before. The changes to the suspension also bring an added degree of agility and improved body control to the handling. All this makes it a sharper and more enjoyable car to drive than its predecessor. It's easy to place on the road and get along with. Just don't expect it to be sporting or remotely athletic.
The new Passat benefits greatly from the new twin-valve dampers, which bring added absorption and more controlled rebound properties. The upshot is much smoother progress, even over badly pockmarked roads.
It is still undergoing final development, but our first drive of the new Passat makes it clear that it is already a better car than its popular predecessor. The changes made to the long-running estate ensure that it retains the intrinsic values and everyday practicality that buyers expect and demand.
However, it now offers a more precise driving feel, added handling prowess and vastly improved ride comfort. There's familiarity in many aspects, but at the same time greater maturity to the dynamics. And with the number of direct combustion-engined competitors steadily declining, there's something very reassuring about a new Volkswagen Passat.
Price Circa £45,000 Engine 4 cyls in line, 1968cc, turbo, diesel Power 190bhp Torque tbc Gearbox 7-spd dual-clutch automatic Kerb weight 1600kg (est) 0-62mph 7.8sec (est) Top speed 150mph (est) Economy tbc CO2 tbc Rivals Peugeot 508 SW, Volvo V60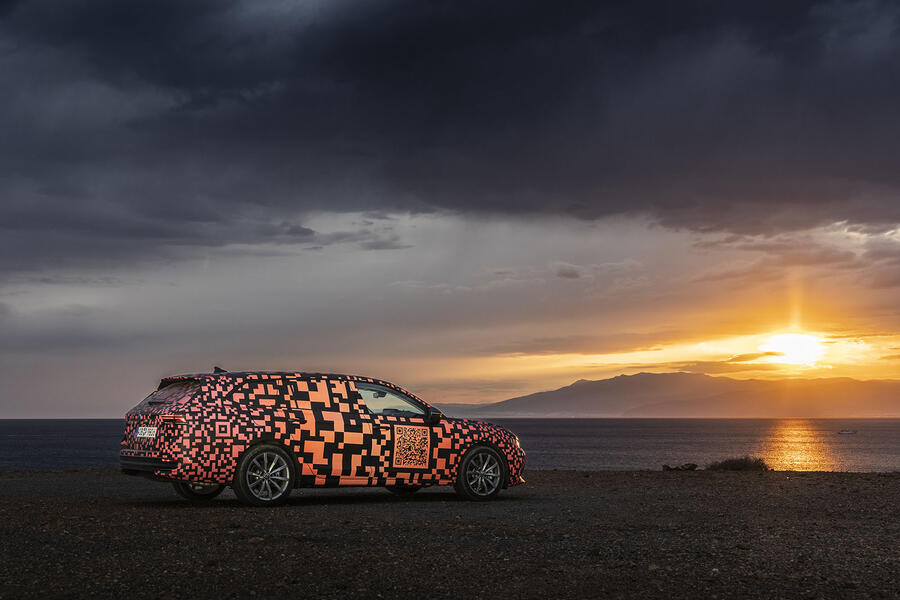 https://www.autocar.co.uk/car-news/new-c...s-ev-range