10-12-2023, 03:53 PM
New Volkswagen Transporter line-up to be crowned by 236-mile EV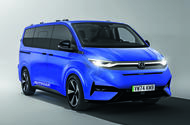 The next-generation Transporter will be twinned with the Ford Transit Custom
New Ford-twinned VW van to offer electric, plug-in hybrid and diesels from 2024
The next-generation Volkswagen Transporter will arrive in 2024 with an all-new architecture developed with Ford and offering pure-electric power for the first time.
The hugely popular van, which makes up two-thirds of Volkswagen Commercial Vehicles' (VWCV) total sales, will be twinned with the Ford Transit Custom (itself the UK's best-selling vehicle) and be built at the Ford Otosan factory in Turkey.
From launch, the Transporter will again be available as a nine-seater Shuttle, two-row Kombi and cargo-carrying panel van, Autocar can confirm. A Sportline trim is also expected to be offered, although this has not yet been confirmed.
The next-gen Transporter will not, for the first time, be the basis for the new California camper. Instead, that model will be derived from the MQB-platformed Multivan MPV, as previewed by a concept in August.
VWCV boss Carsten Intra told Autocar: "A Multivan has to be much more comfortable and much more upscale [than the Transporter]. This is why we now have two line-ups.
This is a really important project." The Transporter "will be our only multi-traction vehicle", said Intra. "We cannot afford to build another platform [for the same vehicle]. It is just too expensive. This is a vehicle that, unlike the California, doesn't give you the highest margin per sale."
He added: "We have a lot of customers that need the space, and need a BEV, but others that cannot yet afford a BEV but drive in cities so want a hybrid. We can now offer that."
Intra was referring to the fact that VW also offers the similarly conceived Multivan PHEV and electric Volkswagen ID Buzz. The Transporter is expected to use Ford's batteries, electric motors, engines, gearboxes and chassis structures across its line-up.
It is also set to offer the same array of diesel, petrol-electric and pure-electric drivetrains as its Transit relation. The electric 'E-Transporter' will no doubt match the 236-mile range of the Ford and be sold with the same choice of 134bhp or 215bhp rear-axle-mounted motors.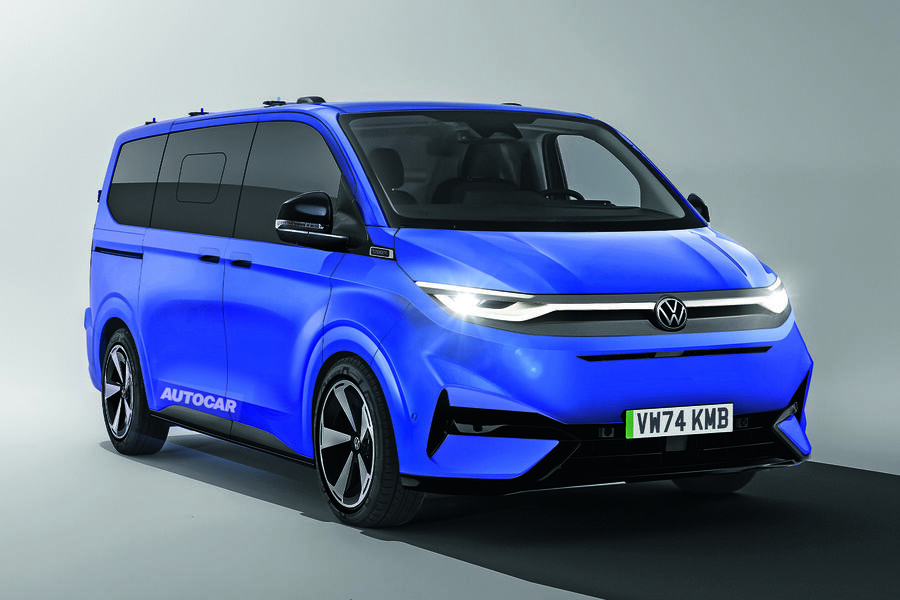 Although full technical specifications have yet to be revealed, Ford says the E-Transit Custom will be capable of "full towing capability", with its 318lb ft of torque, and its battery can be charged at up to 125kW.
Combustion-powered Customs come in the form of a 222bhp plug-in hybrid (shared with the Ford Kuga) with a 11.8kWh battery, plus 108bhp and 148bhp 2.0-litre diesels, which are offered with a manual transmission. All-wheel drive is an option, but only with the eight-speed automatic.
The VW and Ford will have near-identical dimensions and be less than 2m tall for ease of use around town. The VW is expected to ape the SWB Custom's 3m-long load bay and gross payload of 1360kg. The EV will offer 1100kg. Where they will differ is in their designs.
Ford last year revealed its van's dramatic new look and called it "a distinctive new design benchmark in the one-tonne segment". VW has yet to disclose any information about the Transporter's design, but it will be very different from the Ford, said Intra.
"Although they are similar, we have a different car to [Ford's]. We will let you be the judge, but we think ours is better," said Intra. "It has been judged internally too, even at Ford, and everyone has judged it as better."
Inside, Intra hinted the new Transporter will take cues from the more upmarket Multivan. Pricing is expected to start above the current model's £35,000 entry point. The new Ford starts from £33,000.
https://www.autocar.co.uk/car-news/new-c...ransporter