11-01-2023, 06:03 PM
New Volvo EX30 electric crossover to be built in Europe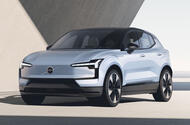 The standard EX30 is now available to order in the UK for delivery in early 2024
Swedish firm to build new Jeep Avenger EV rival at Belgium plant as well as in China from 2025
The new Volvo EX30 small SUV will be produced in Europe as well as China from 2025, as part of a move to increase production capacity.
The new entry-level compact crossover will be a "cornerstone" of the Swedish brand's reinvention as an electric-only manufacturer by helping to attract new, younger customers.
Volvo had previously said that the EV, which is based on a version of parent firm Geely's SEA platform, would be built at its factory in Zhangjiakou, China.
Production started there earlier this year, and the first cars are due to reach customers latest this year. UK deliveries are set to begin in early 2024.
Volvo has now decided to start producing the EX30 at its existing factory in Ghent, Belgium from 2025 to increase global production capacity in line with its plan to build cars close to where they're sold.
Cars built at that plant will be used to meet anticipated EX30 demand in Europe – and will be exported globally. The Ghent plant currently produces the XC40 and its electric-only C40 Recharge sibling.
Volvo boss Jim Rowan said that the decision to build the EX30 in Europe was "a logical move as we aim to capture the strong demand" for the model.
The EX30, which will rival the Jeep Avenger and Smart #1, is available to order in the UK now priced from £33,795 including three years of free servicing. Subscription packages will start at £579 per month. Customer deliveries are due to start early next year.
As well as the standard versions, Volvo will also offer the EX30 in a jacked-up and rugged Cross Country version.
Volvo says the machine has been developed with a focus on lowering the total cost of ownership and attracting new, younger, urban buyers. Chief executive Jim Rowan claims the intention is to "bring premium, fully electric mobility to a much broader audience".
Read more: Volvo design boss on shaping the future of Swedish brand
Volvo expects around three-quarters of EX30 buyers will be new to the brand, with the majority buying it as a second car.
The firm also claims the machine has the smallest lifetime carbon footprint of any Volvo model to date and doesn't compromise on the marque's famed commitment to safety. But the EX30 also offers performance: with a 0-62mph time of 3.6sec in top-spec Twin Motor Performance form, it is the fastest-accelerating Volvo yet.
Based on parent firm Geely's SEA platform also used by the Polestar 4 and Smart #1, the EX30 is 4233mm long, making it slightly longer than the Avenger, but notably shorter than the Polestar 4.
The EX30 has a clear family resemblance to the flagship EX90 large SUV that was revealed last year, with a closed-off grille and Volvo's signature 'Thor's Hammer' headlights. It will be offered with wheels ranging from 18in to 20in and in five colours, including a new Moss Yellow that's inspired by lichen that grows on rocks on Sweden's west coast.
Volvo EX30 interior and technology
The interior also builds on Volvo's traditional design form, with the dashboard dominated by a 12.3in vertically mounted touchscreen. The infotainment runs Volvo's Google-based system, which is compatible with Apple CarPlay and Android Auto. Instead of the traditional door-mounted speakers, a home audio-style soundbar runs across the full width of the dashboard. 
There is also an emphasis on interior storage, including a centrally located dashboard glovebox-style multi-function centre console in the front and a removable storage box at the back of the tunnel console.
Four interior designs – termed 'rooms' by Volvo – will be offered, all using different recyclable and renewable materials, including one that has upcycled denim fibre in the dashboard.
Although the EX30 won't feature the lidar systems that will be used on the flagship EX90, the firm says it will be "as safe as you'd expect from a Volvo" and there has been a focus on improving safety in urban environments. As standard, the doors will feature an alert if you are about to open them when a cyclist or runner is passing.
There are also 'state-of-the-art' restraint systems and a raft of driver assistance systems. They include a new Park Pilot Assist function that can help identify parking spots and operate in a wider range of spaces.
The firm has continued to put a major focus on digital technology, with a bespoke app that offers systems such as a digital key and remote-operated heating.
Two trim levels – Plus and Ultra – will be offered in the UK at launch and provide a high level of standard features. Plus models include automatic LED headlights, adaptive cruise control, two-zone climate control and heated front seats.
Ultra models add a 360deg camera, Park Pilot Assist, 20in wheels and a panoramic sunroof. A more basic entry-level Core trim is set to follow "at a later date", with an anticipated starting price of between £31,000 and £32,000. 
Volvo EX30 performance, battery and range
In the UK, the EX30 will be offered with three powertrains and two different battery types. Entry-level Single Motor versions feature a rear-mounted 268bhp motor with a 51kWh lithium-iron-phosphate (LFP) battery. That chemistry, which is more cost-effective to produce, gives it a claimed range of 214 miles.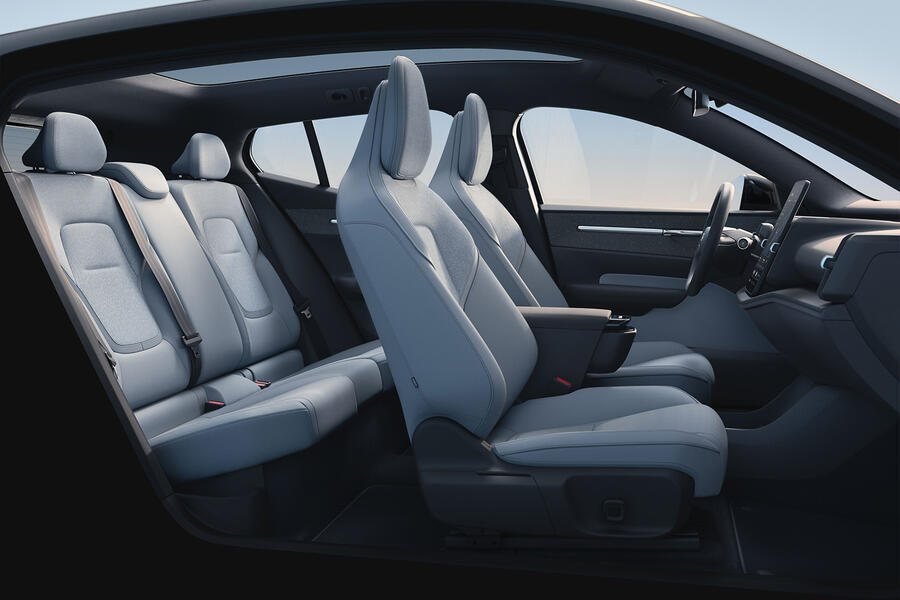 The Single Motor powertrain will also be offered in Extended Range form. Priced from £38,545, it uses with a 69kWh nickel-manganese-cobalt (NMC) battery, which extends the range to 298 miles, with a claimed efficiency of 4.0mpkWh.
That battery is also used in the top-spec Twin Motor Performance model, which adds a second, 154bhp electric motor on the front axle to give a combined output of 422bhp. That model is priced from £40,995 and offers a 286-mile range.
The entry-level LFP battery can be charged at a peak of 134kW, while the NMC models can accept charge at up to 153kW.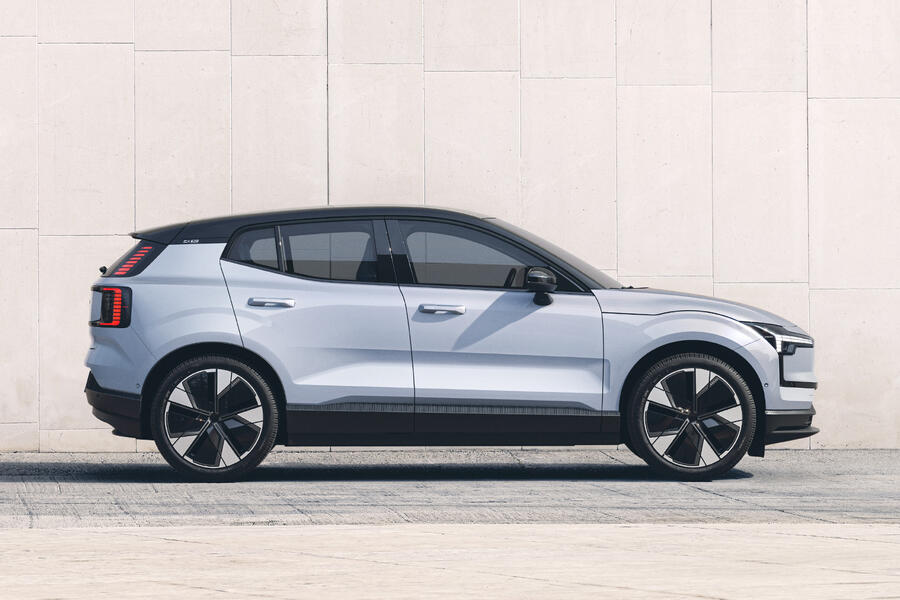 Volvo claims that EX30's chassis has been tuned for nimble driving in urban environments, with a low centre of gravity and an even weight distribution.
The reduced CO2 footprint – which Volvo claims is below 30 tonnes over 124,000 miles of driving – covers both production and operation. It has been achieved in part through a body that contains 25% recycled aluminium, 17% recycled steel and 17% recycled plastic.
The rugged Cross Country variant will feature raised ground clearance, front and rear skid plates and bespoke 19in wheels.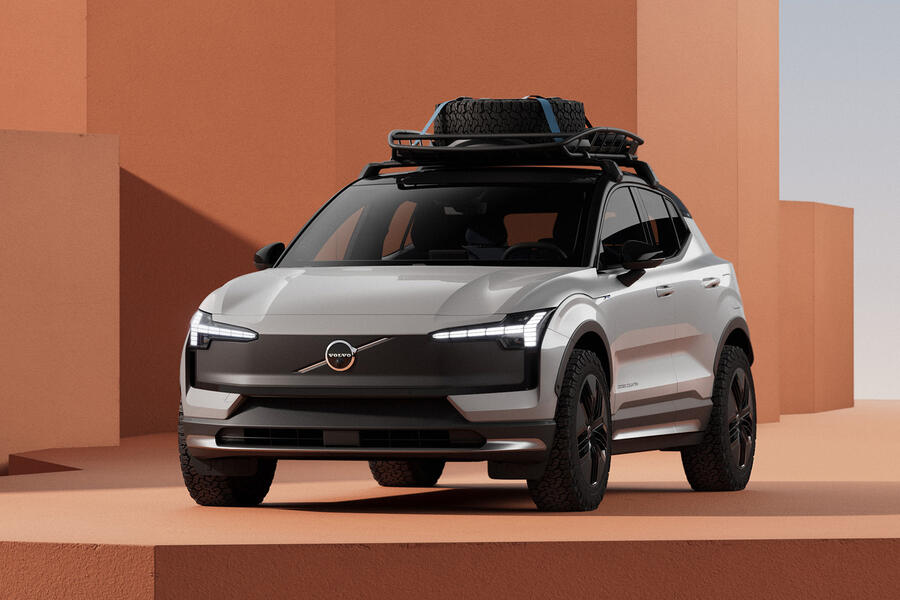 The EX30 will go into production later this year at Volvo's Zhangjiakou plant in China and is now available to order in the UK, mainland Europe and selected other markets. It will also be offered in the US, where it can now be pre-ordered.
The EX30 is the fourth model to be revealed in the firm's electric line-up, although it will actually go on sale before the flagship EX90, which was revealed last year. It will sit underneath the existing XC40 Recharge and C40 Recharge models.
https://www.autocar.co.uk/car-news/new-cars/volvo-ex30