08-04-2023, 06:02 AM
New ZF tech promises big power, efficiency boost for EVs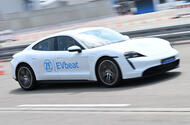 German automotive specialist develops high-efficiency motors and a new intelligent suspension system
A new family of powerful and compact 800V motors, high-efficiency reduction gearboxes and intelligent suspension dampers are poised to improve dramatically the performance of the next generation of EVs. 
In development by ZF, one of the world's leading automotive suppliers, the technology appears first in the eagerly awaited Lotus Eletre but is also vitally important to the future of the company as the industry pivots away from combustion engines. 
ZF's new EVSys800 motor is said to establish a new torque density benchmark of 70Nm/kg, which is 30% better than existing designs. "This motor is very lightweight, at 80kg, and compact, yet the peak rated power is 300kW [402bhp]," according to Otmar Scharrer, ZF's head of electric mobility. 
Some of the components are being simulated in a technology demonstrator based on a rear-wheel-drive Porsche Taycan, which ZF has dubbed the EVbeat. ZF's new motor uses all-alloy casings to keep weight down. Inside, the typical hairpin winding is replaced by braided winding, which eliminates 200 laser welds, reduces package size by 10% and increases power by 50%.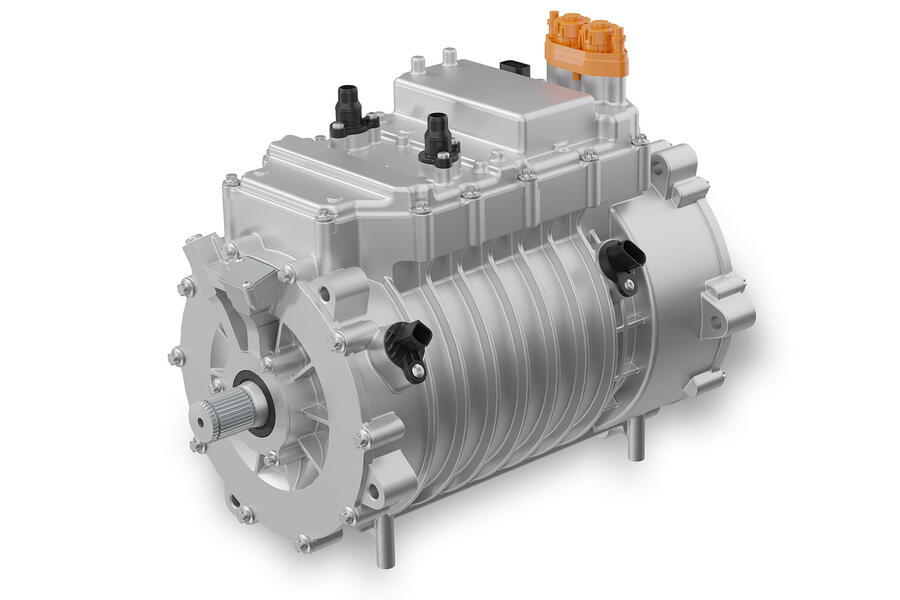 Fundamental to the design is a new thermal management system with direct conductor cooling, which keeps the stator cool and uses waste heat to power ZF's TherMas heat pump.
As a result, the EVSys800 is claimed to be able to run for prolonged periods at 75% of its peak power output, which equates to 302bhp in the Lotus Eletre, for example. ZF says a typical motor rated at 268bhp might only be able to run at 101bhp continuously. "If you are very good, you have 50% continuous power of the rated power," said Scharrer. "The reason is cooling. Even at 90% efficiency, with a 200kW [268bhp] motor, you give away 10kW [13bhp]. To give an idea, you can heat two houses in winter at -20deg C with 10kW." 
Another feature of ZF's third-generation electric powertrain is a new planetary-gear co-axial reduction drive. Incorporating both motor-reduction and differential functions, it is also very quiet, says ZF, thanks to acousticoptimised gear designs. 
ZF has also developed a new intelligent suspension system that integrates with the electric motor and its drive components under the control of centralised software that ZF calls Cubix. The Lotus Eletre will also use this system with the aim of delivering high-quality road dynamics. 
Dubbed 'Chassis 2.0' under the umbrella term software-defined vehicle (SDV), Cubix is in effect an on-board supercomputer with the option of liquid-cooling and up to 1500 tetra operations per second (TOPS) programmable to control intelligent dampers, steer-by-wire hardware and brake-by-wire components, while also integrating into the e-motor drive controller. Cubix can also integrate non-ZF components.
What game-changing technology has ZF developed?
Easy turn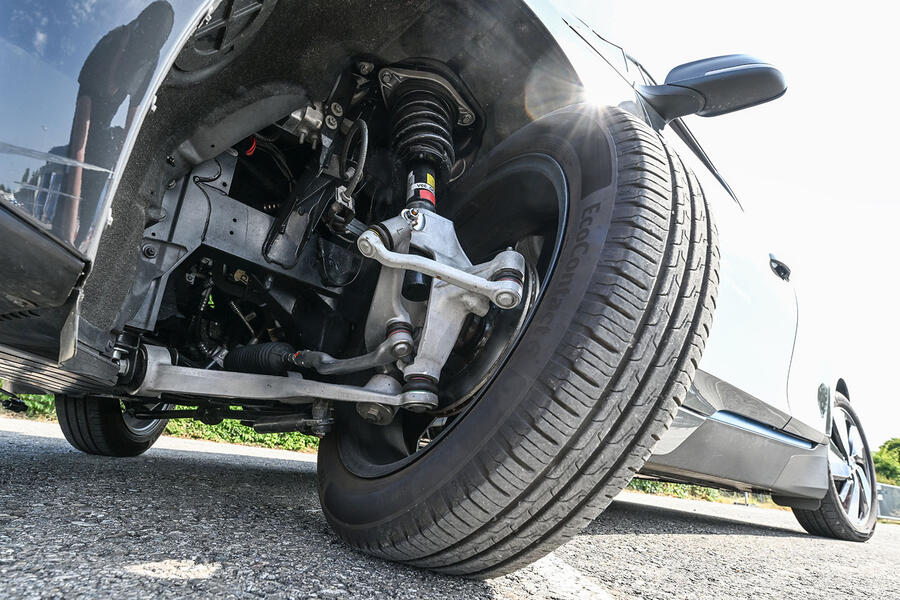 ZF's Easy Turn multi-link front axle, which has been three years in development, features a unique lower suspension arm and kingpin and is capable of more than 80deg of steering angle, compared with the typical 45deg. In a BMW i3, the turning circle is cut from 10m to 6.8m; combined with rear-wheel steering that drops to 5.7m. The effect is startling: the i3 seemingly moves sideways in a turn, pivoting around the rear wheels, black cab-style. In a large saloon or SUV, the increase in manoeuvrability could be stark. Front driveshafts can't accommodate the extreme lock, so it's RWD only. OEMs are interested, with two more years of engineering needed for production.
Smart Chassis Sensor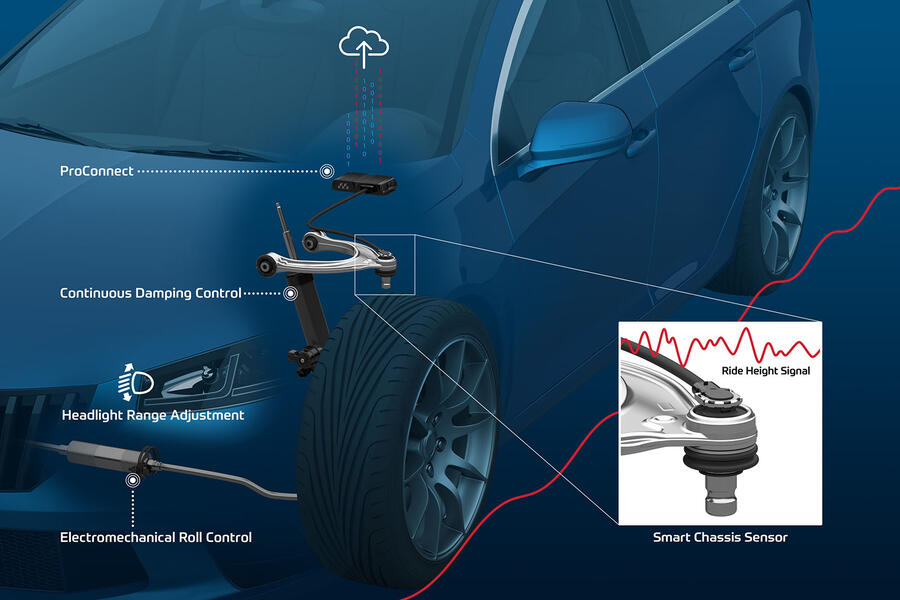 A sensor on the lower ball joint measures the precise deflection of the front wheel. This captures detailed information about road conditions, such as potholes and rough road surfaces, and extreme impacts, such as kerb strikes. ZF sees a future where road surface data is overlaid on sat-nav maps, via the cloud, for advanced warning of rough roads, giving drivers the option to choose a smoother route. Kerb-strike data could be useful to hire companies or car-share operators for maintenance and safety monitoring.
Heatbelt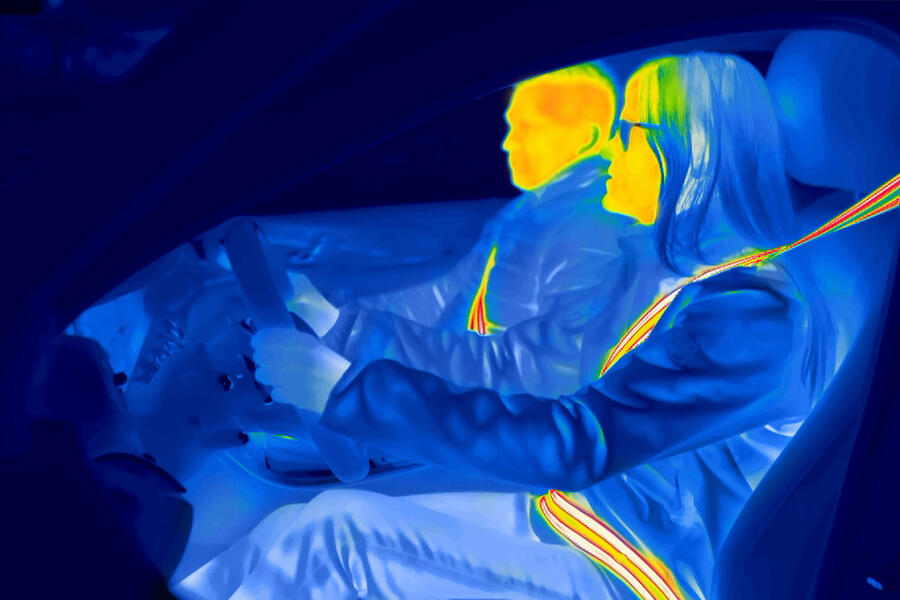 First shown at CES earlier this year, Heatbelt takes seconds to hit temperature for an instant warming effect on the occupant, like a heated blanket. Highresistance wires are woven into the seatbelt fabric, the idea being to concentrate heat on the occupant and reduce demand on the HVAC system. Each belt is rated at just 68W, while a whole-car HVAC system uses 3.5kW. In a BEV, for example, heatbelts could be important new technology, reducing parasitic drain on the battery, especially in cold-climate areas, through downsized HVAC systems.
TherMas BEV HVAC System
TherMas is a compact, lightweight and efficient heat pump that uses waste heat from the battery. ZF says its design has a coefficient performance of two – twice that of today's pumps – claiming: "For 1kW in, we get 2kW out. That is new in vehicles." TherMas uses propane for refrigerant, said to be 10% more efficient at low temperatures, while weight is reduced by up to 17kg. The design, unencumbered by external pipes and fittings, is the size of a couple of shoe boxes.
Passive safety technology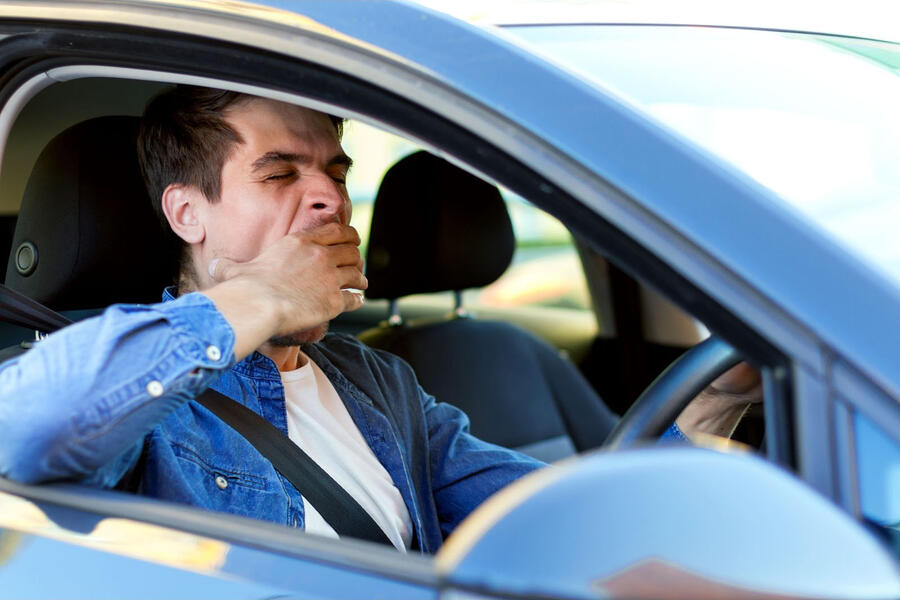 This advanced seatbelt technology has five new functions built in. The key improvement is a new, bigger and more powerful motorised belt retractor, controlled by a 32-bit microprocessor and capable of haptic warnings and dealing with an out-of-position occupant. Rhythmic jiggling of the belt, linked to a drowsiness sensor, is designed to shake a sleeping driver awake, and if an occupant is detected out of position during heavy braking or ahead of an airbag inflation, the retractor gives the belt a powerful jerk, strong enough to drag the occupant back into the correct seating position.
https://www.autocar.co.uk/car-news/new-c...-boost-evs