05-10-2023, 12:32 PM
New all-electric Abarth 500e priced from £34,195 in the UK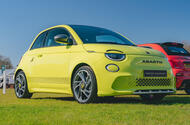 The Abarth 500e made its UK debut at Salon Privé in London
Italian brand brings power hike and handling focus for long-awaited performance EV; on sale June 2023
Order books for the new Abarth 500e have opened in the UK and prices for the sporty electric supermini start from £34,195, with the first deliveries due in June. 
The Abarth 500e is designed to be a performance variant of the Fiat 500 Electric. It represents the Italian sporting brand's first step into the electric age. 
The Abarth 500e arrives in the UK in standard hatchback form and as a convertible 500e variant, which both replace the limited Scorpionissima launch edition that commanded a £38,695 price. 
The model made its UK debut at the 2023 Salon Privé event in London earlier this year. It's claimed by the firm to be the most engaging, responsive and dynamic model it has ever created.
A host of technical upgrades include a more responsive motor, which sends 152bhp and 173lb ft – an increase of 35bhp and 11lb ft over the Fiat – to the front wheels. It draws power from the same 42kWh battery as the car on which it's based.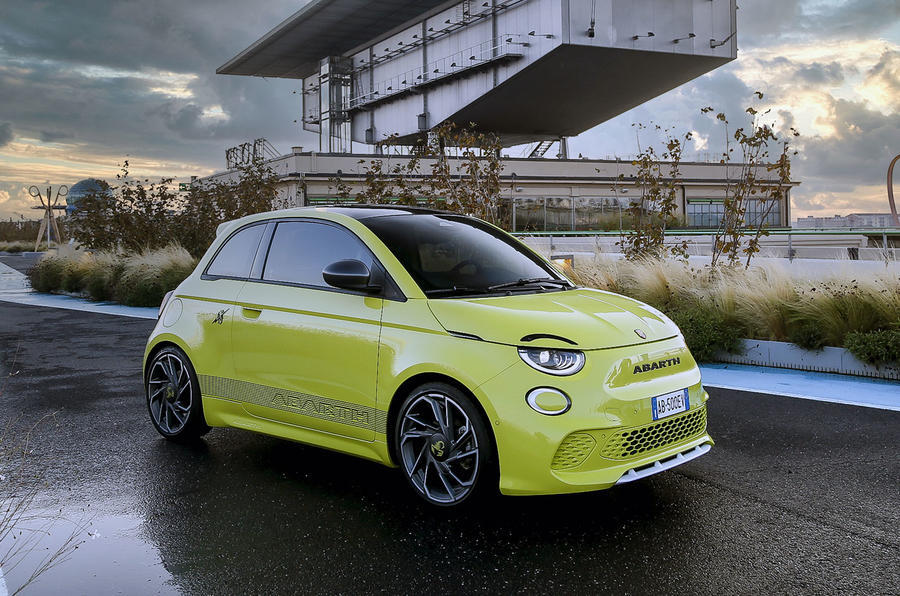 This extra kick gives the hot hatch only a 7.0sec 0-62mph time – 2.0sec faster than its sibling and only slightly slower than the petrol-powered 180bhp Abarth 695 (6.7sec).
But Abarth says blistering standing acceleration – a hallmark of electric cars – was not the outright aim. Instead, it has opted for better mid-range power and the new hot EV gets from 12-25mph in just one second and from 25mph-35mph in under 1.5sec (compared with the 695's 2.5sec).
The Abarth 500e offers a WLTP-tested 164 miles of range on a single charge - a significant drop compared with the Fiat, which is capable of 199 miles. 
It retains the Fiat's 85kW fast-charging speed, so it can be topped up from empty to 80% in 35 minutes.
Three driving modes are available: Turismo, Scorpion Street and Scorpion Track, all of which adjust acceleration and regenerative braking levels.  
Inside, the car is near-identical to the Fiat, with standard kit including a 7.0in instrument screen, rear-view camera and 10.25in infotainment touchscreen. Top-of-the-range models get Alcantara-clad sports seats, and JBL speaker system.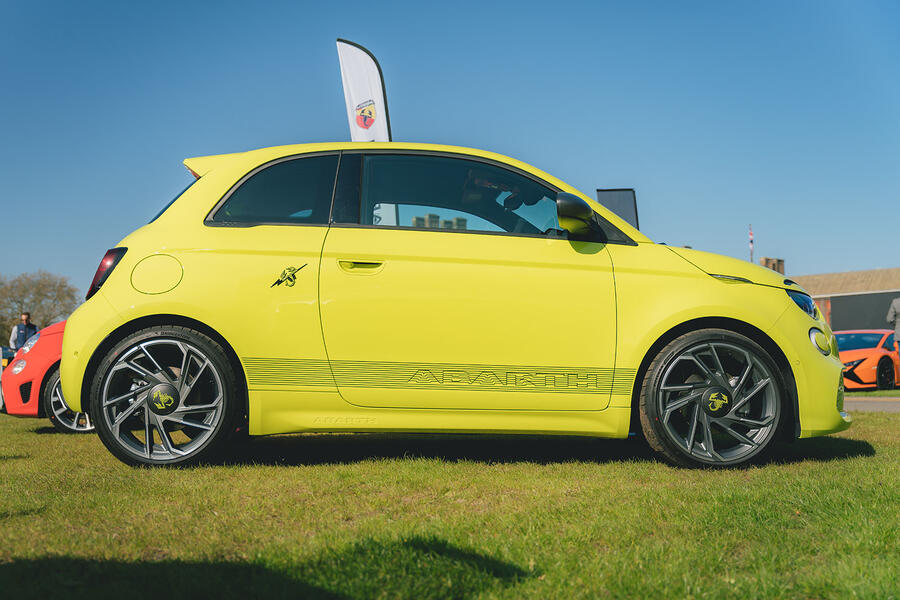 Abarth 500e-exclusive kit includes a set of 17in alloy wheels, grey mirror caps and sports seats and a black vinyl steering wheel. Top-of-the-range models get Alcantara-clad sports seats and a JBL speaker system. 
Another highlight is its artificial petrol engine-aping soundtrack, named the Abarth Sound Generator. It reproduces the note of Abarth's Record Monza exhaust, which the firm has described as a "distinctive" characteristic. 
Exclusively in the UK, the feature is fitted as standard, along with a JBL audio system, and can be switched off for silent running. 
Turismo versions also include heated front seats, a 360deg reversing camera, heated mirrors, wireless phone charging, keyless entry, blindspot warning and a glass roof on hatchback variants. 
Prices for the Abarth 500e start from £34,195 for an entry-level hatchback variant. Range-topping Turismo cars start from £38,195, rising as high as £41,195 for a Turismo cabriolet. 
With a wheelbase 24mm longer and a track 60mm wider than the Fiat, coupled with a lower centre of gravity afforded by the under-floor battery, the 500e also promises improved handling over its petrol sibling, with a boost in turn-in response and higher corner exit speeds.
Olivier François, CEO of both Fiat and Abarth, said: "The new Abarth 500e is one of the most exciting launches in the history of the brand: a great new addition to the Abarth line-up. I like to think of it as family, so our fanbase will be involved in every step of our electrification journey."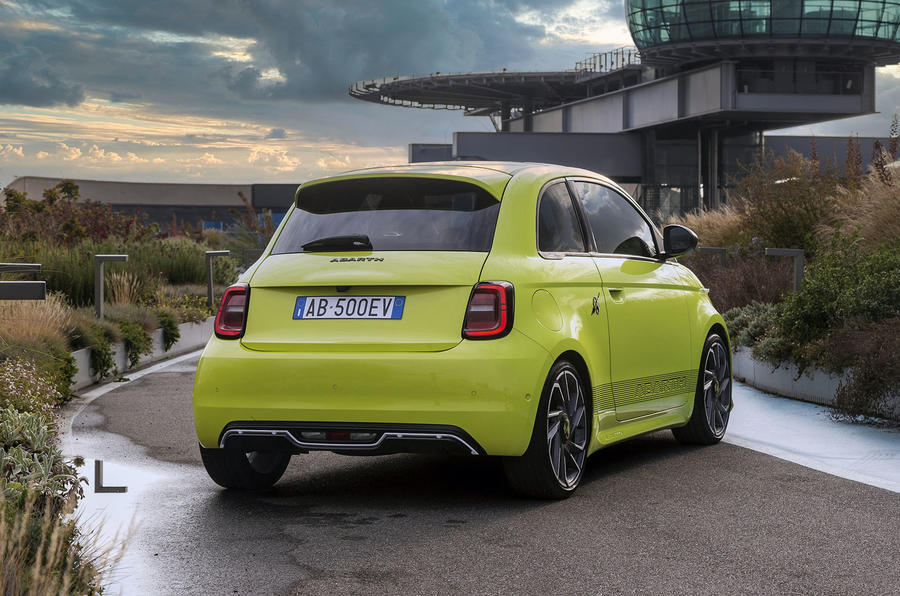 He added: "You may ask 'why electric?'. Well, basically, performance made us do it: in fact, every change made in the Abarth is about getting the best driving performance. That's exactly how our founder, Carlo Abarth, always went at it."
As with other Abarth models, the 500e is marked out externally from its standard Fiat sibling by a dramatic performance-themed design overhaul, bringing a wider, squared front end (which is adorned by the brand's name), lower side skirts and a subtle rear lip.
Abarth has essentially been a one-car brand since its hot take on the Mazda MX-5-based Fiat 124 Spider bowed out in 2019. It has yet to put an end date on production of the petrol-powered 695, with parent company Fiat keeping the equivalent 500 on sale alongside its electric sibling for the foreseeable future. 
Details of which future Fiat models will get the Abarth treatment are still to come, but likely candidates include a Punto-sized Fiat supermini – inspired by 2019's Centoventi concept – due in 2023 to rival the Vauxhall Corsa Electric, and an electric successor to the Fiat Panda, which was confirmed last year by François but its arrival date has not yet been disclosed.
https://www.autocar.co.uk/car-news/new-c...A334195-uk