04-14-2023, 06:53 PM
New car savings grow as discounting culture returns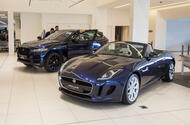 Jaguar has the biggest increase in the typically achievable cash Target Price discount
Discounts on new cars have increased by as much as 23% over the last quarter
A culture of discounting could be returning to the new car market, with key indicators, including an increased willingness among salespeople to discuss discounts, suggesting that savvy buyers could rack up significant savings.
Research conducted by What Car? has found increases of up to 23% in cash Target Price savings over the last quarter, as well as a 25% uplift in the average finance deposit contribution.
It won't be a quick return to the pre-pandemic market state, however, and consumers will have to shop around and haggle for better deals as some fundamental hangovers from the past couple of years remain.
These sticking points include unfulfilled new-car order books, emboldened dealer sales teams (that have become used to defending their profit margin), a low discount perception among buyers and the high demand for electric cars. Wider issues include a perception among manufacturers of the product value or quality outweighing the need for discounting, plus manufacturers gambling on selling fewer cars in a bid to control their supply/demand balance for greater profit.
The average cash Target Price discount across all segments is currently 4%, or £1862 per car. While this composite figure only represents a marginal increase over the previous month, individual segment analysis reveals a more complex picture.
Nine vehicle segments have recorded a month-on-month increase, including hot hatchbacks and sports cars at 23% and executive cars at 19.4%. Meanwhile, five segments have seen typically achievable showroom savings fall, including a 19.3% drop for city cars and a 12.8% decrease for convertibles.
Nissan dealers are currently the most generous when offering an average cash Target Price discount across a model range at 7.5%, followed by Peugeot at 7% and Seat at 6.2%.
Jaguar has the biggest increase in the typically achievable cash Target Price discount, with a 1% increase across the range, up from 2.4% to 3.4%.
https://www.autocar.co.uk/car-news/busin...re-returns