02-03-2023, 03:35 PM
New scrappage scheme offers London drivers up to £5000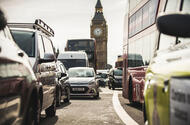 Scheme aims to support Londoners on certain low-income or disability benefits
New £110m scheme enables certain motorists and businesses to retrofit or scrap cars, minibuses and vans
Transport for London (TfL) has today announced the introduction of a scrappage scheme wherein each applicant could receive up to £5000 to scrap or retrofit their vehicle to meet ULEZ emissions standards. 
The £110m scheme comes ahead of the planned August expansion of the Ultra Low Emission Zone to include all 32 London boroughs. 
Calls for urgent rethink on London ULEZ extension
It aims to support Londoners on certain low-income and disability benefits whose current vehicles don't comply with ULEZ standards.
Applicants with wheelchair-accessible vehicles can receive up to £5000 towards scrapping or retrofitting, while owners of standard vehicles can get up to £2000. Motorbike owners can get up to £1000 for scrapping. 
Owners looking to retrofit a non-compliant vehicle will need to invest in catalytic-reduction technology to reduce the volume of NOx being emitted, replace the engine entirely with a Euro 6-compliant one or convert it to electric power entirely. 
An option for a lower payment is also available, and with that applicants will receive one or two adult-rate Annual Bus & Tram Passes that are worth more than the payment alone.
London-based sole traders, registered charities and micro businesses (of up to 10 employees) may also be eligible for the van and minibus scrappage scheme, which includes a grant payment of between £5000 and £9500. 
To qualify for either scheme, those applying must live in a London borough and must not have previously received a grant payment under the previous TfL scrappage scheme, under which 15,000 older, polluting vehicles were taken off the road. 
Applicants must also be receiving one or more of a list of benefits, including Universal Credit, Carer's Allowance, Child Tax Credit, Income Support, Jobseeker's Allowance and several others.
In order for a vehicle to be accepted, it must be registered with the DVLA and insured with valid road tax and an MOT. The owner must also have been the registered keeper for at least 12 months prior to the day the scrappage scheme was launched (30 January 2023). 
The £10 Autopay annual charge, allowing registered motorists to automatically pay the ULEZ charge, will be removed as of 30 January as part of the updated scrappage scheme.
Several organisations are providing benefits to motorists who successfully apply for the scheme, including mobility provider Lime, which will provide 300 minutes of free e-scooter rides, Dott, which provides a discount of £30 on 30 e-bike and e-scooter rides, and TIER who provide two free 'unlocks', 20 minutes free riding time and half-price e-scooter and e-bike journeys for six months. 
The ULEZ currently operates within the North and South Circular Roads and requires cars to meet minimum emissions standards or pay a fee of £12.50. The scheme operates 24 hours a day, seven days a week and will be expanded to include all boroughs as of 29 August 2023. 
London mayor Sadiq Khan has recently come under pressure to reconsider this expansion, with 19 outer London councils expressing their concern. Some are considering legal action to stop the scheme, reporting that more needs to be done in line with the rise in the cost of living. 
https://www.autocar.co.uk/car-news/new-c...%C2%A35000