09-06-2021, 03:51 AM
New vs used: Skoda Octavia vRS vs Mercedes-AMG C43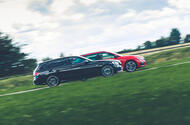 The Mercedes-AMG C43 is a terrific fast estate, and close on price to a brand new Skoda Octavia vRS…
Fast estates remain the ultimate family cars, and Mercedes-Benz has tuned into that by promoting its V6 C-Class as an AMG. At £35,000, it's an attractive used buy. Or should you just play it safe with a new Skoda Octavia vRS?
These kinds of cars are so tempting secondhand. Sure, something like this new Octavia vRS competently combines practicality, a factory warranty and reasonable running costs with a dash of driver engagement, but the used market offers so many tantalising alternatives, making you wonder how much more driver's car you can hide in that sensible body. Thoughts quickly start to wander to the Audi RS4 Avant, BMW M5 Touring and Jaguar XFR-S Sportbrake…
No, no, let's get back to the real world, because those highly strung engines could swiftly lead to financial ruin. Instead, for this comparison, we're looking to one of Mercedes' AMG-lite products, the C43, which was introduced in 2016. You can pick up low-mileage pre-facelift examples for around £35,000. The example we have here has ticked over 60,000 miles and cost its owner just £28,000.
By contrast, you need at least £32,925 for a petrol manual Octavia vRS estate, or £34,605 for an auto. For a diesel auto, like our test car, it's £33,535.
This story is part of a wider feature that sees new cars go up against used alternatives. You can read the rest here
The C43 may sound more exotic, but it's not quite the thoroughbred that it purports to be. In a clever marketing move, for the W205 generation, Mercedes rebranded the top-of-the-range C450 as the C43 shortly before it was due to go on sale in the UK. Rather than just being a C-Class with a big engine, it now had the clout of Mercedes' performance division. Despite a few AMG tweaks, the C43 isn't really an Affalterbach product.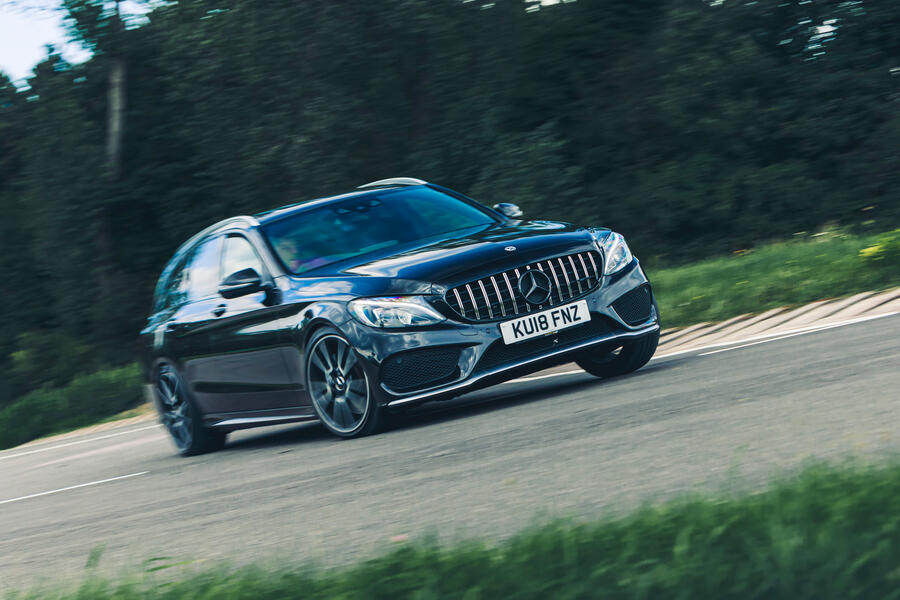 Pedigree or not, it still has a twin-turbocharged petrol V6 engine – something that can't be said for the Octavia (or any future C-Class, for that matter). The V6 in the C43 isn't the most tuneful six ever conceived, but the gruff bark and feeling of muscularity suits this warm estate to a T. The exhaust button in the centre console will make it louder and more farty, if that's your thing.
Evidently, the Skoda can't compete for sense of occasion here. Its 197bhp 2.0-litre engine feels strong and willing to rev for a diesel, and it's very hushed inside the cabin. It will always be a tool for a job, though, not something that you take pleasure in sending up and down the rev range.
The familiar 2.0-litre turbo petrol unit that has been powering GTI and vRS models for years won't match the C43's fireworks either, since it has been tuned to be more subdued in the Octavia, but it is more suited to a performance derivative. Sweet revenge comes at the pumps. The petrol vRS can achieve MPG figures in the mid-30s in mixed use, while the diesel will get into the high-40s with ease. The C43, meanwhile, puts all its efforts converting fuel into noise and power. Ours was showing an average of 26mpg on its display after a day of mixed motoring. Ouch.
Unfortunately for the Skoda, the ascendancy doesn't last very long, because as soon as you step inside, it's clear that the Mercedes is on another level. Not that the Czech car isn't nice: the design is thoughtful and modern, and it's well screwed together, but it's a pretty plain creation that can't match the feeling of luxury you get from Mercedes.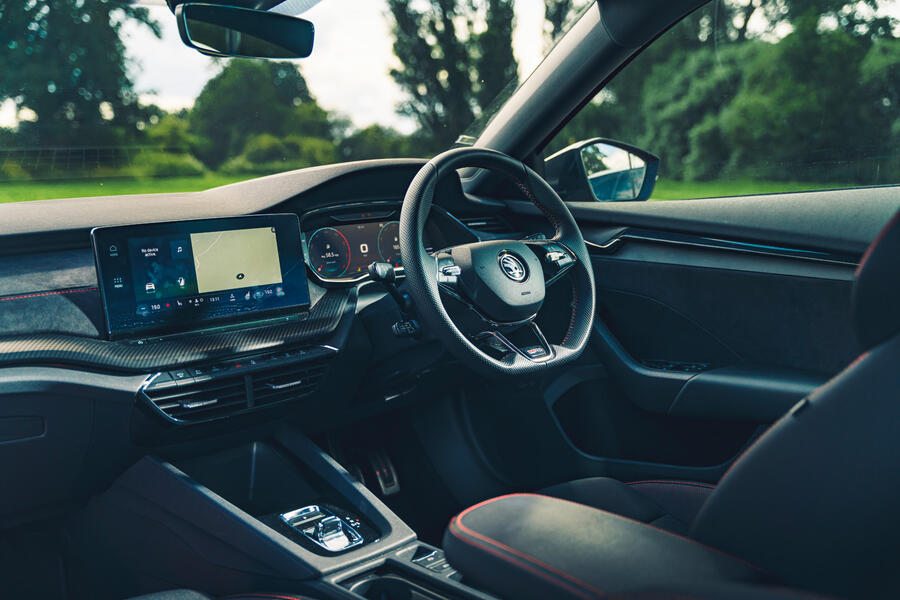 The German car's leather-and-Alcantara seats are softer and more adjustable, and the natural wood trim easily trumps the shiny plastic in the Octavia. Some of the Mercedes' buttons and stalks don't feel as hefty and built for the ages as you would expect but, apart from the shiny leather on the steering wheel and the snail trails and dog hair in the boot, it has actually held up very well for its 60,000 miles.
The flip side is that the C-Class, with its lengthways engine and rear-wheel drive, isn't known for being particularly spacious, which happens to be one of the Octavia's strengths.
Given the speed at which electronics become obsolete, you would expect the new car to claw back some points with its more modern infotainment system, but actually the opposite is true. The system currently shared across the mainstream Volkswagen Group brands looks slick but is often frustrating to use. The C43's is the opposite. The screen in this pre-facelift car is small and looks a little dated but, thanks to a rotary dial and physical switches, is far easier to use. Admittedly, there's no Apple CarPlay or Android Auto, but aftermarket solutions exist.
Go for a drive and the vRS strikes a very nice balance of sharpness and daily usability. On passive dampers, the ride is firm for an Octavia but perfectly easy to live with. That translates to good control over challenging roads with a bit of body roll to let you know what's going on. Despite riding on Pirelli Cinturatos, a fairly ordinary tyre, it hangs on gamely in corners, with a neutral balance, but it doesn't reward you like the best performance cars.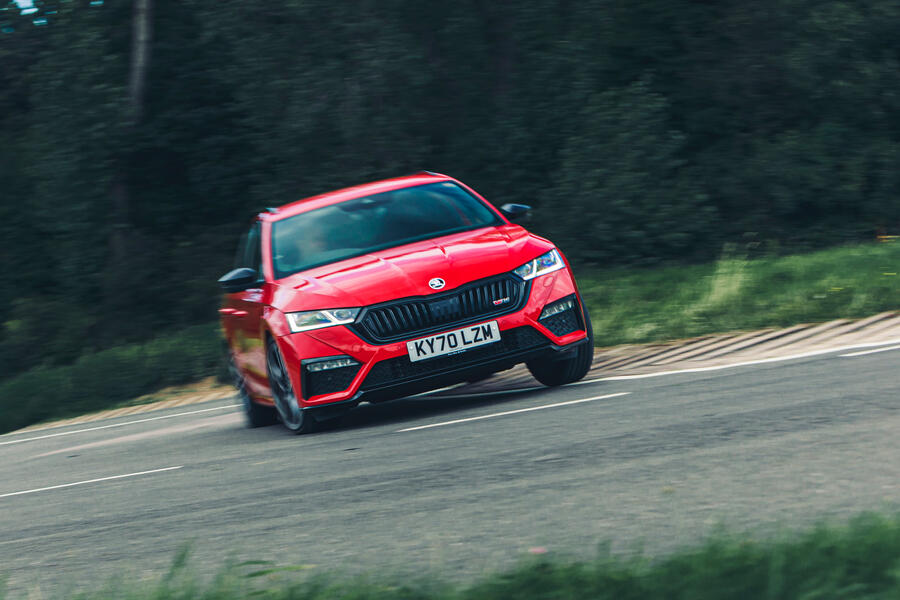 The diesel vRS also lacks the limited-slip differential that the petrol gets, even though it could use one. At least the seven-speed dual-clutch automatic gearbox works very well – with fast, smooth shifts and good response to the paddles – although it is best to use the Sport driving mode, as Normal can be too keen to keep the revs low.
As rounded as the vRS is as an everyday performance car, it probably won't be a surprise to learn that the C43 is more satisfying, even if it doesn't offer the full AMG experience. Like the Skoda, it does without a locking diff, but with four-wheel drive it's not an issue on the road so long as you don't expect any feeling of rear bias. It's clearly tuned to steal Audi S4 Avant buyers, who are used to safe and steady balance. It has three-stage adaptive dampers, but it's firmer than you might hope in Comfort mode and gives good body control only in Sport+.
Lots of grip and traction, confidence-inspiring steering and 362bhp make it easy to stroke the C43 along at whatever pace you feel comfortable with. The nine-speed torque-converter automatic gearbox shifts quickly enough but will abruptly run into the limiter about 500rpm before the indicated redline. What's remarkable about the C43 is not that it works as a performance car but that there's a relaxed demeanour about it. With no artificially nervous steering, aggressive throttle response or tetchy ride, it's easy to find yourself cruising along well below the speed limit and being very content doing so. Despite its performance credentials, it manages a big-Mercedes feel that will be appreciated in an everyday car.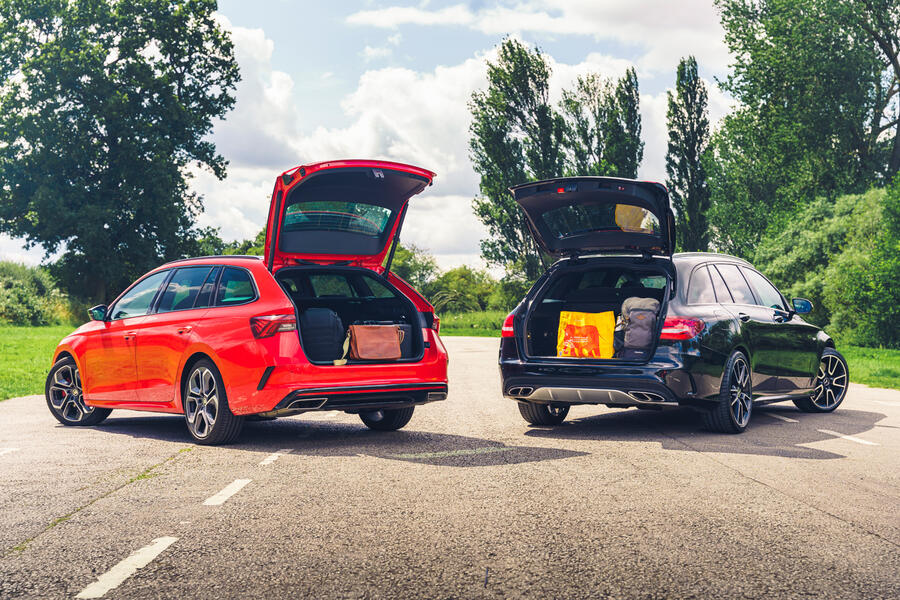 On experience, then, the C43 scores the win, but the usual used car caveat applies: you will need to budget for some maintenance. Our car had just had four new Michelin tyres and had a squeak emanating from its front-left suspension.
Even so, the C43 seems like a solid buy with few common issues, so let's enjoy V6s while we can.
READ MORE
https://www.autocar.co.uk/car-news/featu...es-amg-c43