01-01-2022, 12:45 PM
News review: biggest motoring stories of 2021
Last year's pandemic was only the beginning. We look back at 2021's headline grabbers
According to the poker-related cliché, you can learn a lot about people by how they behave when the chips are down – and the car industry has demonstrated that in the most literal of ways this year. 
An ongoing global shortage of semiconductors means processing chip production is down, which has had a seismic impact on the car industry. With most cars now packed with chips to power new technology, many firms have been forced to slow or suspend production, creating a shortage of cars for customers to buy. The biggest news story of 2021 is a perfect storm of disruption at a time when the industry is undergoing unprecedented change and still trying to recover from the huge impact of the Covid-19 pandemic.
Why the industry can't have its chips:
The origins of the semiconductor shortage lie in the early days of the pandemic in 2020. Modern cars are using increasing numbers of semiconductors due to the increasing amount of on-board technology: they power infotainment systems, driver assistance technologies, in-car features, electronic battery management and more. But as firms suspended production due to Covid lockdowns, they cancelled parts orders from suppliers – including from semiconductor manufacturers.
Semiconductors are widely used in electronic devices such as computers and games consoles, sales of which surged during lockdown. So the electronics firms kept their orders for chips in, and when they began production, the car firms discovered they had dropped to the back of the queue. And that queue is getting longer: according to the Semiconductor Industry Association, sales of semiconductors were up 26% year on year in May this year.
It's a basic supply and demand problem, but one without an easy solution: it isn't feasible to simply ramp up production of the chips. Semiconductor fabrication facilities – known as fabs – are incredibly complex to set up. The production processinvolvesaround1400steps andrequiresspecialisttoolsand skills. According to tech website Venturebeat, building a new fab can cost £9 billion and takes three years to become production ready. 
How the car industry is reacting
With no easy answer on the production side, the car industry has been left with a range of unenviable solutions. Many firms have been forced to produce cars without chips (adding them in later) or even scale back production, a somewhat unpalatable option given that shuttered factories themselves run up substantial costs.
Analysts IHS Markit said the shortage could cut global production by nearly 700,000 vehicles year on year, although that seems something of an underestimate: Stellantis executives recently said the crisis would cost the firm around 1.4 million units in lost production and sales this year, while Jaguar Land Rover lost so many sales of newer electrified cars in Europe that it had to pay Tesla to join an EU emissions pool to avoid paying huge fines for missing its CO2 targets. One estimate by AlixPartners suggested the chip shortage would cost the automotive industry around £160 billion this year.
The frustration for car firms is that demand for new cars is growing rapidly as Covid restrictions are generally eased. As a result of production slowdowns and rising demand, wait times for new cars are growing dramatically: right now you'll have to wait around six months for a Dacia Sandero or Ford Fiesta, and potentially a year for a Jaguar I-Pace. That in turn has caused a surge in demand for second-hand cars, sending used prices soaring. In a bid to meet demand, some firms have taken to selling cars with a reduced number of chips, which in turn means a reduced number of features. Models have been sold without the likes of sat-navs, full infotainment and heated seats, with the plan to add the chips for them later when availability allows.
The impact has not been even: some firms have done better than others at securing chips or changing designs, but every major car maker has been affected in some way. And that will continue: while the chip shortage is showing signs of easing, it is likely to take until 2023 for semiconductor production to catch up with global demand.
Car sales continue to struggle 
Hindered by the semiconductor crisis, car sales and production haven't recovered in the ways the industry had hoped following last year's Covid-hit slump. According to Society of Motor Manufacturers and Traders data, 1,422,879 cars were sold this year until the end of October, a figure that represents just a 2.8% increase on 2020. The concern is that the impact of the chip crisis became more pronounced as the year went on: sales in October were down 24.6% year on year.
There were some bright spots in the new car sales figures, though. Electrified vehicle sales continued to rise, with full-electric and plug-in hybrid sales nearly doubling (by 86% and 89.8% year on year respectively). That means that, as of the end of October, 9.9% of all vehicles sold in the UK in 2021 – 141,296 cars – were fully electric vehicles.
The industry's electric switch  
The other key issue facing the industry this year was the ongoing shift to electrification. As highlighted by the United Nations COP26 summit in Glasgow, tackling climate change has become a key priority for both governments and major corporations.
The car industry has already started a significant, profound move to 'carbon-free' (at least in terms of tailpipe emissions) vehicles, pushed by changing customer demand and increasing regulations such as the UK's planned ban on all new non- zero-emission car sales from 2035 onwards. Through that confluence of regulatory, corporate and PR need – and, to be fair, some level of social responsibility – manufacturers continued to firm up their plans to go green. Car makers at COP26 were part of an agreement to phase out combustion engines by 2040 – although the deal was more notable for the number of companies that didn't sign it, for various reasons.
Through a succession of slick events and presentations, car firms raced to prove their green credentials. Stellantis's EV Day was a good example, with the car giant outlining electrification timelines for the bulk of its 14 brands. The key was in deciphering the detail behind the bold EV pronouncements: for example, Stellantis brands Vauxhall and Opel will be all-electric in Europe by 2028, leaving room for Opel to continue to sell combustion- engined models in other markets. Similarly, the Volkswagen Group upped its EV commitment, with a move for 'almost' all of its sales to be electric by 2040, while signalling that combustion-engined models will continue to be key to its plans in markets where they are still allowed.
The switch might yet come faster: in markets such as the UK, sales of electric vehicles are accelerating as the number of cars available increases, people begin to understand the technology more and prices fall. Continued legislation will help: the UK is now planning a zero-emission vehicle mandate to help move the industry towards the 2035 ICE sales cut-off. Under that plan, firms will have to make an ever- increasing percentage of their fleet zero emissions each year.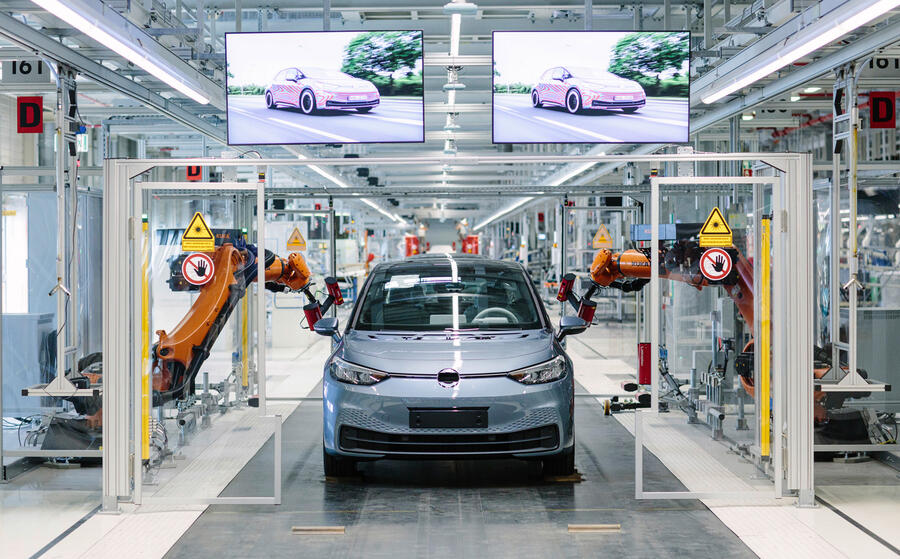 The great gigafactory squabble
With the burgeoning growth of EVs, sourcing a reliable supply of batteries has become vital and has led to an increasingly rapid scramble to secure battery factories (almost always termed 'gigafactories', in a slightly misconstrued nod to Tesla). Such facilities require huge investment and a workforce with a range of specialised skills – and with many countries keen to attract such jobs, car firms have increasingly started campaigning for governments to help fund their battery factory plans. 
Both Stellantis and Renault have been openly lobbying for support from the French government for them or their partners to build factories in the country: Renault's would support its ElectriCity production hub in northern France where the Mégane, 4 and 5 EVs will be built. The Volkswagen Group announced plans for six battery factories, although the location of several remain up in the air pending government deals. For example, it wants to build the Volkswagen ID 2 and other cars on its MEB Entry platform at Seat's Martorell factory in Spain, but only if the government there supports a gigafactory. It has earmarked another plant for eastern Europe, in effect inviting countries in the region to pitch for jobs.
The UK also wants in on the battery factory industry, as part of its bid to become a leader in EV technology. That's a challenge without a truly domestic car manufacturer (JLR's only current EV, the I-Pace, is built by Magna Steyr in Austria), but there have been some successes: Chinese firm Envision is planning a huge expansion of its Sunderland gigafactory that supplies batteries to nearby Nissan, while Britishvolt is leading the way for firms planning to build plants here. But more are needed: the Envision and proposed Britishvolt plants would have a combined production output of 68GWh per year; estimates suggest 140GWh is needed by 2040 to sustain the current car industry. The Faraday Institution suggests that failing to do so could cost the industry 105,000 jobs by then.
Car makers are also pushing on battery tech. With concerns over the environmental and social impact of lithium ion batteries, companies are researching more sustainable alternatives that offer more range or faster charging. Firms including  Stellantis and Mercedes-Benz are also ramping up investment in solid- state technology, long considered the holy grail of EV batteries.
Going green beyond EVs
As the push to EVs and net zero production has accelerated, car makers have realised it isn't simply enough just to produce electric cars: there's a real drive now to make cars sustainable and environmentally friendly in other ways. 
It was notable that BMW and Volkswagen's big Munich motor show reveals – the i Vision Circular and ID Life – both showcased sustainable materials and production methods. Meanwhile, Volvo and Polestar continued their push to consider the whole production impact of a vehicle and move away from materials such as leather to more sustainable, recyclable, vegan-friendly alternatives.
Everything old is new again 
This year also featured another wave of automotive manufacturers outlining their bold reinvention plans, including detailed revival strategies from some of the big firms that gained new leaders last year: Renault (Luca de Meo), JLR (Thierry Bolloré), Aston Martin (Tobias Moers) and the newly merged Stellantis (Carlos Tavares). Bolloré's ambitions for Jaguar were particularly bold, with the Frenchman scrapping all the previous management's plans for the brand including the very much under way new electric XJ, preferring instead to completely relaunch the marque as an EV-only Bentley- rivalling premium offering in 2025. The changes for the more profitable Land Rover arm were less dramatic but still significant, with a commitment to develop new platforms and fully electric versions.
De Meo's plans for Renault included a major push into EVs and a return to the lucrative C-segment market, with an emphasis on more emotional cars. The shining example of de Meo's strategy was a revived Renault 5 concept, showcasing an EV hatchback. Significantly, the concept was developed at de Meo's request in rapid time: in a matter of months, the Italian finally delivered on a plan his predecessors had long dreamed of but on which they had failed to act.
With 14 brands under his stewardship at Stellantis, Tavares had more of an overseeing role, so his response was to give the head of each of those brands time to develop their own strategies. But Tavares is heavily involved in structuring those brands so they can enjoy greater economies of scale in technology and platform sharing; notably, Alfa Romeo, DS and Lancia are now closely aligned as premium brands. And, as with Renault (and others), several Stellantis brands dipped into their past to present the future: the Opel Manta and Lancia Delta are among the marque's past nameplates returning as new electric vehicles.
Given Aston Martin's perilous state when Lawrence Stroll bought it last year, Moers may have had the hardest job, but this year has shown signs of real progress. The success of the DBX has given the firm welcome cash flow, and a deal with Mercedes- AMG for future EV technology offers the chance to really look to the future with confidence. That is, of course, if they can continue to find enough chips to meet the demand.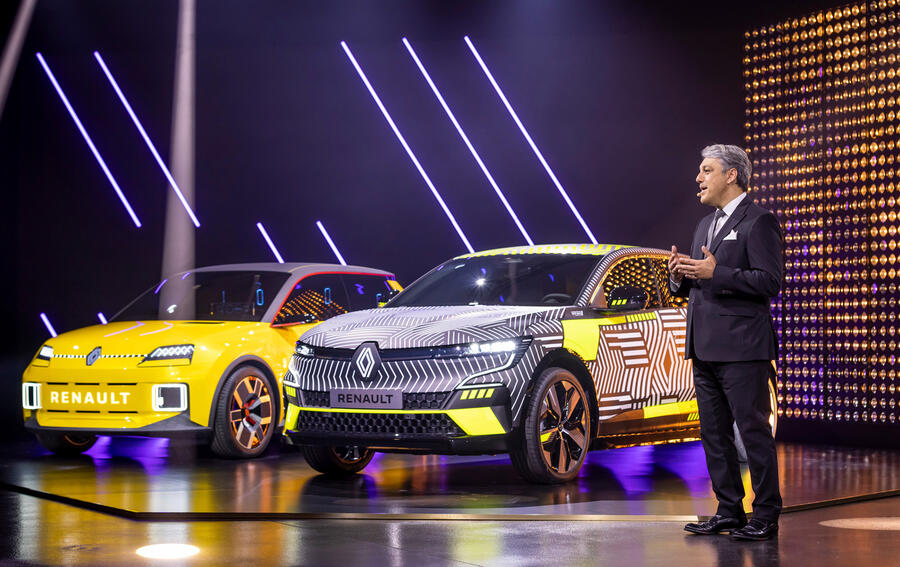 ALSO IN THE NEWS
The Tesla Roadshow
Never a dull moment here. The Cybertruck and new Roadster were delayed again, the excellent Model Y finally reached Europe, Tesla moved its HQ to Texas (where it's building a new plant) and opened facilities in Shanghai and Germany, its share price soared and the firm faced the wrath of US regulators for accidents involving the 'Full Self Driving' system. And Elon Musk caused lots of controversy, as ever.
Lotus is back
The British firm kicked off its new era under Geely ownership, albeit with a car that marks the end of an era. The Emira will be Lotus's final combustion-engined car, but it represents the investment made in reviving the company. It really does seem as if Lotus is back.
The motor show returns
Motor shows returned, with key events in China, LA and Munich. That said, Munich was much smaller than previous German shows, and the cancellation of Geneva for 2023 still leaves questions about the long-term future of such events.
The Chinese are here
Credible Chinese firms have finally started selling cars in Europe. Nio and Xpeng are already here, while Ora and others arrive soon.
The year in numbers
$1.2 trillion - Peak valuation reached by Tesla – making it worth as much as the next 10 biggest car manufacturers combined.
£302 million - Losses posted by Jaguar Land Rover in the third quarter of 2021 due to the impact of the chip shortage.
8,200,000 - Cars sold across Europe in 2021 until the end of October, a 2.2% increase on 2020. 
£100 million - Committed investment by Stellantis to transform Vauxhall's Ellesmere Port plant.
https://www.autocar.co.uk/car-news/featu...ories-2021