03-17-2023, 04:39 AM
Next-gen Mercedes-Benz GLC Coupé arrives with 671bhp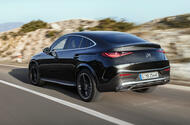 The design changes are evolutionary with sharper styling and thinner headlights
Crucial new luxury SUV gets subtle design tweaks and new powertrains
Mercedes-Benz has unveiled the second-generation Mercedes-Benz GLC Coupé, which will go on sale in the UK this July.
It will be produced with two turbocharged four-cylinder engines in seven standard models, including a trio of plug-in hybrids, each boasting an official electric-only range of more than 74 miles.
The new high-riding five-door has been comprehensively reworked in an engineering program with the latest GLC SUV, Mercedes-Benz C-Class saloon and Mercedes-Benz C-Class Estate, alongside which it will continue to be produced at Mercedes' factory in Bremen, Germany.
Developments for the new GLC Coupé, known under the internal codename C254, include a restyled exterior, with more shapely LED headlights that extend into a larger front grille, a heavily contoured bonnet, tauter surfacing throughout the body, larger wheelhouses and more prominent feature lines along the flanks.
As with its predecessor, the GLC Coupé features a sloping roofline with a plunging liftback-style tailgate, giving it a more dynamic appearance than the more upright GLC SUV.
The rear is distinguished by new-look LED tail-lights, a more defined upturn at the rear of the tailgate for added downforce and, on the AMG Line model pictured here, a chrome-look valance with an integrated diffuser element that's bookmarked by a pair of tailpipes.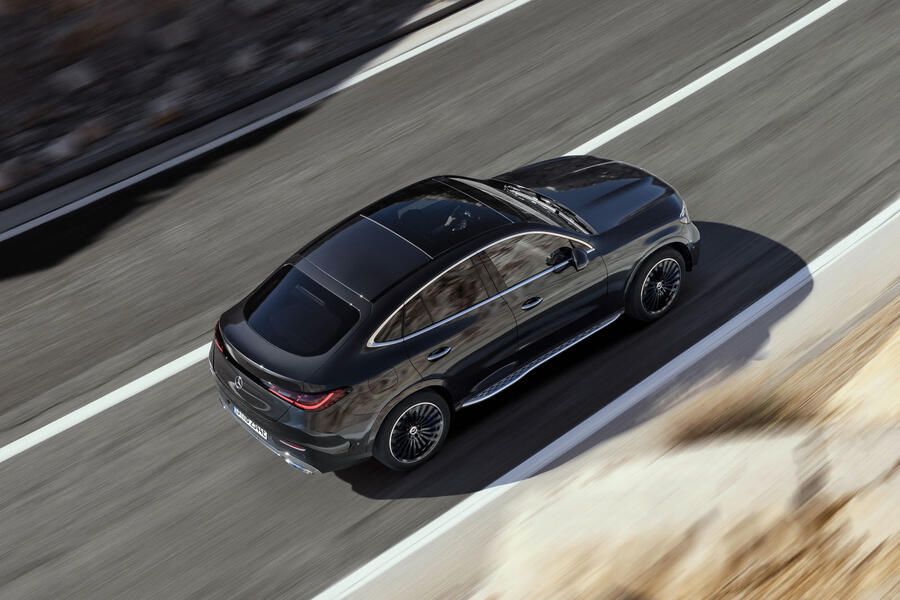 At 4763mm long, 1890mm wide and 1699mm tall, the new car is 31mm longer, the same width and 55mm higher than the original GLC Coupé, introduced back in 2016.
It also has a 15mm-longer wheelbase, at 2888mm, along with track widths extended by 6mm to 1627mm at the front and by 23mm to 1640mm at the rear.
Inside, the new GLC Coupé receives the same interior appointments as the new GLC SUV. Included in a heavily restyled dashboard is a 12.3in instrument display and 11.9in portrait-oriented centre display together with a new multifunction steering wheel and newly styled air vents.
Mercedes said it provided the new SUV with higher quality materials in a conscious bid to raise perceived luxury and comfort. 
Among the options is a new head-up display, a panoramic glass roof and a Burmester 710W surround-sound system with 15 speakers.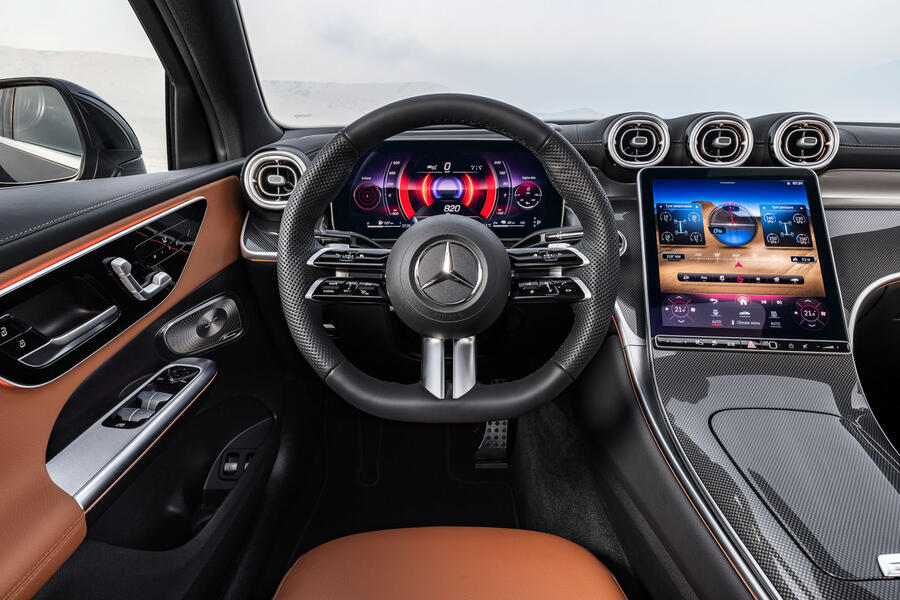 The longer wheelbase and an extended rear overhang serve to provide the GLC Coupé with an added 45 litres of boot capacity at 545 litres in the petrol and diesel models and 390 litres in the plug-in hybrids. This can be extended to a respective 1490 litres and 1335 litres when the rear seats are folded down. By comparison, the GLC SUV offers up to 600 litres of luggage space, extending to 1680 litres with the rear seats folded.  
There are two petrol and two diesel GLC Coupés, all featuring mid-hybrid properties (for an added 148lb ft of torque under acceleration), a nine-speed automatic gearbox and 4Matic four-wheel drive as standard.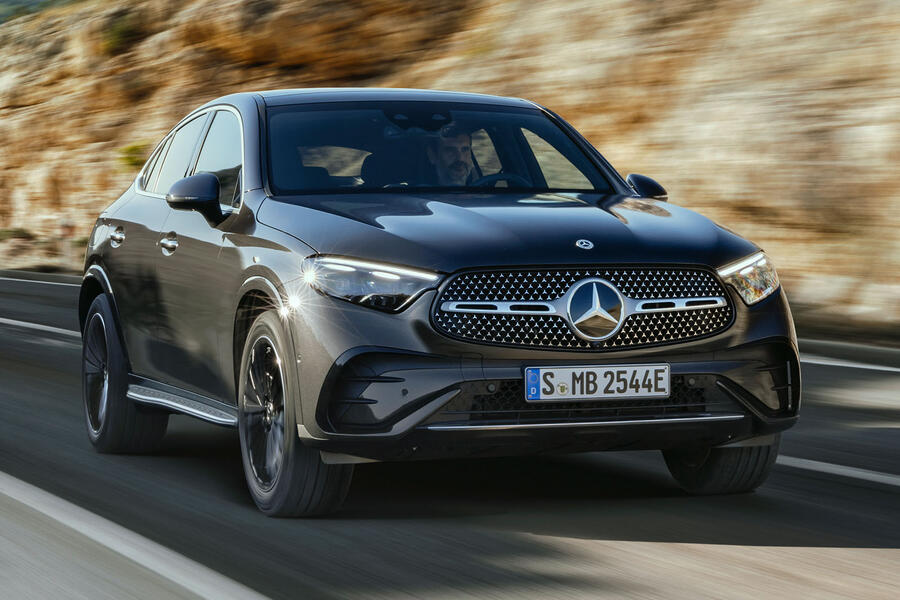 The line-up begins with the petrol-powered GLC 200 4Matic and GLC 300 4Matic, which deliver 201bhp and 255bhp respectively. They're joined by the diesel-powered GLC 220d 4Matic and GLC 300d 4Matic, with 194bhp and 266bhp.
The three plug-in hybrids are the petrol-electric GLC 300e 4Matic and GLC 400e 4Matic, which boast combined outputs of 308bhp and 375bhp, and the diesel-electric GLC 300de 4Matic with 329bhp.
The PHEVs use a 31.2kWh battery, providing them with electric-only ranges of between 74 and 81 miles for the petrol-electric models and between 70 and 81 miles for the diesel-electric one.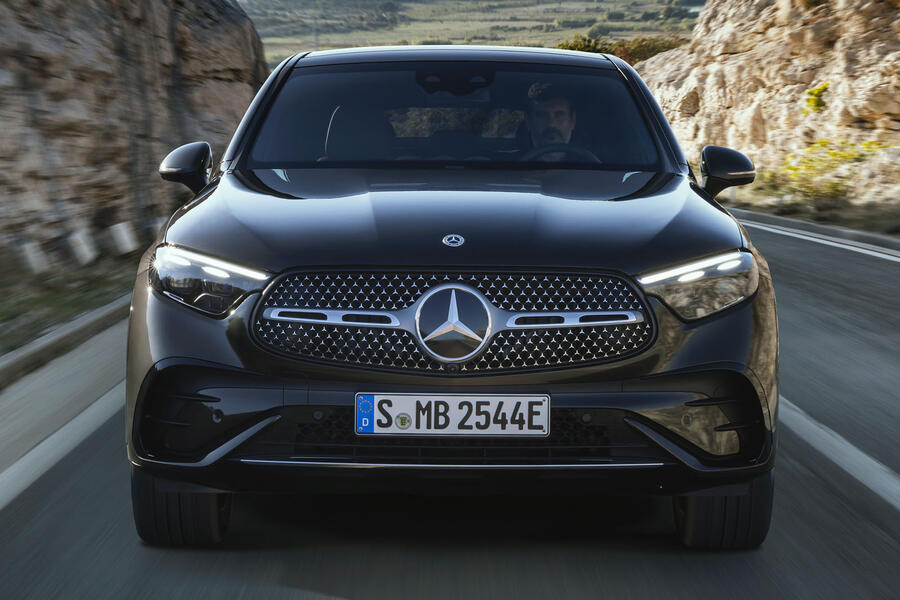 Also planned are successor models to performance division AMG's GLC 43 4Matic and GLC 63 4Matic+, with up to 671bhp.
The new GLC Coupé is underpinned by the same four-link front and multi-link rear suspension as the GLC SUV and C-Class.
Unlike the C-Class, though, it offers the option of Airmatic air suspension (standard on the PHEVs) with variable damping control. There's also a new rear-wheel steering system providing up to 4.5deg of steering angle to the rear wheels.
As before, the GLC Coupé will be sold with an optional Off-Road Package. This includes a dedicated off-road driving mode, a downhill speed regulation (DSR) function and a 360deg camera offering a so-called 'transparent bonnet" in which a graphic within the infotainment system shows a virtual view underneath the front of the car, including the angle of the front wheels.
Mercedes-Benz GLC Coupé prototype ride impressions
Shortly before the new GLC Coupé was unveiled, we were invited to ride along as Mercedes' test engineers put the final miles on lightly disguised pre-production prototypes of the Audi Q5 Sportback and BMW X4 rival, which predictably boasts many of the same developments brought to its more upright Mercedes-Benz GLC SUV sibling launched late last year.
"The emphasis hasn't changed a lot. We've once again developed the GLC Coupé to be the more dynamic model in the line-up. The difference between it and the GLC SUV isn't great, but it is subtly more sporting in terms of driving characteristics," says Peter Kolb, head of development for Mercedes' mid-size cars, as we head out of the Immendingen test centre onto public roads.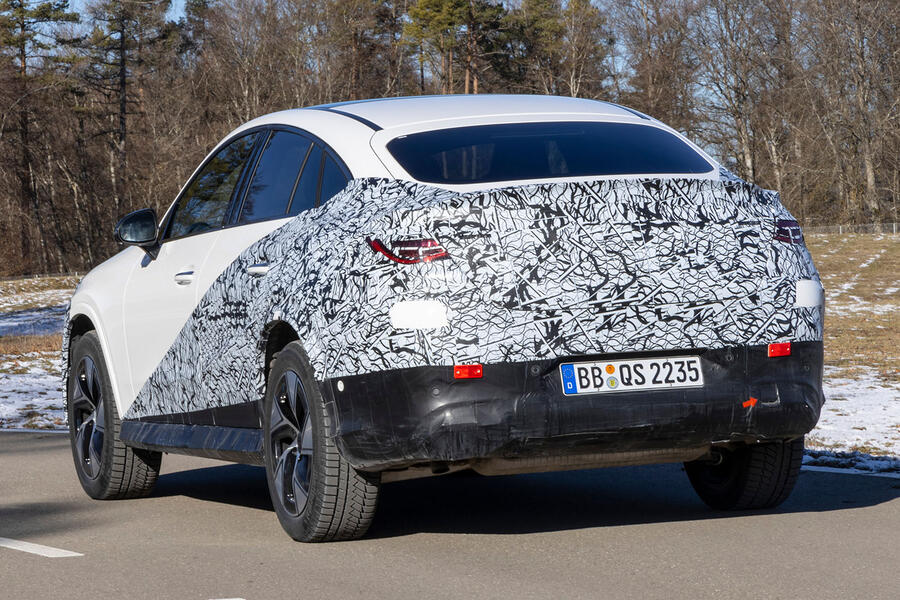 "The steering is more direct than before," says Kolb. "With the addition of rear wheel steer, we have a smaller turning circle. This makes it more manoeuvrable in urban driving. But at the same time, it also provides added agility out on the open road."      Right now, we will have to take his word for it. But from the passenger seat, the new GLC Coupé gives the impression of being quite responsive and wieldy. 
There is an imbibing maturity to the handling and overall dynamic properties of the new Mercedes. Body lean is well controlled during all-out cornering, as is pitch and dive under acceleration and braking. In this respect, it feels to have progressed beyond its predecessor, with agreeably composed qualities out on the open road.
With the optional air suspension, the ride is impressively refined, too. There is excellent absorption of road shock over smaller high-frequency bumps and better isolation of road noise than before, even on the optional 225/45 R20 (front) and 285/40 R20 (rear) tyres worn by the GLC 300 prototype. 
Kolb credits a more rigid platform as well as the faster-acting properties of the adaptive damping control for the apparent improvement in overall ride quality, which he says was a key element in the new model's development.
Another factor that contributes to the low vibration and noise levels is a new bitumen-based material fitted within the transmission tunnel. 
There is still a lot to learn about the new GLC Coupé, but from our early ride in one of the last prototypes to be assembled prior to its unveiling, the Mk2 model appears to have been improved in every vital area. 
Sharper styling, more efficient drivetrains, a higher-grade interior and contemporary driver-assistance systems combine with more agile handling, excellent ride quality and impressive refinement by ICE standards to give it broad appeal and the basis for continued sales success.
https://www.autocar.co.uk/car-news/new-c...ves-671bhp