07-18-2023, 03:23 AM
Nio ET5, EL7 score five stars in newly updated Euro NCAP tests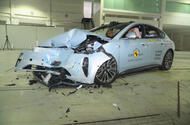 Nio ET5 scored 96% for adult occupancy and 85% for child occupancy protection
The two Chinese EVs were the first cars to be subjected to Euro NCAP's new testing regime
The Nio ET5 electric saloon and Nio EL7 large SUV have become the first two cars to complete the newly updated Euro NCAP safety test, with both models achieving perfect five-star scores. 
The two cars were subjected to tests introduced in 2023, involving child presence detection, vehicle submergence specifications and updated motorcyclist and vulnerable road user detection. 
To achieve a high rating, NCAP says new cars must also show improvements to passive safety for occupants and vulnerable road users, and active safety to prevent or reduce the outcome of a crash, as well as include systems for post-crash rescue. 
Also included in the organisation's tests for the first time are the impacts of car-to-car crossing, head-on car-to-car impacts, systems that prevent a door from opening into the path of a passing cyclist, and driver-state monitoring. 
The Nio ET5, tested in 75kWh battery guise, scored 96% for adult occupancy and 85% for child occupancy protection. 
The four-door saloon secured an 83% score for vulnerable road users and 81% for its safety assist systems. Euro NCAP also applied the five-star score to the 100kWh variant. 
Meanwhile, the Nio EL7 scored 93% for adult occupancy protection, 85% for child occupancy and 80% for vulnerable road users. The Audi Q8 E-tron rival also earned a 79% rating for safety assistance.
Both models will go on sale in Europe imminently, with a UK launch also on the cards later in 2023. 
NCAP bosses have sought to reassure drivers that its new test cycle is beneficial to the launch of new cars, with new technologies meaning car makers would be selling the "safest possible vehicles." 
Michiel van Ratingen, Euro NCAP's secretary general, said: "As the new rating gets tougher, to be among the first cars tested might be slightly daunting. However, Nio has stepped up to the challenge and achieved two five-star results, underlining their big ambitions for the brand. 
"Safety technologies are becoming complex, yet I want to reassure consumers that Euro NCAP will continue to anticipate and adapt to changes in our rating scheme, challenging vehicle manufacturers to ensure drivers – and the road users they interact with – are offered the safest possible vehicles."
https://www.autocar.co.uk/car-news/new-c...ncap-tests