03-01-2023, 09:18 AM
Nissan expands EV strategy as demand rises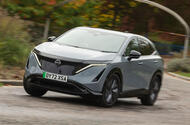 The Nissan Ariya's software architecture will become available on more models in the coming years, said Nissan
Japanese giant will launch four more battery-electric cars by 2030 than it had previously planned
Nissan has added four new battery-electric cars to its Ambition 2030 strategy in response to rising sales of EVs worldwide.
The firm will now launch 19 EVs by 2030, in turn taking the total number of scheduled electrified (hybrid, plug-in hybrid and electric) models up to 27.
It had previously planned to launch 15 BEVs and 23 electrified vehicles as part of a ¥2 trillion (£12.3bn) investment into electric mobility.
Read more: Nissan to launch 15 new EVs by 2030, solid state batteries by 2028
As a result of this expansion, Nissan now expects that 55% of its global sales by 2030 to be of electrified vehicles, up 5% on its previous forecast of 50%.
By 2026, Europe is expected to have made the most progress in this respect, with electrified vehicles now projected to account for 98% of the manufacturer's total. This is a significant increase on the previous figure of 75%.
The incline comes after the EU parliament's recent approval of legislation effectively banning sales of new ICE vehicles in the bloc by 2035. The new rules also set an intermediate target of a 55% reduction in CO2 emissions for new cars sold (compared with 2021 levels) by 2030.
Nissan will also explore deeper collaboration within the rebooted Renault-Nissan-Mitsubishi Alliance in Europe, it said in a statement.
Nissan's 2026 forecast for electrified sales in Japan has also risen, from 55% to 58%. The US prediction is unchanged at 40%. China, however, has had its electrification target cut from 40% to 35%.
Nissan chief operating officer Ashwani Gupta said in a briefing that this is because domestic brands "are leading the way" in the Chinese market.
The firm now plans to launch an electric SUV developed specifically for the Chinese market by 2024, in a bid to fight back against the likes of BYD and Geely.
The remainder of the Ambition 2030 strategy is unchanged, meaning Nissan still plans to introduce solid-state batteries in 2028, bringing a huge boost to EVs' range and charging speed.
https://www.autocar.co.uk/car-news/busin...mand-rises