02-07-2023, 08:27 PM
Nissan to launch first solid-state EV in 2028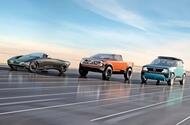 Max-Out, Surf-Out and Hang-Out EV concepts hint at Nissan's future
Firm is in a "class-leading position" to introduce cost-saving, liquid-free batteries with 2025-bound production plant
Nissan is committed to launching an electric car with a solid-state battery, believing itself to be in a "class-leading position" regarding the technology. 
The Japanese firm, which was first to launch a mass market electric car (the Nissan Leaf) in 2010, plans to have a pilot solid-state battery production plant up and running by 2025; to have completed engineering on the initial technology by 2026; and to then ramp up towards mass production in 2028 with the first application in a car. 
David Moss, Nissan's senior vice-president for research and development in Europe, said: "We think we have something quite special and are in a group leading the technology. We want to get the cost down [compared with lithium ion batteries] by 50%, to double the energy density and to offer three times the charging speed." 
Moss said that Nissan had gone from small button cells to larger (10cm) square cells at the current stage of development in Japan. Final cells end up the size of a laptop. 
He added that Nissan was working with leading scientists at the University of Oxford on developing the technology, and that Nissan's solid-state tech was "all solid-state", in that it removes all liquid elements from the battery. 
"Can you delete the liquid electrolyte out of the battery? This is where we think we're leading," said Moss. "Some solid-state batteries still have the liquid electrolytes, and this is an issue, as that liquid boils. The efficiency of that energy in storage and transfer and the power you put into it will be impacted." 
Moss said solid-state tech "opens up electric mobility to sectors that you can't today", such as the largest pick-up trucks and SUVs. 
There's no indication of which model would bring the tech to market in 2028, but it would have to be based on all-new architecture and most likely built in a new factory, because the impact on almost every element of the car's development and manufacturing is so dramatic. 
Nissan previously showed a trio of future-looking concept cars (the Max-Out, Surf-Out and Hang-Out), hinting at the diverse variety of market segments that stand to benefit from its next-generation EV hardware. 
"When you commit to something like solid-state, you have to change the whole mechanism and architecture of the vehicle," said Moss. The tech is being developed separately from any vehicle project to ensure that it is not introduced prematurely or does not cause any specific project to be delayed. 
Charging speeds will be key to reducing costs, because faster, more stable and more consistent charging will in turn mean smaller batteries can be fitted to vehicles. 
"If you can put in energy three times faster, is it any different to filling a [petrol] vehicle?" said Moss. "We don't know yet [about battery size], but we might have two sizes of battery – one for really heavy users who need massive range, but if you can put energy in like petrol, do you need the size?" 
Tripling charging speeds would take Nissan from around 130kW to 400kW as an example given, but the charge would be more consistently delivered at those speeds, rather than speeding up and slowing down depending on temperature. 
"That's what the [solid-state] cells can do," said Moss when asked about 400kW charging speeds. "They can accept it. The liquid cells of today can't." 
Moss added that Nissan remained committed to developing lithium ion battery technology, confirming that at least two more generations were coming – one within the next couple of years, then in 2028 a cobalt-free one, which is already at an advanced stage of research and could reduce costs by as much as 65%. 
"Lithium ion is constantly changing, with better energy density, [better] efficiency and lower cost," said Moss. "The cost is key, as this opens up EVs to even more customers. We believe there are a couple of steps left in lithium ion. A big drive for us is to go cobalt-free. We expect this to be on the market in 2028." 
It's important to keep developing lithium ion battery tech, believes Moss, because it will coexist with solid-state tech for a while to come.
"We've had four changes since [the original] Leaf," he added, recalling that the first battery make-up developed for the car never actually made it to production, because the tech advanced so quickly between its unveiling and market launch. 
"Batteries will continue to evolve," continued Moss. "We will continue to research battery technology as it moves so quickly. What we do today and plan today won't be the same as in a few years." Nissan has committed €15.6 billion (£13.8bn) to EV development over the next five years, on top of the €7.8bn (£6.9bn) it has spent so far.
Nissan to stop investing in pure-combustion engines
Nissan won't be investing in pure Euro 7 combustion-engine technology, its senior vice-president for R&D in Europe has confirmed.
David Moss told Autocar he believed a crossover point between the prices of Euro 7 engines and lithium ion batteries for EVs was near. "From a mass-production point of view, EV is coming down, EU7 is driving petrol the other way," he said. "So one cost goes up, the other goes down, and we're not that far away from where they will cross in cost."
The news comes after EU law makers published a list of rules to make ICE and hybrid cars "as clean as possible" before they are banned from sale next decade. Due from July 2025, these include new electrically heated e-catalysts to mitigate cold-start emissions and live on-board monitoring of key pollutants.
https://www.autocar.co.uk/car-news/new-c...te-ev-2028