01-28-2023, 09:19 PM
Official: Bentley design boss Andreas Mindt moves to Volkswagen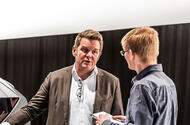 Andreas Mindt has worked in Bentley's design department on two separate occasions
Mindt will replace Jozef Kaban at Volkswagen from 1 February
Bentley design boss Andreas Mindt will replace his counterpart Jozef Kaban at Volkswagen from 1 February.
Mindt will be replaced in Crewe by Tobias Suehlmann, who already oversees Bentley's exterior design department, having joined in late 2021 following stints at Bugatti, Aston Martin, McLaren and Volkswagen.
According to a previous report from Automobilwoche, the high-profile job shuffle is a result of internal reaction to some of Kaban's recent designs; it had been widely reported that one of his most recent creations, the 2021 ID Life concept, was taken back to the drawing board for a redesign after its reveal in Munich, and VW CEO Thomas Schäfer is said to have asked for the brand's delayed Trinity EV to be redesigned as a crossover, rather than a saloon. 
Kaban has been given the role of creative art director for VW. He will also design of forward-looking concept mobility solutions at the VW Group Future Center Europe, in Potsdam, Germany.
Kai Grünitz, VW board member for technical development, said: "As chief designer of the Volkswagen brand, Jozef Kaban demonstrated that design involves more than simply styling individual models. Through his design vocabulary he has already left his mark on our entire range."
Andreas Mindt has headed up Bentley design since January 2021, having moved over from sibling brand Audi, where he was responsible for the styling of the Audi Q8 and Audi E-tron, as well as a series of concepts. He was not a newcomer to the brand, though, having created the show-stopping Bentley Hunaudières concept in 1999, which was a key influence on the shape of the Bugatti Veyron. 
More recently, Mindt previewed a radical new design direction for Bentley with the highly exclusive Batur coupé – a Bentley Continental-based creation that celebrates the firm's legendary W12 engine while ushering in cues that will define its future electric cars.
Grünitz added: "Andreas Mindt will shape Volkswagen's design language in the upcoming decisive phase of our transformation. I am looking forward to working with him."
https://www.autocar.co.uk/car-news/new-c...volkswagen