08-25-2022, 03:46 PM
One firm's goal to replace car ownership with remotely driven rentals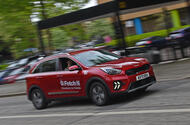 Kia Niro has been converted to be driven remotely
A deep-tech firm is driving a car remotely around real roads in Milton Keynes – using computer screens
In a small office in the centre of Milton Keynes, a young man wearing earphones sits in a car seat staring intently at a bank of computer screens and grasping a steering wheel festooned with buttons, his feet resting on pedals.
He could be an office worker ducking out to play a driving game in the designated 'chill zone', except that rather than scrapping with a fellow racer, he's about to drive me around the town in a Kia Niro – remotely.
Welcome to autonomous driving, Fetch style. The company, formed in 2019, plans to start offering driverless car rentals within a three-mile, and later a five-mile, radius of the centre of Milton Keynes in around 18 months' time.
You'll hail your Niro, or other electric model, on the company's mobile app and in minutes it'll arrive, guided by a remote driver in place of the person you'd expect to find in the driving seat. You'll hop in and drive off. When you've finished, you'll park the car at a location of your choice, albeit within Fetch's operating area, climb out and watch in wonder as it's spirited away to its next booking.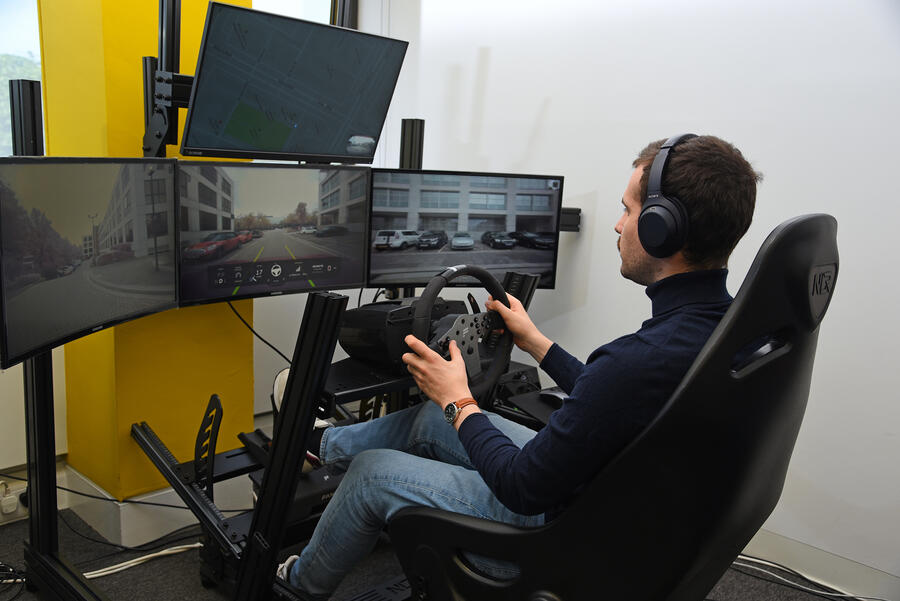 The point is you'll have been saved the hassle of trekking to an available rental car and, at the end of your booking, parking it in a dedicated space rather than where it suits you to. Fetch also plans to offer the option of extending the driverless service by enabling users nervous of driving in a city or of parking, for example, to be driven remotely.
"How appealing would it be if I can get a car to you faster than you can get to your own and take it away faster than you can park it?" Koosha Kaveh, co-founder of Imperium Drive, owner of Fetch, asks me. "Our goal is not only to be the first commercial driverless service in the UK but to help eradicate private car ownership through the convenience of shared mobility.
Unfortunately, my experience of using Fetch in the centre of Milton Keynes won't quite be the real thing because, while the service is in development, the remote-driven Kia must have a safety driver. Today, Navid Nourani, Kaveh's fellow co-founder, is that person. Like Kaveh, he's a clever chap with a PhD in robotics (Kaveh studied engineering at Cambridge) and a passion for mobility.
Initially, the pair had wanted to help companies accelerate their development of autonomous technology, but as they got deeper into the subject, they began to realise remote control could be part of the solution as well being a development bed for their own autonomous tech.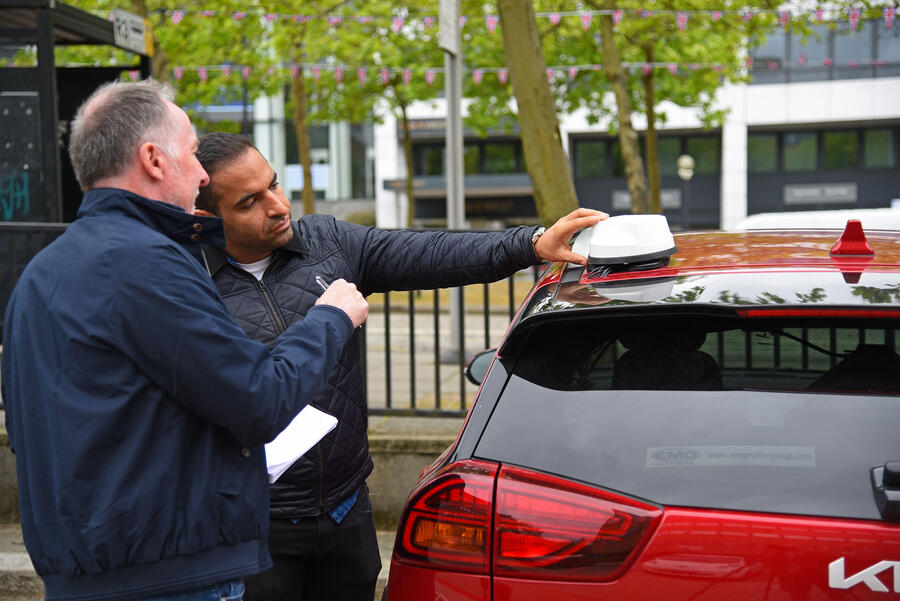 But for two, roof-mounted antennae that send and receive the crucial 4G wi-fi on which their technology relies, the Niro looks completely standard from the outside. No bulky lidar scanners here. However, once I'm settled in the passenger seat, I'm aware of more kit – specifically, the triangular-shaped camera on the windscreen. (In reality, it's a small camera with a sunscreen so the image the remote driver sees remains clear.)
In addition, there are two more small cameras on the side windows and one on the rear screen. Viewed by the remote driver, they provide a 360deg image of the Niro's surroundings. I'm wondering where the rest of the kit is, but apart from a small computer beneath my seat and some control boxes on the floor behind, which will all be miniaturised for production, that's it. The combination of the window-mounted cameras and the car's existing advanced driver assistance systems (ADAS) is sufficient to enable remote control of the Niro.
Meanwhile, the vast quantity of data being generated by the Fetch test cars as they're remotely driven on real roads around Milton Keynes is helping to inform Imperium's development of that other string to the company's bow: autonomous technologies.
"Few developers have real-world data like ours to draw on," Kaveh tells me through the Niro's passenger window. "In combination with computer vision technology and ADAS systems, both of which have really progressed in recent years, we believe the autonomous system we're developing could be of value to car makers looking to integrate the feature in their new models either as standard or as an option. In fact, in around five years' time, we believe we'll be able to offer the technology off the shelf to aftermarket consumers."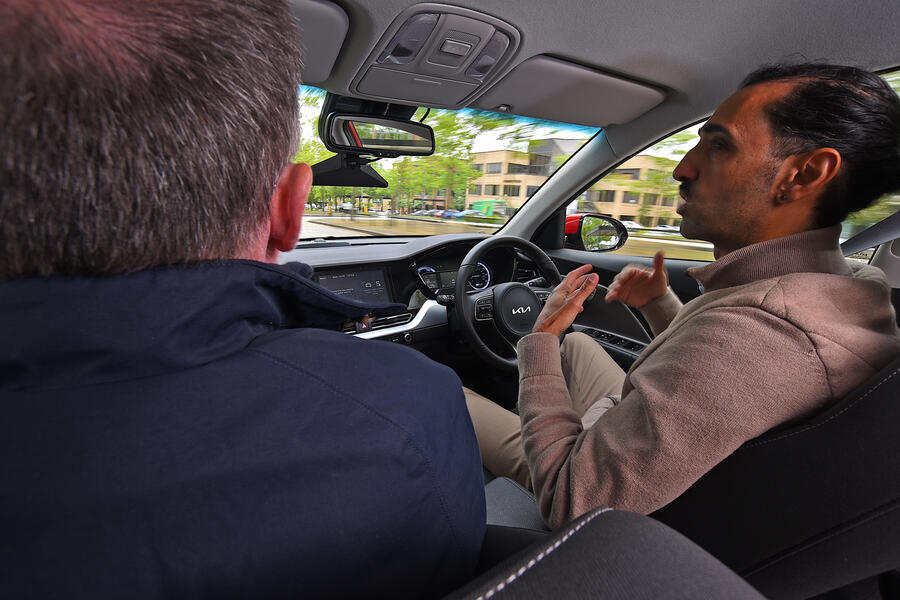 Nourani tells me to buckle up and prepare for my 'driverless' tour of Milton Keynes. I'm disappointed to see he has to operate the Niro's transmission lever, but because this is a hybrid model, it isn't possible to integrate the autonomous and driverless tech as well as it would were it electric.
With the car's steering wheel turning magically this way and that (the system uses the Niro's lane assist hardware to operate it) and Nourani theatrically indicating 'no hands', we reverse out of the parking bay and onto the boulevard, as they call roads in Milton Keynes. Very soon, we're rolling along at 30mph with the rest of the traffic and tackling junctions. Take-offs can be a little abrupt but that's because the remote driver is using the car's cruise control to accelerate. Braking, done via a pedal, is also a tad sharp. Kaveh is aware of this and says they have plans to fix it.
Otherwise, the experience is utterly underwhelming, as in not remotely unsettling. Nourani is in constant communication with the remote driver, who provides a reassuring commentary on everything he's seeing and about to do. He even manages to reverse park the Niro next to my car without hitting it. Would I feel as comfortable with no safety driver present? That's the $64,000 question and one Fetch will know the answer to in around 18 months' time.
Driving the driverless Niro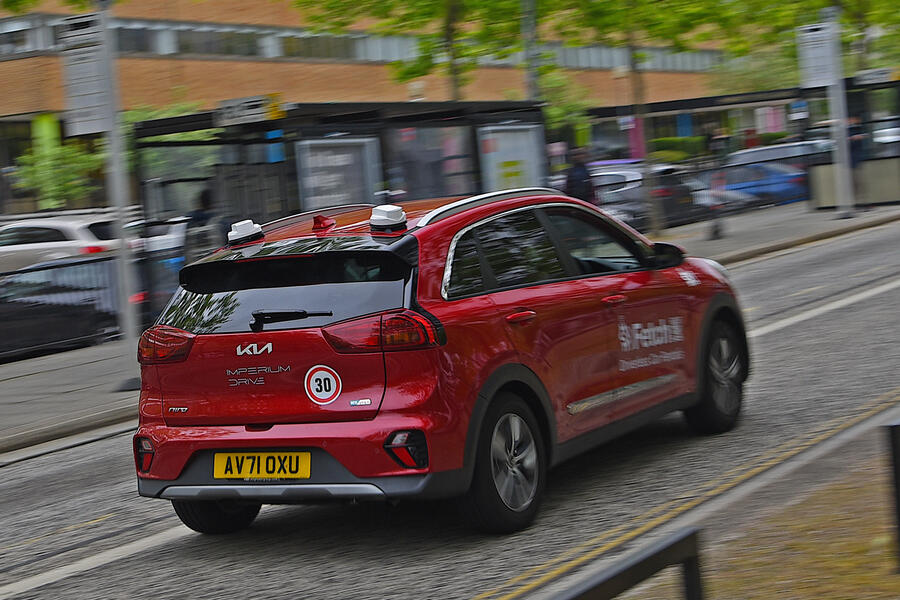 Robotics engineer Felipe Cerveira has been remote driving Fetch's vehicles since January and says it took around one month to feel completely comfortable with the system. He and the safety driver are both insured. In the future, without the safety driver, the remote driver alone will carry the can.
Three large computer screens give Cerveira a 360deg view of the Niro's surroundings, with no blindspots. If the wi-fi connection goes down, the safety driver takes over. If it goes down when no safety driver is present, the company claims to have developed technology that will, taking into account the car's situation, initiate an emergency stop or bring the vehicle to a controlled stop.
It'd be fun were it not for the fact that remote driving isn't a game. The Niro is a real car on a real road. It's why, says Koosha Kaveh, making the experience for the remote driver as immersive as possible is vital: "We're developing a haptic seat that'll replicate the sensations the driver feels. We're also developing a virtual reality control to bring them even closer to the experience. Our goal is to make remote driving safer than actual driving."
https://www.autocar.co.uk/car-news/featu...en-rentals