05-19-2021, 01:23 AM
Opinion: Can an electric GT be a true Lamborghini?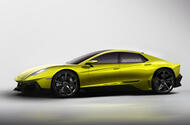 Shared platform could make it difficult for a Lambo EV to stand out - though Urus proves it can be done
With an appeal built on the flamboyantly theatrical design and performance of its supercars, it might seem that Lamborghini exists in an exotic world somewhat removed from reality and rationality. But no matter how extravagant its cars, no marque is immune from 'boring' practicalities such as complying with increasingly tough emissions regulations.
For a company such as Lamborghini, electrification fundamentally changes the performance characteristics of a car. The challenge for the Italians in the coming years will be to produce plug-in hybrids and EVs to meet legislative requirements and allow for financial growth, all while maintaining the fundamental DNA that holds such irrational appeal to customers.
It will be a question of balance. There are well-known performance benefits to electrification, but they will need to be balanced against the expectations of Lamborghini's rich history of internal combustion engines. The trick will be finding ways to broaden expectations of what a Lamborghini is without losing that desirable essence.
Of course, Sant'Agata has shown recently that it can be done. The Urus is almost everything that a Lamborghini shouldn't be: a big, heavy SUV, built using a shared platform and powertrain and having a real focus on sales growth. Yet the firm has found a way to make the Urus enough of a Lamborghini for it to find favour with customers.
If it can pull off the same trick with electrification, Lamborghini can satisfy its business head and win its customers' hearts.
READ MORE
Lamborghini electrification to start with plug-in hybrids
https://www.autocar.co.uk/opinion/new-ca...amborghini