09-30-2022, 11:36 PM
Opinion: Could the Citroen Oli be a 2CV for the electric era?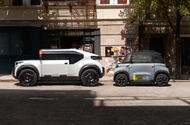 Citroën Oli is in spirit a bigger sibling to the Ami ®
Lightweight EV concept previews a push for greater affordability and sustainability at Citroen
According to Plato, "our need will be the real creator", and few concept cars in recent years have exhibited that philosophy as strongly as the Citroën Oli.
The average car in the UK currently costs £42,054, according to data from What Car?. Against the backdrop of the cost of living crisis and a looming recession, that will seem especially untenable for many. And the generally increased price of electric cars means accessible motoring can no longer be taken for granted.
So Citroën responding with its vision of a sustainable, attractive and utilitarian EV, at a price in line with what's still considered attainable, is incredibly refreshing.
Of course, any excitement must be tempered by the fact that the Oli won't directly translate into a production car. Citroën has instead described it as a "rolling laboratory" for future ideas and technologies, similar to the recently revealed Dacia Manifesto.
And from a performance standpoint, the Oli is unlikely to set the world alight: intentionally limited to 68mph and with a 0-62mph time prefaced with  "more than…" to preserve range. Sure, it's not as pedestrian as the 8bhp, 28mph-limited Citroën Ami, which is now on sale in the UK, yet it signals that future Citroëns will require a different approach to driving.
But was the 2CV not the same in offering exactly what its era demanded and little in the way of superfluities?
The original Très Petit Voiture (TPV) was designed to ferry farmers across the artillery-dimpled swamp that was the French countryside following the Great War, at a price that many could actually afford, while sipping abstemiously on petrol.
You see, there was minimal filling infrastructure in the region, so Citroën targeted 94mpg. To that end, the 1939 TPV prototype was fitted with a flat-twin engine mated to a three-speed gearbox with tall gearing, giving a top speed of around 37.5mph. Sound familiar?
Cut to 83 years later and we're still a long way off knowing whether future Citroëns will democratise mobility for the electric era as the production 2CV did for post-Vichy France. But with the Oli and Ami, the brand has demonstrated its commitment to designing mobility solutions that don't cost the world – in both senses of the word.
https://www.autocar.co.uk/opinion/new-ca...ectric-era