07-26-2022, 08:17 PM
Opinion: Electric Alpine A110 makes perfect sense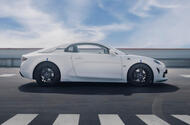 Five-star sports car is already super-light and slippery, so an EV version looks a winner
You could hardly choose a better car to illustrate what's needed to make a seamless transition from conventional petrol power to practical battery power. We're learning fast that the priorities for the EVs of tomorrow are low weight and sophisticated aerodynamics, and the existing Alpine A110 has both already.
The car's advanced aluminium monocoque, in standard form, helps it undercut rivals like the Porsche 718 Boxster and Lotus Emira by a cool 300kg, an advantage that grows even greater in EV-land, where weight directly affects range in a way that matters relatively little in the fossil-fuelled world. 
The fact that the A110 E-ternité, billed by its creators as a mobile laboratory, can offer 75% of the fossil-fuelled car's range while adding only 20% to its kerb weight – and, by the way, remaining lighter than the Emira or Boxster – shows the extreme virtue of making market-beating lightness a goal from the first moment a line is drawn on a blank sheet of paper.
On the aero front, the A110 demonstrates not so much the importance of a low drag factor (plenty of cars have those, even SUVs) but of a small frontal area. You see it on the trip computer – my own A110 gives 40mpg regularly – but you also feel it on long downslopes. The car gathers speed in a most unusual way, and the one thing we know is that it isn't the weight that's doing it.
Only now, with the emergence of this E-ternité, does it become crystal clear what an excellent position Alpine is already in to make the transition to electric sports cars. Others are going to need to take further big steps to lower kerb weight and frontal area. It strikes me that Alpine is already three parts of the way to where it needs to go.
https://www.autocar.co.uk/opinion/new-ca...fect-sense