04-16-2021, 03:14 PM
Opinion: Extreme E coverage was refreshing for its lack of jargon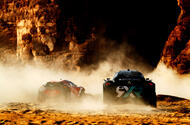 Racing might have been better if drivers had been able to see...
You don't need F1-style verbiage to be authoritative, and appealing to both hardcore fans and newbies is possible
While Damien Smith had an up-close view of the inaugural Extreme E (XE) event in the desert of Saudi Arabia, I had a more distant viewpoint: a sofa in Somerset. Still, given all the challenges that Smith outlined, the action looked pretty good on the TV, helped by slick, well-produced coverage featuring clever graphics, unusual camera angles and, in particular, enthusiastic commentary from Andrew Coley and Jennie Gow,
The dust problem meant that every race was essentially over by the first turn, yet Coley's exuberance maintained a level of drama where in reality there was little. It's not easy, that; Murray Walker would have been proud.
Coley and Gow also shone in guiding viewers through the intricacies of a new category of motorsport, complete with its own occasionally bizarre vocabulary. They had to introduce us to new features such as Hyper Drive, Grid Play, the Crazy Race, switch zones, control centres and more, which meant explaining them concisely to viewers who might otherwise be clueless.
That's vital: if you're going to launch a new form of motorsport designed to bring in a new audience, it has to be accessible. You don't want viewers struggling to understand what's going on by loading up on strange jargon. That's something that other categories – Formula 1 in particular – could learn from.
Modern grand prix racing is packed with terminology that even some of the most ardent F1 fans must struggle to keep up with. Drivers now box instead of pitting. The difference between two lap or sector times is called a delta. Instead of setting the fastest sector or lap, a driver goes purple. There are undercuts, overcuts and even virtual safety cars. There's also the Drag Reduction System, which to add extra mystery is widely referred to as only DRS.
Of course, you will find unusual terms in many sports. Someone has yet to explain to me why VAR in football can't just be called the video replay, and cycling events such as the Tour de France seemingly have their own language. But when motorsport, and in particular F1, is actively trying to broaden its appeal and attract new fans, reliance on obtuse phraseology serves only to make life harder for newcomers.
Naturally, those who cover the sport, whether they be writers or commentators, are trying to appeal to both hardcore fans of the sport who lap up terminology and relative newcomers. It's a tricky balancing act, especially in the heat of the action. And I'm certainly not suggesting that any dumbing down is in order.
However, perhaps cutting back on unnecessary complex terminology would enable viewers to focus more on the entertaining action that's happening on the track.
READ MORE
Extreme E: the off-road race series trying to save the planet 
Why Extreme E will begin a new era for motorsport in 2021 
https://www.autocar.co.uk/opinion/motors...ack-jargon