05-10-2022, 05:26 AM
Opinion: Formula 1 Miami Grand Prix talking points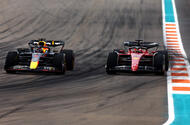 Verstappen passed Leclerc on lap nine
Continuing battle between Leclerc and Verstappen as celebrities flood the F1 grid
Charles Leclerc and Max Verstappen continued their scintillating Formula 1 title battle in a gruelling grand prix around the streets of Miami, Florida, yesterday.
Ferrari man Leclerc seemed the wise bet, qualifying on pole and with the buffer of team-mate Carlos Sainz between him and Red Bull's reigning champion.
But the superior straight-line speed of the blue car allowed Verstappen to haul in Leclerc and pass him on lap nine, capitalising as the Monégasque had a slight slip at the Turn 17 hairpin.
The fight was reignited on lap 41, when the safety car came out after Lando Norris was sent flying into a wall by a distracted Pierre Gasly. However, Leclerc was still unable to get past Verstappen, even with the assistance of DRS.
Ferrari can perhaps count itself lucky to have secured a two-three in the end, as the sister Red Bull of Sergio Pérez was hampered to the tune of around 30bhp and therefore unable to outdrag Sainz, his one brave lunge proving too much for his brakes.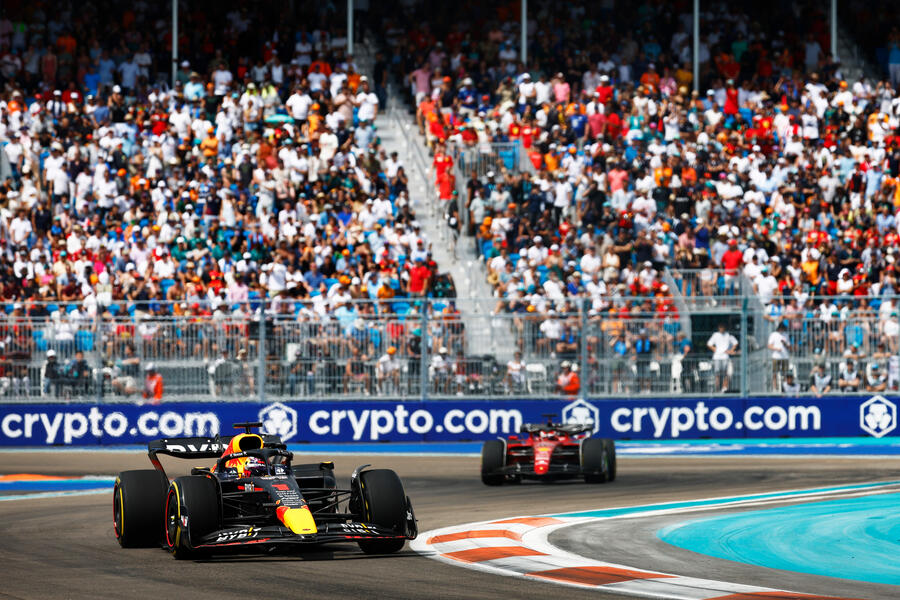 There was some frenzied action lower down the order (not that F1's TV directors allowed us to see any of it), as well as a decent dice between the Mercedes duo of George Russell and Sir Lewis Hamilton. And thankfully any fears of pile-ups were unfounded, with the small amount of contact made coming from close-quarters racing.
Miami certainly isn't the worst street track that F1 has ever visited, but it's also not one that will stick long in the memory, lacking the technical challenges of some street circuits (Baku, for instance) or an interesting backdrop (like Monaco, excepting all the other criticisms of the famous street race).
The drivers appeared to find it a challenge, though, climbing from their cars in the high-20s deg C heat and clearly physically drained.
The fact that the track wasn't all that great for TV viewers hasn't affected the post-race column inches on account of the focus being elsewhere - celebrities. Hangers-on aren't a new phenomenon for F1, but the US does seem to be able to up the ante when it comes to wheeling out famous, and not so famous, faces.
It was even more excruciating to watch Martin Brundle's grid walk before the race, as he fought through a throng of celebrities, than it was to watch his famous "you can't ask that" moment with Megan Thee Stallion's security team at the US Grand Prix in Texas last year.
Lowlights included DJ Khaled not expounding the virtues of his hometown but giving an incoherent monologue that ended with "F1 didn't want us here" and tennis player Venus Williams doing her absolute best to ignore the ex-F1 driver.
From the perspective of a dedicated motorsport fan, it does make me question the direction of F1, as lots of elements of the Miami Grand Prix weekend felt as fake as the water on which the VIP yachts 'floated' on the inland 'marina'.
It'll be interesting to see how it shapes up when F1 heads to Las Vegas next year, a city not exactly renowned for hiding its light under a bushel.
https://www.autocar.co.uk/opinion/motors...ing-points