04-30-2021, 02:17 AM
Opinion: French rally talent set to tower for UK's M-Sport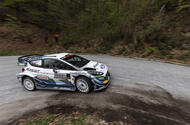 Rookie Adrien Fourmaux could be joined at Ford WRC team by legendary compatriot Sébastien Loeb
Soon after one French rally driver makes his debut at M-Sport, another looks set to follow. They have nothing much in common apart from the backing of energy drinks giant Red Bull, but both could be equally important in shaping the legendary British team's future.
In Croatia recently, Adrien Fourmaux was unleashed in an M-Sport Ford Fiesta WRC for his competition debut. The 25-year-old is an up-and-coming star in the WRC2 category, one rung below the top WRC class.
He has a neat and tidy style of almost surgical precision – and that comes as no surprise, because he's a former medical student. He gave up surgery to concentrate on rallying, but the analytical skills of dissection that he learned come in handy when it comes to inch-perfect performance under pressure.
And that pressure is undoubtedly there, because this year Fourmaux became only the third Frenchman to be backed by Red Bull in world rallying, after Sébastien Loeb and Sébastien Ogier – two men who have set quite a precedent.
What's even more surprising is that Loeb himself could be making his M-Sport debut as well – maybe even as early as this year. The nine-time champion has been linked with a role in helping the outfit to develop its all-new hybrid car, as the WRC undertakes a radical rule change for the 2022 season. All that Loeb will say on the subject is "never say never".
He won't be up for a full season, but his testing ability is second to none, and it wouldn't take much to persuade the 47-year-old out of retirement for a final tango on the rallies he loves best. After all, Björn Waldegård remains the oldest victor of a WRC event, having won the 1990 Safari aged 46. That's one of the few records that Loeb hasn't beaten yet.
With M-Sport being one of the teams that historically reacts best to rule changes, it's not such a fanciful notional. Loeb was already 44 when he took his 79th and last WRC win in Spain for Citroën back in 2018. Eighty would be a much rounder number.
However, it wouldn't exactly be an M-Sport debut if Loeb did sign. He secretly tested a Ford Focus WRC in 2005 and came close to joining the team for 2006.
More recently, M-Sport went on to enjoy huge success with Ogier, and now Fourmaux has joined the WRC family.
M-Sport's Cockermouth base isn't quite in Scotland (the border is around 30 miles north), but there's definitely an Auld Alliance between Ford and its French drivers, which goes back to the days of François Delecour. In the best possible way, we might just get to see some history repeat itself.
Anthony Peacock
READ MORE
WRC: Croatia Rally goes down to the wire 
Hyundai's Ott Tanak wins WRC Arctic rally 
https://www.autocar.co.uk/opinion/motors...ks-m-sport