12-26-2021, 10:39 AM
Opinion: It's the end of an era for Crewe's W12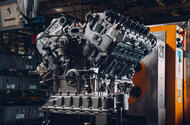 As Bentley gears up for a transition to EVs, we look back on the engine that defined the firm's modern era
Bentley's decision to discontinue production of its 6.0-litre W12 engine ends a distinguished reign for one of the most powerful, reliable and interesting engines ever made in the UK. 
The unit's novel, four-bank design was conceived when Volkswagen Group engine designers, thinking outside the box, combined two narrow-angle VR6 engines above one crankshaft at an included angle of 72deg. The resulting 6.0-litre turbocharged engine – much lauded by Ferdinand Piëch, the tech-loving group supremo of the time – appeared first in a record-breaking Volkswagen concept in 2001 and then in a version of the Audi A8.
However, it came to global prominence in 2003 as power for the seminal Continental GT coupé, the first new Bentley to be launched after the somewhat messy divorce between Bentley and Rolls-Royce in 1998. Two years later, it was adopted for the Flying Spur limousine, closely related under the skin to another Piëch favourite, the VW Phaeton.
The engine's complex layout meant it needed a good deal of noise and vibration development, but one of its main virtues was compactness: it was actually smaller than Audi's 4.2-litre V8 of the time. This was a particularly handy virtue in the relatively short-nosed Conti GT, which also had to accommodate the complexities of a permanent four-wheel drive system.
Early Conti GTs were fast, reliable and beautifully built, though one foible was nose-heavy understeer and another was a series of faint but unseemly "buzzes" from the engine in some rev ranges. There were considerable revisions to the engine for the 2008 launch of the higher-powered GT Speed model and the 2009 Supersports, which (in a move that turned out to be a blind alley) was also expensively configured to run on ethanol. 
The W12 was revised again when it appeared in the Bentayga in 2015, this time equipped with both low- and high-pressure fuel injection systems to cater for increasingly complex clean air requirements, and with the capability to shut off six cylinders when cruising. The thorough rethink made it plainly the cleanest, most efficient, most powerful but most complicated version ever built. In sound and response, it was also the most inspirational W12 ever, so it ends its life on the highest possible note.
https://www.autocar.co.uk/opinion/new-ca...crewes-w12