05-01-2022, 06:47 PM
Opinion: New McLaren CEO starts with a long to-do list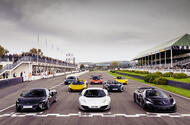 McLaren line-up has been recategorised in recent months
Michael Leiters moves over from Ferrari at an utterly vital time for the Woking firm
McLaren had a plan. It would have three model lines, all sports cars, clearly defined: Sports Series, Super Series and Ultimate Series.
Sales volumes would be modest by most supercar maker's standards but would return a profit, funnelled back into model development. There would be no five-door and certainly no SUV. It would be a pure range of sports cars. Admirable. And that would be enough.
Ten years into McLaren Automotive's life, it hasn't been. 
Today's model line-up is defined subtly differently to how it started. There's now the GT series (comprising solely of the McLaren GT) and then the Supercars, in which sit both the McLaren 720S and, curiously, the upcoming Artura, which I thought was a McLaren 570S (Sports Series) replacement. 
If you think that's blurry, there are already some 16 models from the past decade that McLaren considers as Legacy cars. 
There are some great driver's cars in there, but there has been too little separation between them. They are, to coin a phrase from an anonymous rival CEO, "like a butcher selling different lengths of the same sausage". All twin-turbo V8s, all with the engine in the same place driving the same wheels through a dual-clutch gearbox, and all with a too-similar carbonfibre tub.
That wouldn't be a problem in itself but for their combined sales volumes being so modest that McLaren even had to sell its own headquarters.
The hybrid V6 McLaren Artura was finally going to step out of this mould but with its power output could have started to cannibalise 720S sales, given they're both in the Supercars genre even by McLaren's own definition. 
Could have if it had arrived as planned, but it didn't: its launch has been postponed in light of software issues and the ongoing semiconductor supply shortage. It's now due in the coming months.
Into this steps new CEO Michael Leiters, arriving at, as he puts it, "an important moment in [McLaren's] journey". That's perhaps something of an understatement. 
Until he shares a plan, we don't really know what it will mean. But with recent history at Ferrari and previously Porsche, he has a wealth of experience at growing sales volumes and retaining exclusivity and presumably will be unafraid of the initialism SUV.
From a purist's perspective, maybe it would be nice if McLaren didn't have to make one of those, but ultimately business as usual won't do.
https://www.autocar.co.uk/opinion/new-ca...ng-do-list