07-05-2021, 06:09 AM
Opinion: Nissan's battery plant is the future - but for how long?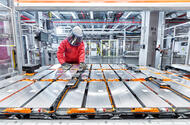 The automotive industry could be looking at the exponential growth of EV battery production
Nissan's forthcoming EV battery factory in Sunderland will open with a 9GWh capacity and has the potential to expand to 35GWh. That's enough to eventually power more than 500,000 EVs per year – yet it's just the tip of a gigaberg.
It sounds impressive, but it also illustrates the enormous punt the automotive industry is taking on a technology path steeped in so many intangibles. Is it backing a dead cert or an outsider? Does anyone really know yet how things will pan out in an industry that, until the BEV came along, had 150 years to evolve?
Battery 'gigafactories' are rapidly becoming the thing, initiated by Tesla, which is also building them in Germany and elsewhere in Europe. There are more either up and running or planned from Samsung SDI, SK Innovation, LG Chem, Northvolt, CATL, Verkor, Britishvolt and others, in many cases backed by car makers.
The exponential growth of battery production is staggering. So is the massive commitment to BEVs when the industry has been saying for years that there will no silver bullet to alternative forms of propulsion. Both pose questions.
One is the rate of change of a technology that's still in its infancy. Although most cars are bought using finance anyway, it's a brave person who invests cash in a new EV now. I bought my first earlier this year, the benchmark Kia e-Niro, but I reckon it's likely to be borderline obsolete by the end of my contract.
The same must surely apply to gigafactories. If they're being designed to produce 'old-technology' lithium ion batteries today, how will they make the transition when solid-state or something we don't yet know about yet is production-ready? If it's the latter, what will be involved in retooling these massive plants, and how much will it cost?
On the subject of the silver bullet, does the global love affair with the battery distract from other potential methods of rolling out renewable energy, such as hydrogen, and condemn them to the back-burner indefinitely? It looks that way.
'Gigafactories' have become about more than just battery plants, they're going hand in hand with the 'greening' of the industry. Tesla says its Nevada factory will be powered wholly by sustainable energy and Nissan is planning the same for its facility.
Nissan also plans the use of second-life batteries for storing off-peak energy as part of what it calls a microgrid. The future is beginning to look like a done deal.
I've never seen anything like this in my long career as a motoring hack, and it's scary but exciting. I hope it does turn out to be the dead cert it needs to be. But one thing is for sure: we will know by 2030.
READ MORE
Nissan to build new electric crossover and battery factory in UK
Pedant's corner: why the term 'gigafactory' grates
https://www.autocar.co.uk/opinion/indust...e-how-long