08-29-2021, 01:52 PM
Opinion: One-make Morgan race series continues to shine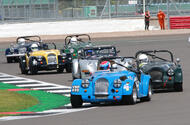 Wide range of Moggies make for varied and exciting motorsport
Single-model and single-make championships dominate Britain's club and national racing these days. Series for cars such as the Caterham Seven, Mazda MX-5, Citroën C1 and Mini are among the most accessible, affordable and popular of all.
The key to their success is usually carefully controlled rules and similar or identical cars, which ensures a pretty level playing field and a natural cap on competitor spending.
Yet some buck the trend, and the Morgan Challenge is a fine example of an inclusive and enduring single-make series. First run in 1985, it spans a huge range of cars, in terms of age and engine size, yet it consistently delivers close racing and a great atmosphere.
In laying claim to be the most successful and long-running one-make sports car series, the Morgan Challenge involves cars built over a 50-year span and ranging from 2.0-litre four-cylinder cars to mighty Rover V8-powered rocket ships with engines as big as 4.6 litres.
Such diversity flies in the face of many of the best-supported UK series, but the loyal following for both the Morgan marque and Morgan Challenge ensures that grids of 25 to 30 are common across a five-meeting, 10-race season. Classes that split cars based on power-to-weight ratio ensure everyone has a fair chance.
At the lower end, the series is ideal for novices, and initiatives like the run of Club Sports cars and the lightweight Roadsters produced by Morgan solely for racing purposes have proved perfect entry-level cars.
One of the dozen or so Club Sports, a 2018 model, is now raced by Tony Kilby, who joined the series as a racing novice in his late fifties. "It was a case of 'if I don't do it now, I never will'," he says.
At the other end of the spectrum of these quintessentially British hand-built sports cars is Grahame Bryant's 4.6-litre V8 monster, which he wheels out from time to time for his son Olly to race.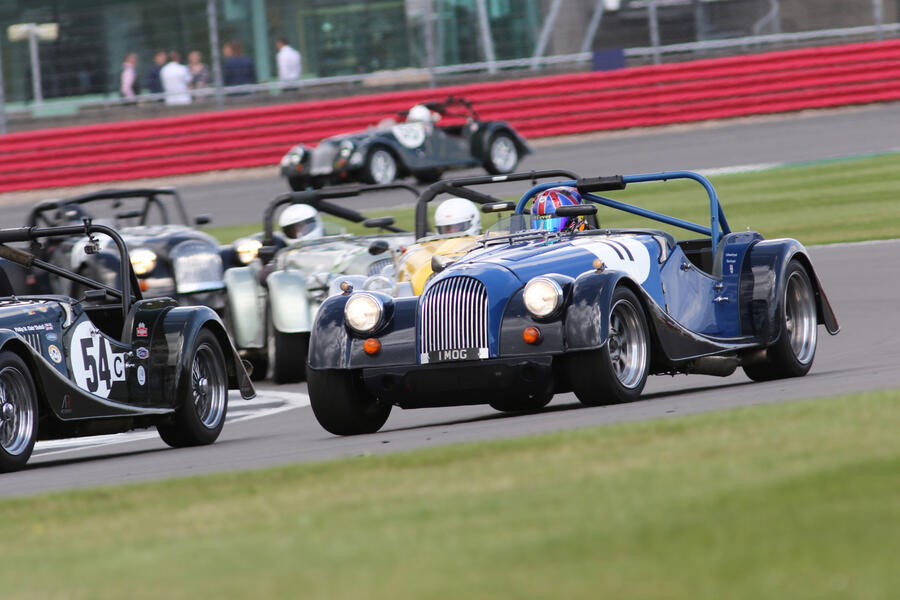 The Bryant Plus 8 was a factory order back in 1977, when Grahame bought the car with the express intent of racing it. It still features the factory-fitted roll hoop and has been a winner this summer. Come 1985, the year in which Olly was born, Grahame was lining up on the grid for the inaugural race of the fledgling Morgan Challenge.
And to mark 70 years of the organising Morgan Sports Car Club, the car spent last winter on show in the company's workshops in Malvern.
Now in its 37th season, the Morgan Challenge continues to steam ahead. Looking on down the road, the accelerating move away from new petrol-powered road cars will be a challenge to be met in terms of new car supply, but the series continues to deliver competitive, friendly and accessible racing for the many fans of this 110- year-old marque.
How it works: Extreme E's hydrogen fuel cell chargers
Greenland will host the third round of the Extreme E off-road racing series this weekend. To avoid the use of diesel generators, the series' Spark Odyssey 21 electric SUVs are charged and powered by a bespoke hydrogen fuel cell system made by AFC Energy.
The system is installed on site a full 10 days before the race weekend to allow time for it to generate the 0.9MW to 1.2MW of hydrogen energy required by the nine cars, via a combination of electrolysis and solar capture. The system is made up of four main components: the fuel production element, an alkaline fuel cell, a battery storage unit and the 40kW charger itself. The generated energy is stored in low-pressure metal-hydride cylinders, then fed into the cars via the battery storage unit.
Every Odyssey 21 requires two full charges of 55kWh for each of its two runs per day, and it takes them an hour and a half to get from minimum to maximum charge.
Motorsport greats: Michael Schumacher
Mick Schumacher is preparing for his first Belgian Grand Prix this weekend. Thirty years ago, so was his father, at the same age of 22.
Michael Schumacher made his first F1 start for Jordan in 1991 as substitute for Bertrand Gachot, who had been imprisoned. Schumacher qualified seventh at Spa, then made a controversial switch to Benetton, for which a year later back at Spa-Francorchamps he scored the first of his 91 wins. He won the title for Benetton in 1994 and 1995, then five more for Ferrari from 2000 to 2004.
Mick doesn't need to worry about all that, but he's bound to spare a thought for his dad as he lines up his Haas this weekend.
Paul Lawrence
READ MORE
Morgan Plus Four gains road-legal race variant for 2021​
New Morgan Plus Four CX-T is rally-ready sports car
https://www.autocar.co.uk/opinion/motors...nues-shine