07-30-2021, 07:30 AM
Opinion: One way Stellantis could make Spoticar stand out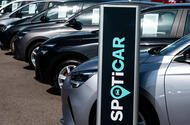 Going beyond the usual approved used benefits could help the manufacturer group differentiate itself from rivals
Spoticar: it's not the prettiest name, is it? Makes me think of a 508 with acne, which can't be what Stellantis intends.
Still, it will have been persuaded that it's catchy and will cut through all the noise generated by Cinch, Clinch, Flinch and the rest.
And when customers tune in, what will they find? The biggest single manufacturer approved used car scheme, for a start. Brands like to be the biggest. It's more efficient and gives them something to shout about. It's interesting, though, that DS and Alfa will keep their own approved used schemes, to preserve their premium-ness. That doesn't say much for the others.
There are the usual approved used benefits, including a warranty (doubtless still with the usual wear and tear clauses), those tick-box multi-point checks that look so good on the window hangers but only scratch the surface, mileage and provenance checks (our recent investigation of these revealed they are far from watertight) and a 30-day exchange, again with added small print.
Nothing new there, so here's a new benefit Stellantis could have offered: a dedicated, approved used champion – someone with a phone number, an email address and the authority to fight the customer's corner in a dispute.
READ MORE
Stock take: Stellantis thinks big on used cars
Health check: Demand for used cars is soaring. Here's why
https://www.autocar.co.uk/opinion/indust...-stand-out