03-31-2021, 12:52 AM
Opinion: Prodrive Hunter is an exciting new hypercar niche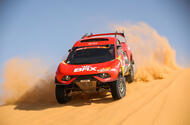 Even at £1m each, a road-legal version of a Dakar rally car is sure to prove popular
If it's done right, and there's no reason to suggest it won't be, it's easy to see Prodrive's "Ferrari of the desert" being a raging success – for one reason above all. It's entirely fresh territory.
For all the visual impact we've come to expect of 'normal' supercars – Lamborghinis, Ferraris and the rest – the recipe has become very, very familiar.
Any kid can draw one; sure, without the deeply impressive skill of the professional designers, but with a low, shovel-like nose and aero splitter, a steeply raked screen, exaggerated scoops for air at the sides, a deck that probably provides visual access to a multi-cylindered engine, and all manner of aero bits at the rear, enclosing the steamroller rear tyres…
The road-going Prodrive BRX will get right away from that. It's tall, yet aero will be important. It's got big wheels and huge clearance under the wings. Exposed suspension will be an exciting design feature, as will aggressive high-profile tyres with saw-tooth treads. Everything will be different, yet the whole will be dedicated to high performance. And as we know from what's been revealed so far, some very classy suppliers will be involved in its creation.
I'm not sure how many of the people who buy one of these will be doing it to drive at full noise across deserts. I strongly suspect most owners will prefer to be where their well-kept cars can draw a crowd. Just the same, I can definitely see millionaires fighting one another outside Prodrive's Banbury HQ to get further up the queue.
READ MORE
Sand of opportunity: Prodrive on its Dakar rally racer
Prodrive partners with Bahrain for Dakar attempt
Prodrive: how it went from building rally cars to hybrid transit vans
https://www.autocar.co.uk/opinion/new-ca...rcar-niche