09-26-2021, 08:59 PM
Opinion: Saying goodbye to Moss's Mercedes SLR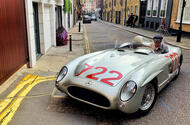 Image credits: Andrew Frankel
Its last public outing was at the Goodwood Revival, but Andrew Frankel was present for a more personal send-off
It is estimated by some credible authorities to be the most valuable car in the world. One of 10 Mercedes-Benz 300 SLRs built, it is the car in which Stirling Moss won not only the 1955 Mille Miglia (his individual start time recorded forever in the '722' number on its side) – smashing all records and setting a new one that would never be bettered – but the Targa Florio and Tourist Trophy, too. Of the 585 competitive events Moss completed in his 14-year career, he ranked the Mille Miglia win as his finest.
But Sir Stirling went to the great race track in the sky last year, and in his honour and memory, it seems the car he mastered better even than Fangio is to be indefinitely retired. It made its final public appearance at the Goodwood Revival on Saturday.
On Sunday, however, and entirely under the radar, it took a short detour on its way back to the Stuttgart museum, to the house where Stirling lived for almost 60 years until his passing. Seeing it roar up the street to be greeted by his widow, Lady Susie, and son Elliot was as bittersweet a moment as I've had in my career. At its wheel was Gerd Straub, the genial mechanic into whose matchless care 722 has been entrusted for the past 25 years. He, too, is retiring and this was his last run in the car.
Will it be driven again? Who knows? Bear in mind that 722 has been retired before, in 2005, on the 50th anniversary of the day it made motor racing history. So I'm hoping it will do more comeback tours than Sinatra, but I'm not holding my breath. Without its true master, something will always be missing. How glad I am that I was at least able to say goodbye.
https://www.autocar.co.uk/opinion/motors...rcedes-slr