04-02-2021, 05:15 AM
Opinion: Second cancelled season adds worries for historic racing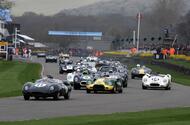 One-two punch of Covid-19 and Brexit disruptions hits the UK industry
The UK is blessed with some of the leading historic racing teams in Europe. Teams that spend much of the racing season criss-crossing the continent, taking cars to major historic race meetings for customers to race. It's a significant business and one of the things that British firms do very well.
This year, though, they're facing a double whammy as they rebuild after a pandemic-decimated 2020. Brexit has created challenges in terms of carnets and transporting cars and equipment in and out of the UK, but the lengthening shadow of Covid-19 over the racing season in Europe is an even bigger concern.
The paperwork system is new, and it's taking some time for team bosses to work out what they need to do to take cars, tyres, spares, tools and all the other paraphernalia of racing across the Channel. However, it does seem that things will start to settle down, and several leading team owners are confident that it will become a routine matter.
Aaron Scott of Scott Sport has 10 European events planned this year. "It's a bit of a storm in a teacup," he says. "It's a bit more hassle and a bit more cost, but once you've done it once, it's okay."
However, a more pressing issue facing teams is just what events will happen in Europe and when, as the pandemic returns stronger than ever in the countries that host key historic race meetings.
France, Germany and Italy in particular are struggling to contain the renewed spread of Covid-19 and so are placing lockdowns and further restrictions on everyday life. Inevitably that will impact some race meetings, and several have already been postponed or cancelled.
In France, leading promoter Peter Auto has already moved some of its early events to later in 2021. Questions now hang over meetings such as the Monaco Historic Grand Prix in late April and the Le Mans Classic in early July – two of the biggest events of all.
Every change affects the teams in terms of planning, logistics and revenue. "We'll do as many events as possible, but everything we plan gets changed," says racer and team owner Martin Stretton.
If Europe is able to properly reopen for sport later in the season, teams will face an overcrowded calendar.
The European historic racing calendar relies on a finite number of drivers and car owners who can afford to compete at this level, but even they can only tolerate so much.
As the later season calendar becomes more and more crowded, events will struggle, teams will struggle with clashes and drivers will struggle to justify attending events on consecutive weekends.
Scott points out that the social side of historic racing in Europe is a big part of the package for drivers, and that's not possible just now. "It's a problem, and the lack of socialising is a bit prohibitive. But we've just got to go with the flow," he says.
These are very uncertain times for an important section of the UK motorsport industry.
Paul Lawrence
READ MORE
Young talent has bright future in historic racing 
How Goodwood is celebrating UK motorsport in a tough year 
https://www.autocar.co.uk/opinion/motors...s-historic