08-11-2021, 04:28 PM
Opinion: The family keeping a hillclimb legacy alive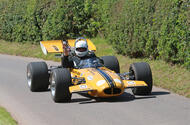 Racer's sons honour him by restoring and running his famous cars
There's surely no better way to honour the memory of a racing figure than to restore his most famous cars and demonstrate them at major events.
That's just what brothers Andrew and Stephen Hepworth have done to celebrate their father, David, who died in 1992 at the age of 52. And they're doing it in style with, notably, his one-off Hepworth FF hillclimb car and his mighty BRM P154 Can-Am sports car.
In June 1971, David carved himself a place in hillclimbing history by becoming the first driver to complete Shelsley Walsh in less than 30 seconds. It was a fearless 29.92sec ascent in the brutish 5.0-litre Chevrolet V8-powered Hepworth, which was effectively a Formula 5000 car with Ferguson four-wheel drive.
David's passion for big-engined cars was obvious from the start, as one of his early competition cars was an Austin-Healey with a Chevrolet unit shoehorned into the front.
The self-conceived FF single-seater took the Yorkshireman to the British Hillclimb Championship title in 1969 and 1971 before he switched to racing the BRM machine.
Half a century later, Andrew took the single-seater back to the famous 1000-yard climb to run it at the Classic Nostalgia event. He had no intention of trying to emulate his dad's sub-30-second climb, but he did thrill a bumper crowd by making a lot of noise going up the hill and coming back down.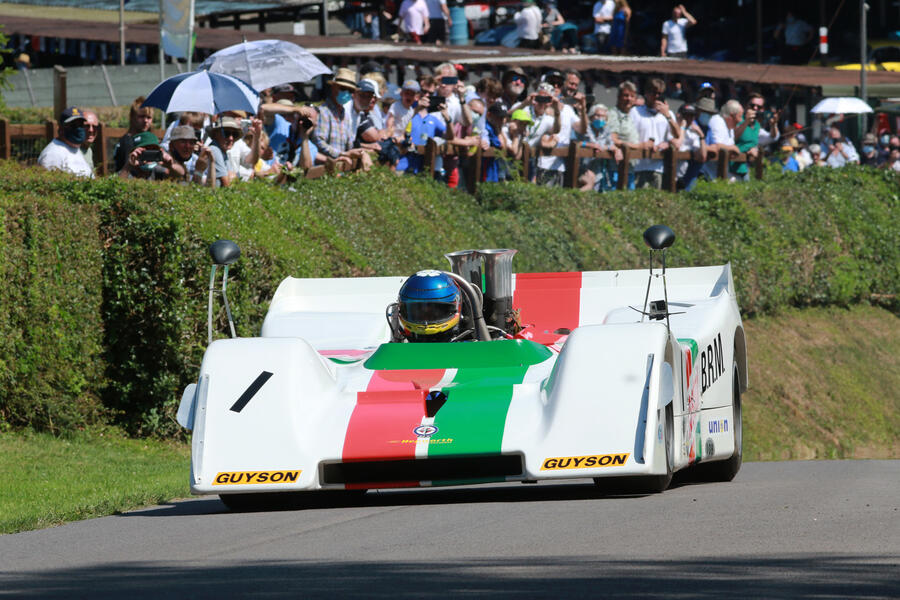 When the FF first ran again at Prescott several years ago, David was there in more than just spirit, as Andrew took his ashes on the car's first run in public for more than 40 years.
While Andrew demonstrated it again at Shelsley, Stephen ran the P154. The late, great Pedro Rodríguez tamed this vast 8.1-litre monster in 1971, before David purchased the complete project from BRM and raced one of the two cars across Europe in Interserie – the closest that Europe ever got to its own Can-Am series.
When Stephen threaded the BRM up the narrow ribbon of asphalt, it was thought to be only the car's third run in public since 1974. It had sat in the Hepworth workshops for the better part of 40 years before the brothers decided to get it running again, and it has since been shown at the Goodwood Festival of Speed twice.
"It was basically mothballed in 1974, and it was there in bits until we started the restoration in 2015," Stephen told me at Shelsley. "This is its first time here, and it's very wide. The acceleration from the Top Ess up to the finish was pulling like a train. Absolutely awesome!"
The fans loved seeing these cars from an era when there were far fewer constraints on the imagination and ambition of race car designers.
Big, noisy and fast was the way, and that clearly suited the style of David Hepworth. He would be very proud to see his sons cherishing his memory.
How it works: Pro mod drag racing cars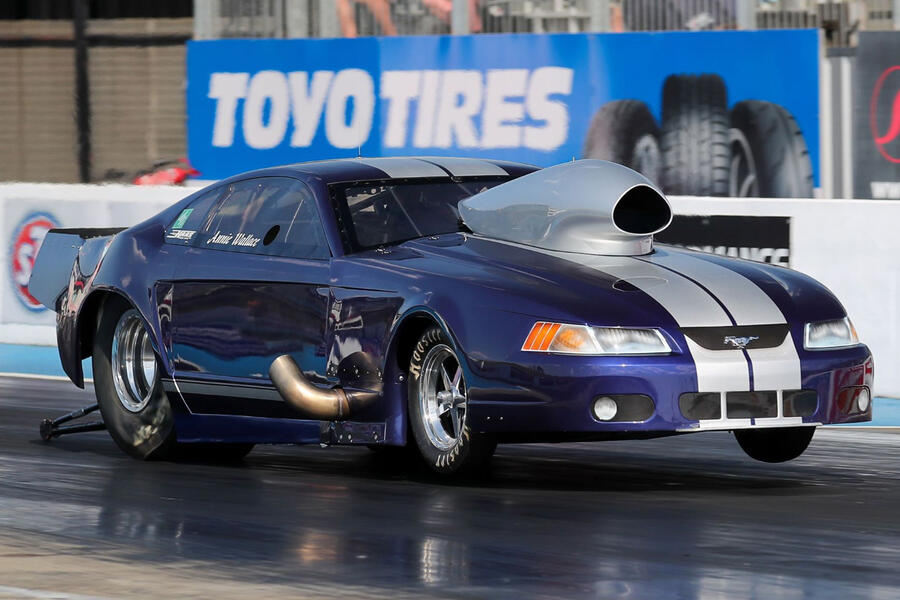 As the Pro Mod name suggests, one of drag racing's most popular classes is based on modified production saloons, as opposed to Pro Stock, with an all too obvious emphasis on the term 'mod'. American muscle car body shapes dominate for a category that actually has its roots in the UK, but almost anything goes in terms of engine and body combinations.
The high-capacity engines started out as normally aspirated, but methanol-powered turbocharged and supercharged variations followed, with the iconic Chrysler Hemi V8 among the popular choices.
As Annie Wallace's Santa Pod effort highlighted, quarter-mile runs in the low-6sec bracket or below is what front runners aim for in a category that has been designated by Motorsport UK as the official British Drag Racing Championship. Six rounds are scheduled each year, all running at Bedfordshire's wonderful Santa Pod Raceway.
Motorsport greats: Jean-Pierre Jaussaud
A member of France's golden generation of 1970s racing drivers, Jean-Pierre Jaussaud, who died recently aged 84, was a two-time Le Mans 24 Hours winner.
He made 13 starts at the great race between 1966 and 1983, winning for the first time in 1978, when he partnered future Formula 1 ace Didier Pironi in the dominant Alpine-Renault A442B. But it was his second win in 1980 that really cemented his place in French motorsport legend.
He and national hero Jean Rondeau prevailed over the Porsche 908 of Jacky Ickx and Reinhold Joest to claim a unique place in Le Mans history, as Rondeau became the first and so far only man to win in a car bearing his own name.
Jaussaud also raced single-seaters, including in Formula 1, contesting a British-series round held in France in 1979.
Paul Lawrence
READ MORE
Young talent has bright future in historic racing​
A second cancelled season adds worries for historic racing​
https://www.autocar.co.uk/opinion/motors...gacy-alive