12-04-2022, 09:51 PM
Opinion: Vauxhall must continue to target fleet sales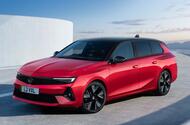 The Astra estate will bode well with fleet buyers who tend to sway toward that body style
Despite Stellantis targeting private buyers, the majority of electric cars sold in October went to fleets
Vauxhall is not the fleet force it once was as owner Stellantis moves to boost profits by aiming more at private buyers. However not all fleet sales are low margin and Vauxhall really needs this electric Astra to increase its appeal for business users.Almost 70 percent of electric cars registered in October went to fleets and businesses, according to motor industry lobby group SMMT.
The charm of electric for business drivers is of course the very low benefit-in-kind tax, now by far the biggest tax incentive for electric car buyers.
Vauxhall's decision to also make an estate version will also play well with fleet buyers, who veer more towards estates than private buyers do.
Right now the best selling estate in the UK is the Toyota Corolla hybrid, with the similar sized MG5 electric no2. The Astra sits in the same category but will likely cost more than both, given it'll almost certainly use the same higher nickel content battery fitted in the Peugeot e-308 sister car.
However the Astra's good looks and that enduring tax incentive will ensure sales for both models should run at a decent clip, possibly even overtaking Vauxhall's current best-selling electric car, the Mokka-E small SUV.
The hatchback will face a wider pool of competitors, including the much cheaper but equally eye-catching MG4, which costs from £25,995. Stellantis will be trying to ignore that to pitch more at the £36,990 VW ID3 and the Renault Megane E-tech starting from the same price as the VW.
https://www.autocar.co.uk/opinion/new-ca...leet-sales