12-09-2021, 10:06 AM
Opinion: Virtual Porsche concept gives real cause for excitement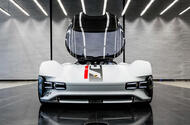 New Vision Gran Turismo will only be drivable from your living room, but could have real-world implications
It would be easy to dismiss Porsche's new virtual concept as a plaything with no real implications for the future of some of our favourite sports cars, but it took the company a total of two and a half years to complete – not much quicker than many series-production cars – and manufacturers simply don't spend that amount of time and cash on flights of fancy. 
Ignore the canopy opening, transparent gauges and trick movable flaps at the rear and, save for the conspicuous absence of certain comfort and safety features, the Vision Gran Turismo is so remarkably complete that it feels, contrary to what its designers say, more like a production-previewing concept. 
Whether for the road or racing remains to be seen (it takes design inspiration from both sides of Porsche's heritage), but it doesn't look so outlandish as to be beyond the realm of possibility. 
Remember, we saw the radical Porsche Mission R concept for the first time at a motor show just three months ago, and not long after we were haring it around a track. 
Porsche takes these things seriously, which is good news because it means there's a chance that you will one day be able to go out and buy a car that looks even slightly like this.
https://www.autocar.co.uk/opinion/new-ca...excitement