04-12-2021, 05:52 PM
Opinion: Why Bentley's Pikes Peak return is worth getting excited about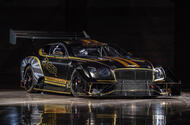 The British firm is aiming for a third hill record - and its most ambitious yet
Just about any mention of the Pikes Peak International Hillclimb sparks an unfeasible level of excitement in me. I mean, what's not to love about an epic hillclimb event on a treacherous 12.42-mile course that winds through 156 turns to finish atop a 4302-metre high Colorado mountain?
Mere mention of the event has me imagining Ari Vatanen wrestling his Peugeot 405 T16, Rod Millen and Nobuhiro 'Monster' Tajima's increasingly extravagant creations designed to break the 10-minute mark and Sébastien Loeb's sublime effort in a Peugeot 208 T16 Pikes Peak. And, of course, Romain Dumas's incredible, ground-breaking and record-shattering run in the electric Volkswagen ID R. Getting to witness that record bid up close is both a career and a personal highlight.
Still, I'll accept I'm not entirely normal in my love of Pikes Peak, so I'd understand if the law of diminishing returns means you might question the significance of Bentley returning to the event for the third time. So here is one very big reason why you should be excited: the biggest rear wing ever fitted to a Bentley.
So what, you might be asking, does a bigger rear wing mean? Well, it's a symbol that Bentley's bid to set a third class record in the long-running hillclimb is, by some margin, its most ambitious year.
Bentley's first two Pikes Peak efforts were to set a production SUV record in 2018 and then a production car record with the Continental GT in 2019. This year, though, the Crewe firm will run a new Continental GT in the Time Attack 1 class.
That slightly bland name underplays the prestige of the class: second only to the virtually-no-rules Unlimited division, Time Attack 1 is the top class for production-based cars, albeit allowing heavy modifications. Such as, yes, a bigger rear wing. Much bigger.
And an entirely new aerodynamic package with a huge front splitter and rear diffuser. And a heavily overhauled powertrain that will, significantly, be converted to run on synthetic fuels.
It's the extent of the modifications allowed that make this latest Pikes Peak run by Bentley both significant and ambitious. The allure of Pikes Peak is about more than conquering the course: it's about the technological freedom that its loose class regulations allows. Volkswagen chose to enter the ID R at Pikes Peak because it was the only event that offered the freedom to run a truly cutting-edge electric racer.
For Bentley and its partners, the Time Attack class offers the opportunity to modify a Continental GT more extensively than any other production-based competition class. And, as a bonus, it can showcase the synthetic fuel technology that Bentley and sister firm Porsche are heavily pursuing to extend the future of combustion engines.
No, the Continental GT GT3 it will run on the hill won't get close to Dumas's outright record in the ID R. But, frankly, nothing is likely to do that for years.
And, in some ways, the Time Attack record might actually be harder to beat: the current record of 9min 36.559sec was set last year by David Donner in a Porsche 911 GT2 RS Clubsport that had been honed for use on the mountain over the course of several years. Even with manufacturer support, with the constraints of the class rules Bentley isn't just going to sweep in and shatter that record without having to put in a lot of effort.
Which, ultimately, is why this is a Pikes Peak record bid worth getting excited about: it's an extreme machine taking on an extreme course. And Bentley is clearly taking this seriously. The evidence for that is clear: I mean, really, just look at the size of that rear wing…
READ MORE
Bentley plots £1.5m ultra-exclusive open-top sports tourer 
New Bentley Continental GT Speed brings 650bhp, dynamic focus 
https://www.autocar.co.uk/opinion/motors...ng-excited