09-03-2021, 09:38 PM
Opinion: Why Kimi Raikkonen was unique in F1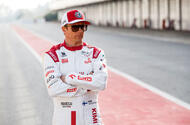 Formula 1's least corporate driver has announced his retirement from the sport
This is it, as Kimi Räikkönen puts it. The Iceman, who turns 42 next month, has announced he will finally retire from Formula 1 at the end of this season. In truth, he's made the decision before it was taken for him, but like everything with Räikkönen, the message to the world was made on his own terms, via social media – and even with a hint of sentiment (which is less in character).
Twenty-one years. That's not a bad knock, even if there were a few in the middle when he left F1 to go rallying and dabble in Nascar. Famously, he made his grand prix debut for Sauber in 2001 on the back of just 23 car races on the junior slopes – and yet immediately looked at home at the pinnacle. I was at Monza a year later, almost exactly 20 years ago, when Räikkönen was announced as Mika Häkkinen's replacement at McLaren for 2002 – one socially awkward Flying Finn for another. What a weekend that was: F1 had travelled to Italy in the same week as the terrorist attacks of 9/11 amid a climate of fear and confusion over what might happen next. The McLaren announcement was a welcome diversion. Then on the Saturday afternoon, word filtered through from Germany that Alex Zanardi had been severely injured in a terrifying Indycar crash at the Lausitzring. There has been so much water under the bridge for all of us since then.
Through it all, Räikkönen is pretty much as he always was – just not as quick. At McLaren, he was generally sensational and immediately proved a worthy successor to double champion Häkkinen. There were some great days, the standout being Suzuka 2005 when a wet qualifying session left him P17 on the grid, one place behind title rival Fernando Alonso. How the pair tore through the field became the stuff of F1 legend, Kimi flying past a helpless Giancarlo Fisichella at the start of the last lap to secure his greatest win. Just wonderful.
He won his world title in his first year at Ferrari in 2007, of course, stealthily making up 17 points on rookie sensation Lewis Hamilton in the final two rounds to snatch an unlikely crown as McLaren imploded amid Alonso and 'Spygate' acrimony. Räikkönen should have kicked on from there, but strangely we'd already seen the best of him. He was outperformed the following year by Felipe Massa, and by 2010, Ferrari was paying Kimi not to race in F1.
He joined Citroën and completed two rough-and-tumble seasons in the World Rally Championship, for which he deserves eternal credit. That was brave, and even if there were too many crashes, the speed and commitment were never going to be lacking. But at least as equally impressive was the phoenix-like comeback to F1 in 2012 with the Lotus-badged team formerly known as Renault. He had everything to prove back then, which is perhaps why he delivered superbly, finishing third in the world championship and embellishing his own growing legend by snapping at his engineer on the radio during his drive to victory in Abu Dhabi. "Leave me alone. I know what I am doing." It sums up his career, doesn't it?
Those performances at Lotus earned him an unlikely return to Ferrari in 2014, with whom he stayed for five more largely underwhelming years, adding a solitary victory in the last one at the US GP for a tally of 21 F1 victories, one behind Damon Hill, one ahead of Häkkinen.
The return to where he started, at Sauber (under the badge of Alfa Romeo), has been a neat and, at three years, remarkably long coda to a weird career. Through thick and thin – and overall there has been more of the latter – the fans have loved him because of his refusal to play the game, for liking a drink or three, for the throwback rebel attitude. He raced around Monaco one year in a James Hunt helmet, much to the delight of his loyal and devoted followers – and when Michael Schumacher retired for the first time at the end of 2006, he told Martin Brundle live on TV that he'd missed a goodbye moment on the grid because he was "having a shit". Very funny, very Kimi – and also rude and disrespectful.
Räikkönen will walk away from F1 without a backward glance, completely unconcerned what any of us think of him and without a care how his career is judged. His refusal to compromise, to race only on his own terms, to ignore the media fluff and yet remain part of the scene for more than two decades… you have to admire that. But given how little he cares about the impression he has made, I struggle to care too much now he's leaving. The Iceman schtick grew old quite a long time ago for some of us – although not for the millions out there for whom he can do no wrong.
It's hard to imagine he won't pop up in something else soon, because for all his insouciance, Kimi Räikkönen loves motorsport. It'll be fascinating to see what he does next, and being Kimi, people will want to follow him and know all about it, whether he likes it or not. Meanwhile at Alfa, he finally frees up a seat for a hungry young driver with everything to prove. It's about time.
So a great grand prix driver? He was, for a while. But that was a long time ago.
READ MORE
Formula 1: driving Kimi Raikkonen's race-winning Lotus E20
Why Kimi is the world's fastest man (sometimes)
https://www.autocar.co.uk/opinion/motors...-unique-f1