07-21-2021, 06:03 PM
Opinion: Why dampers are the key to EVs being fun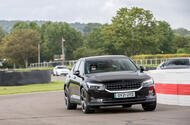 With the Polestar 2 and its trick suspension, the Swedes have shown that affordable electric cars can be driver's cars
It's the age-old dilemma for any car manufacturer: how to make a vehicle that appeals across multiple markets. Not only in looks and style, but also in the way it drives. 
As Steve Swift – great name for the director of vehicle engineering at Polestar – told me recently: "The US likes a very soft car, while China is like the US only with bells on. They can put up with an incredible amount of shake that the Europeans, and especially the UK, would never tolerate."
So what's the answer? Trick dampers, if you believe the firm. The Polestar 2 is available with a set of Öhlins dual-flow valve units (for £5000, among other upgrades) and we've written about these before. With 22 'clicks' to vary the damper settings, Matt Saunders thought the car was set up too harshly when he first drove one last summer.
Since then, Polestar has backed the settings off. Those original launch cars were set at eight front and rear, whereas customer cars are now softer and on 11.
Recently, we got to experience the full range of settings, from two/three (front/rear) all the way to 18/20. As you'd expect, they feel like completely different cars, one stiff and taut both on circuit and road, the other with more play and a sense of movement. It means the same 2 has, in theory, the possibility of appealing to the Chinese and us.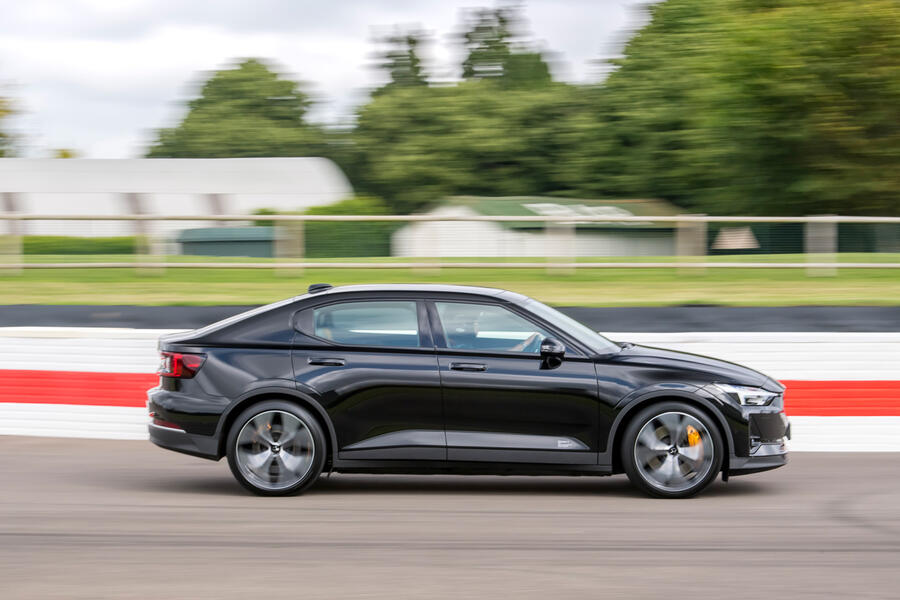 The key is that neither feels out of control. Even at the extremities of their settings, the dampers don't cause the car to rattle or float, and they give a feeling of confidence and cohesion to the 2. 
If it was me, I'd have them wound right off. The road comfort is better in 18/20, so they're more suited to the pitted and weird asphalt in this country. 
Surprisingly, they aren't unbearable on the circuit. Yes, they cause the car to pitch about more, with a greater sense of yaw from the rear, but if I'm honest, I prefer that. It almost feels like a car on historic crossply tyres, with more movement and greater interest. Dare I say a greater sense of reward? There's no way this set-up would be as quick, but it is more fun. There's some playfulness about it, a commodity that's more often than not missing from an electric car.
All this comes, of course, with the massive caveat that hardly any Polestar 2s will ever do a track day. But it does show what's possible with the 2 and how Polestar is approaching its cars.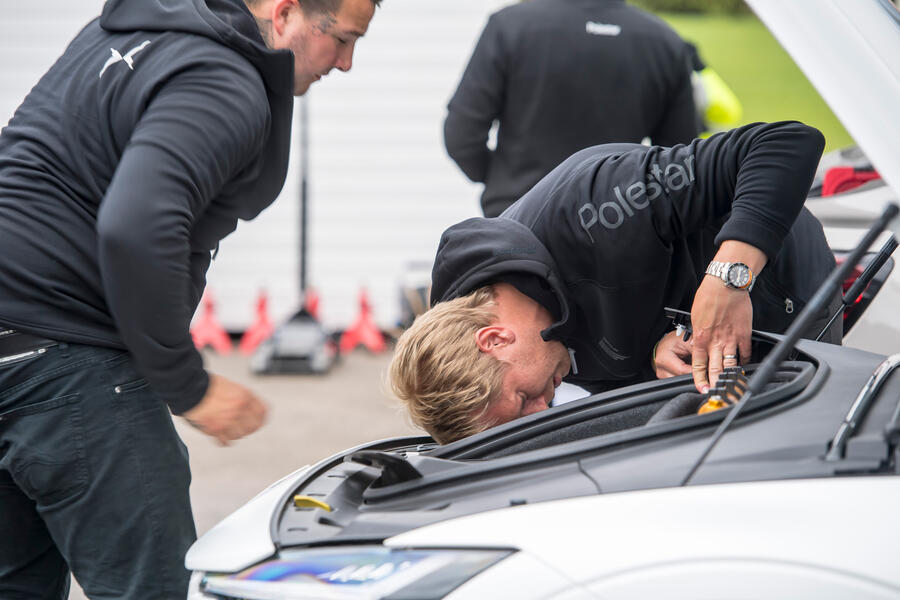 Sustainability is incredibly high on Polestar's agenda, but so is how the vehicles drive. Handling is vitally important to the Swedes, with the firm constantly at pains to stress this is a red line that won't be crossed. 
Given the efforts they've gone to with the standard 2, and the uprated one-off version launched at Goodwood recently, you'd have to say that so far they're delivering on that promise. As Porsche has proved with the Taycan, maybe electric cars can be more than simple point-and-squirt machines.
READ MORE
Experimental Polestar 2 brings power hike and chassis upgrades
New 2022 Polestar 3 will be US-built electric performance SUV
Polestar 2 gains front-wheel-drive entry variants from £39,990
https://www.autocar.co.uk/opinion/electr...-being-fun