09-19-2021, 08:07 AM
Opinion: Why it's good that the Goodwood Revival is back
As the crowds prepare to descend on West Sussex, here's what to keep an eye out for
We missed it last year. Hell, we missed everything, didn't we? But for UK motorsport fans, September just wasn't quite September without the Goodwood Revival. The return this weekend after the Covid hiatus once again promises to be the highlight of the racing season.
What is it that makes the Revival so popular? The time warp to some sort of make-believe historical mash-up that mixes wartime jive with 1950s rock 'n' roll and '60s mod culture can't help but make you smile. But for all the clever touches around the pristine West Sussex Motor Circuit and the myriad themed features – of which there are plenty this year – it always comes back to the action on track. The racing is invariably fantastic thanks to a stellar cast of beautiful machinery driven by world-famous drivers.
The highlights this year? The John Whitmore Trophy stands out from a packed schedule across three days. Named in honour of one of the great 1960s saloon-atics, the 45-minute two-driver race on Saturday features a grid dedicated to the Mini Cooper – not to mention by our count 11 past winners of the Le Mans 24 Hours. Among them is the full line-up from Audi's 2011 R18 turbodiesel winner. What better way for André Lotterer, Benoît Tréluyer and Marcel Fässler to mark the 10th anniversary of their first of three Le Mans wins than by pelting around Goodwood in perfectly prepped Minis?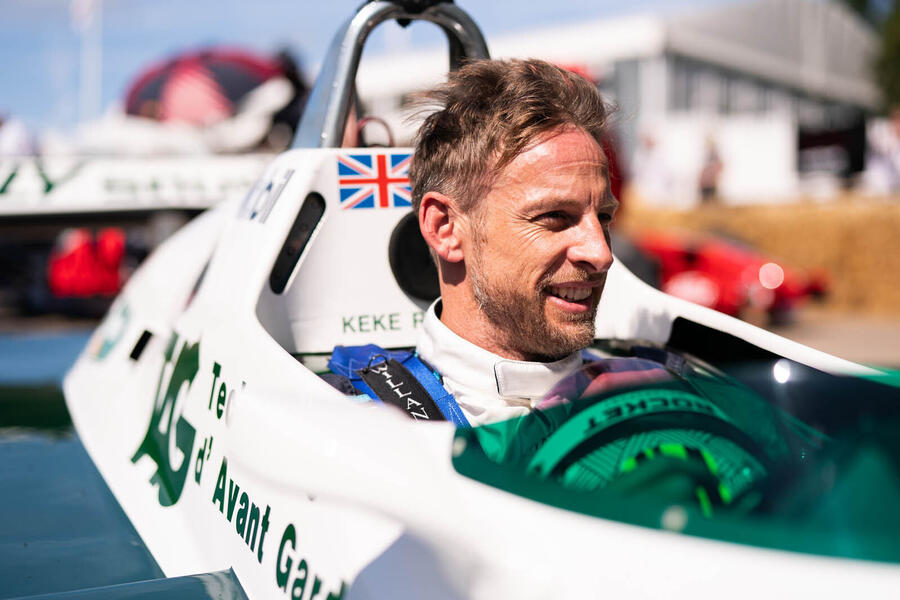 On Friday, a Formula 1 world champion will take his Revival bow when Jenson Button joins old friend Alex Buncombe in a Jaguar E-Type for the Stirling Moss Memorial Trophy. The Goodwood appearance is another adventure for the 2009 F1 title winner to add to his increasingly varied motorsport smorgasbord, Button lining up on an early 1960s GT grid now said to be the most valuable at the Revival. Two Ferrari 250 GT SWBs are on the entry, while fellow Sky F1 commentator Martin Brundle also drives an E-Type with his son Alex. Button and Buncombe will return in an AC Cobra in the Royal Automobile Club TT Celebration on the Sunday, while Brundle Sr lines up in what is traditionally the centrepiece race in another Cobra shared with ex-BTCC racer Bobby Verdon-Roe. Brundle is set for a busy Revival because he'll also race a Jaguar D-Type in the Sussex Trophy 1950s sports car race on the Saturday. He really does love this event.
It's good to see new generations of big-name drivers also finding the lure of Goodwood too hard to resist. We're used to seeing ex-F1 racer Jean-Éric Vergne racing on tight street circuits in electric-powered Formula E these days, but the Frenchman is embracing something a little more traditional this weekend. He's signed up for the Mini shenanigans in the John Whitmore Trophy, will share a semi-lightweight E-Type with Andrew Haddon in the TT and is even game for the 'celebrity' half of the St Mary's Trophy saloon car double-header, driving a little Austin A40. It's the turn of late 1950s/early '60s racers for the tin-top crowd favourite this time, and entertainment is guaranteed as the A40s take on Jaguar Mk1s and a monstrous Ford Thunderbird driven by Bill Shepherd and Glickenhaus Le Mans racer Romain Dumas. The big American car will be rapid on the straight bits, but might find itself vulnerable to attack around the turns.
Away from the racing, Goodwood's track demonstrations always create evocative moments and this year promises something extra special. The first Revival to take place since the death of Sir Stirling Moss, who died last year aged 90, was always likely to be poignant and emotions will run high when 'Mr Goodwood' is celebrated with what might well be the biggest parade of Moss-related machinery ever gathered. The big question is will his 1955 Mille Miglia-winning Mercedes-Benz 300 SLR, so rarely seen out of the company's Stuttgart museum, run on track or remain confined as a static display? Let's hope it's the former.
https://www.autocar.co.uk/opinion/motors...vival-back