08-08-2022, 03:52 AM
Opinion: Why the Festival of the Unexceptional is an annual highlight
1994 Vauxhall Astra Merit took home the overall gong
Record crowd gathered to see 1994 Vauxhall Astra crowned winner of Concours de l'Ordinaire
A gloriously unglamorous 1994 Vauxhall Astra Merit won the Concours de l'Ordinaire at the sold-out Festival of the Unexceptional, reaffirming just why this event remains one of the highlights of the car calendar.
Featuring a 1.4-litre engine producing just 59bhp, the non-metallic red hatchback has a great back story with current owner Samuel Allan. He bought the car off a neighbour after eyeing it up for nearly a decade and eventually managed to seal the deal after leaving a note asking if the person wanted to sell it. 
Even among the superb collection of 50 cars lined up in the Concours de l'Ordinaire, the Astra stood out, partly because of its Garfield toy stuck in the back window, a nice nod to a trend in the car's heyday.
The FOTU is a brilliantly eccentric go-to event. Even the long queues to get in tick a particular box in our British psyche.
I went along in a Mazda MX-3, featuring a characterful 1.8-litre V6, and as the kids and I sweltered in its non-air-conditioned interior, breathing in a not-so-healthy dose of fumes from the Triumph TR7 in front, it was amazing to see the reaction from the younger lot.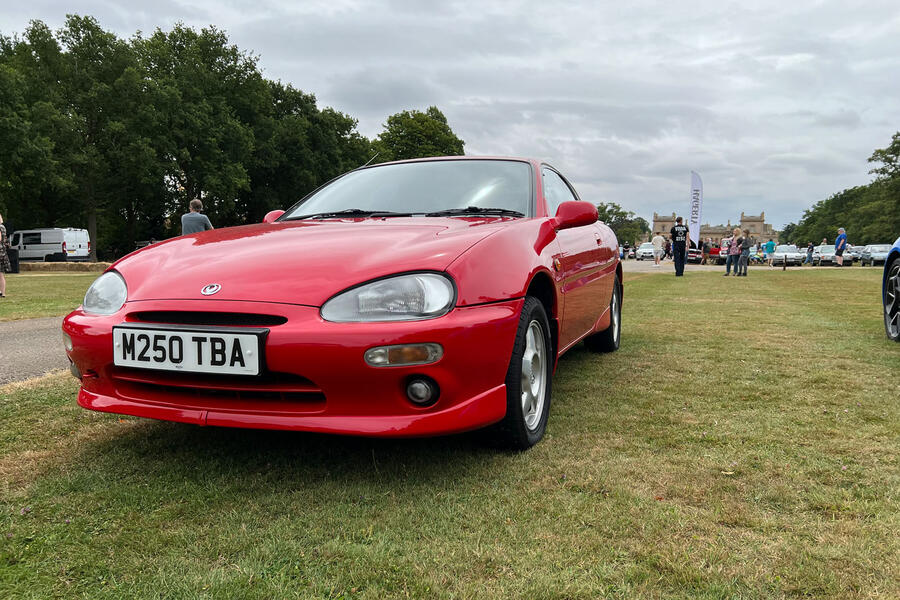 My eldest was delighted that the Mazda had a screen – a tiny digital display to show what the radio is tuned to – and that got me explaining about cassette tapes and different frequencies on the FM stereo. If nothing else, it meant there were no arguments about what music we were listening to, as my memory of precise bandwidths only stretches to 102.7FM.
Once we were in, we made a beeline for the Concours de l'Ordinaire, via a stop to gawp at a pair of Bond Bugs, and where my personal favourite was a Mk2 Volkswagen Golf. That's mainly because it reminded me of my Gran's car from when I was growing up, rather than any particular presentational reason (although it was absolutely immaculate, with a perfect pin-stripe running the length of it).
And that's really the lesson here: gloriously celebrating the ordinary cars that most people have actually experienced in their own lives.
Other highlights were an Austin Maestro post van, complete with the Royal Mail driver's handbook and an owner in the corporate polo shirt, and a guy who had driven his Hyundai Pony all the way from Poland only to have to leave as soon as the winners were announced, because he had work back in his home country the next day.
Lots of Autocar's staffers were also out in force. Steve Cropley was one of the judges (an unenviable task, given the quality of the winning Astra and a Skoda Estelle that came second), while road-testers Matt Saunders and Illya Verpraet were also there to enjoy the ordinary.
It's the purity of the event that appeals. A Jaguar E-Type turned up but looked so out of place that the crowd didn't really give it the time of day as it drove down the boulevard. Even our MX-3 felt a bit out of place, as if its coupé shape and exotic V6 were almost a bit exceptional. Certainly the hordes of Vauxhall Cavaliers felt more on-message.
FOTU is a proper car show. There were a couple of stalls selling parts, but the main event dominates and was simply a selection of very ordinary cars parked in a field. People were wandering around, geeking out with their cameras and chatting to owners, with no distractions like you get at so many of these sorts of places. Stick it in your calendar for next year.
https://www.autocar.co.uk/opinion/used-c...-highlight