02-02-2023, 02:55 PM
Opinion: Why the Geneva show is expanding across continents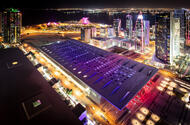 The Doha-based event is expected to draw around 200,000 visitors
New Qatar-based motoring festival, created by Geneva show organisers, to take place in October
The Geneva motor show has been cancelled every year since 2020, yet you can bet the next show to bear its name will not suffer the same fate.
In a move that still requires some explaining, the Geneva motor show will spawn a sister show in Doha, Qatar this October. This will be called GIMS (Geneva International Motor Show) Qatar. The Geneva show itself is slated (again) to return in February 2024. One is not replacing the other, although as of now we can sure only one is definitely going to go ahead. 
That's the one in Doha. Whatever the prevailing mood around motor shows and the viability of them, Qatar is involved here and with its financial strength and state goals to reposition Doha as a tourist destination, this show will go ahead and cannot be seen to fail. After all, Doha has held a motor show before, and attracted notable global debuts beyond the expected limited-run supercars and super-4x4s such as the Volkswagen XL1.
Autocar will go and report on the show, and whatever cars and executives are there, but how many will be there? I've spoken to a senior contact across two of Europe's biggest car makers who want nothing to do with the Geneva show wherever it is held, claiming the 'force majeure' write off of the 2020 Geneva show (in Geneva) at the 11th hour due to Covid left some scars that won't be healed and some financial black holes that won't be filled.
The expansion of the Geneva show onto another continent, let alone the main show itself, must be considered in this context as to what the organisers are up against getting this new show off the ground.
In the Middle East region, Toyota reigns supreme. In 2021, the Toyota Hilux was the region's best seller, followed by the Toyota Camry. The Toyota Land Cruiser, Toyota Corolla, Toyota Yaris and Prado were also in the top 10, according to figures from Jato's Felipe Munoz. Nissan and Hyundai are the only other car makers in the top 10. 
In Qatar, 26% of car sales are premium models, which is higher than Europe's 22% and China and the US, both with 17%. 
Yet in real terms the Middle East is small for car makers: it makes up 0.8% of Mercedes' global volume, 0.5% of Audi's, 1% of BMW's and 2.9% of Jaguar Land Rover's.
All of which, in a world of tightened budgets and a seemingly terminal decline of the motor show, makes it seem even more perplexing that anyone would try and launch a major international motor show in such a relatively small market that probably doesn't need a few air conditioned halls with static cars to help turn the dial on sales and coverage.
It's hard to see the end game here: is this being done to help Qatar get a motor show or to keep Geneva afloat and relevant? Perhaps both. Perhaps this is our industry's version of sportswashing. 
We wish them well, but it's telling that the Doha organisers are "not allowed" to yet reveal any car makers who are attending, given such an announcement could only be seen as a positive for both parities. Why the secrecy?
https://www.autocar.co.uk/opinion/motor-...continents