09-25-2021, 07:00 AM
Opinion: why checking a used car is still crucial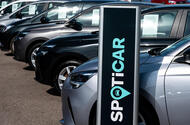 A recent experience with Stellantis's new Spoticar scheme shows that it's still vital to check a used car
Mouse to house, one leading online used car retailer calls it. The message is you can confidently buy from us online on the strength of our vehicle photographs and descriptions and our reputation, and have the car delivered to your door.
It sounds hard to resist but a recent survey by Vertu Motors, which owns Bristol Street Motors, has found that most buyers prefer to visit a dealership when they buy a car, rather than view and buy it remotely online. "The desire to build a relationship with your salesperson, negotiate on price and get a feel for the vehicle are as important as ever and, in the minds of today's customers, online methods simply are no replacement for doing that in person," said Robert Forrester, chief executive of Vertu Motors.
Here at Evans Towers, we like to see and touch what we're buying before we buy it too, so when Mrs Evans said she'd seen an advertisement for a Mini Cooper automatic that looked promising, we rang to check the car was available and drove 70 miles to see it.
I shared her excitement. "Striking Mini Cooper auto with only one previous owner," trumpeted the ad. "Don't miss this stunning low-mileage example! 12 months warranty, Next MOT due 15/09/2021, Full dealership history, Excellent bodywork, Interior - Excellent Condition, Tyre condition Excellent, Blue, UK's largest Peugeot Dealer Group. Every car multi-point checked and including 12 months warranty."
The car was an approved used Spoticar vehicle at Robins & Day, a Peugeot dealer in Maidstone, Kent, so, we assumed, thoroughly well prepared under the terms of the Stellantis-backed programme recently launched by the manufacturer group to counter the new online sellers. What could possibly go wrong? After all, during our phone conversation, the car salesman had confirmed the Mini was in excellent condition. He even suggested we pay a £99 refundable reservation charge to secure it, "because it's likely someone will go online and buy it". Excitedly, we paid up.
An hour and a half later, we were standing beside the car. 'Excellent' it was not. All the wheels were damaged – one so badly that a chunk of tyre was missing. The passenger door had a nasty scratch and the rear wheel-arch cover was badly rubbed. The roof had a largish scratch, too, and the top of the rear bumper was chipped and marked. The salesman we'd spoken to earlier approached us, but when challenged over the condition of the car, he replied saying it was "excellent – for its age". We left.
Back home, I checked the ad again and could see the Mini's nearside had been photographed at an angle to conceal the damage and, most shocking of all, the least marked of the wheels had been displayed four times to fool buyers into believing all four were in good condition.
I contacted Spoticar for an explanation. They forwarded the following statement from Robins & Day: "We're very sorry that Mr Evans did not receive the usual quality of customer service. The vehicle had just arrived in stock and was in the process of wheel refurbishments and preparation. However, due to some procedural errors, this was not made clear to Mr Evans during his telephone conversation or inspection of the vehicle. The errors that occurred are being reviewed and addressed to ensure this doesn't happen again."
Mouse to house? I'm sure that, done properly, it works. However, call me old-fashioned but I'll stick to seeing and driving my used cars before buying them.
https://www.autocar.co.uk/opinion/used-c...ll-crucial