05-06-2023, 12:11 PM
Ora Funky Cat 2023 long-term test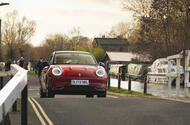 After this Chinese newbie's road test this month comes the longer, everyday test
Why we're running it:  Ora is one of a number of Chinese EV brands hoping to make it big in Europe. Does the Funky Cat, its first model, land on its feet?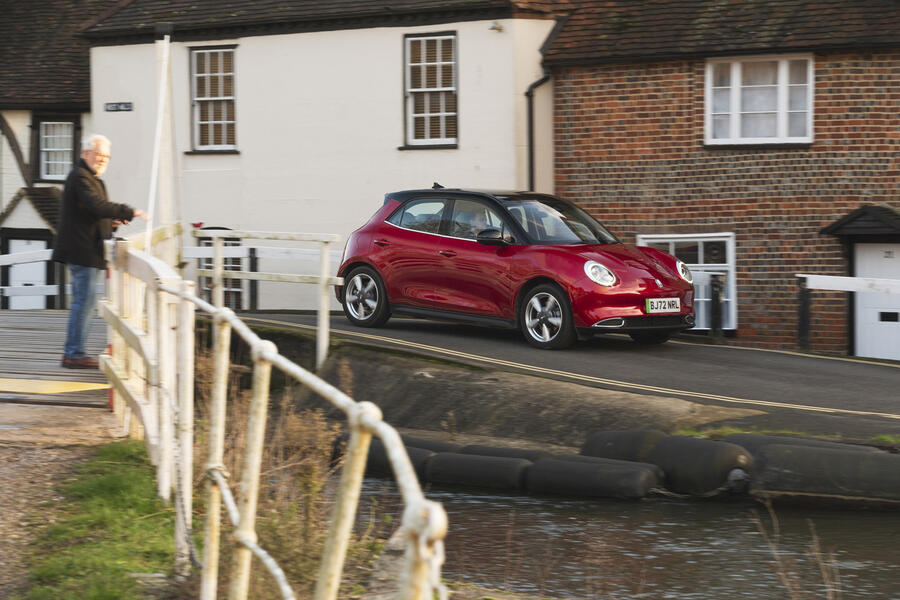 Life with an Ora Funky Cat: Month 3
Stand by for an Autocar first: Ora takes on Ssangyong in a twin test tussle - 26 April
I have been doing some cross-shopping. Checking out the competition, if you will.
It's hard to know exactly how you approach that as a prospective Ora Funky Cat buyer, because it's ostensibly a premium electric hatchback, but it's not that expensive in the grand scheme of things, isn't overly competitive in raw statistical terms and comes from an unfamiliar brand. Every conceivable rival seems to differ in at least one core respect.
So I've taken the simple approach: find an EV that's at least comparable on price, drive both cars for a day and arrive at a definitive victor. A twin test, if you like. Very original… but cars like the Ora don't often get the honour of starring in a glittery showdown in Autocar, so let's try it.
The competition here is not the obvious contender, standing taller and being positioned differently – but as a lesser-known, five-seat electric car with a circa-200-mile range and a starting price just north of £30,000, the Ssangyong Korando E-Motion (obligingly provided by long-term test car custodian Jack Warrick) could actually be one of the Ora's closest rivals.
There are more obvious comparisons, of course, such as the MG 4, Cupra Born and Mazda MX-30, but this could be the first Ssangyong versus Ora twin test you've ever read. Who'd have thunk it?!
You need only look at the two side by side to determine which is the more useful car in raw utility terms. Not only does the Ssangyong have more leg and elbow room in each row, but it also offers far better visibility at all four corners and has a 551-litre boot – cavernous in comparison to the piddly thimble the Funky Cat offers. 
The advantage is less clear-cut with range per charge, because the Korando's 211-mile WLTP figure doesn't exactly set the world alight and is only slightly better than the Cat's 193 miles. But it can charge at 100kW, which means it'll be whizzing away from the chargers and off into the sunset while the Cat slowly laps up electrons at a mere 64kW. That said, though, the day before I tried the Ssangyong, Warrick advised me that a charging flap fault had stranded him in a car park for six hours the previous day, and I can't say I've had the same experience with the Ora – yet…
The Korando may be a bigger and more obviously useful proposition, then, but it's definitely more on a par with its Chinese rival when it comes to playing The Irritation Game. This is nothing to do with Benedict Cumberbatch, but a crucial test to which I subject each test car in the first few miles we spend together: just how long will it be before I find a feature that really riles me up?
The Ora is one of the best players I've yet encountered. It was mere minutes after taking delivery that its 'helpful' AI assistant's insistent warnings had me quivering with rage. "Please brake," she says softly if someone brakes four miles ahead. "Don't get distracted!" she advises if I yawn, cough or gaze for more than two seconds at an interesting bird at the side of the road. I keep meaning to put some electrical tape over the in-car camera.
The Korando isn't quite so loquacious, but that doesn't mean it's any less frustrating to rub along with. "Bing, bang, bong, you're doing something wrong," it implies tunefully with its repeated warning chimes, which are as distracting and grating as they are unhelpful. Because even though this occurred several times in my time with the car, I didn't once work out what it was, er… bonging on about.
The Korean claims back its edge (as expected) when it comes to the fitness for purpose of its infotainment. While a touch rudimentary compared with the likes of Hyundai and Volvo, the Korando's interfaces are clear, intuitive and agreeably quick to navigate because everything is roughly where you'd expect it to be. Conversely, the Ora's tiny touch controls and illogically arranged menus make on-the-move adjustments a near-impossibility, and some truly baffling quirks suggest that more needs to be done to make this car cater to a UK audience.
The radio frequencies are all listed in megahertz, for example, and the 'now playing' scroller seems to only show the song that was on when you started the car. These might seem like minor gripes, but they really do add up.
Still, chances are, if you're in the market for a Funky Cat in the first place, none of the above comparisons will have any tangible influence on whether you go through with the purchase. It's the sort of car you buy with your heart, not your head, because while it may not make outright sense on paper (and there are several cars at this price point that do), you can't help being taken in by its puppy-dog eyes and charismatic conception.
The Korando can't come close for kerb appeal, verging much more overtly towards the 'A-to-B appliance' end of the spectrum, and certainly it seems to elicit fewer smiles and smartphone snaps than the cheerier red car. Plus, while neither makes any discernible effort to provide an engaging driving experience, the Funky Cat gives little away to the SUV in terms of high- and low-speed refinement, manoeuvrability and usable pace.
You might argue this was a twin test that didn't need staging, but as the affordable electric car parc diversifies, and an avalanche of new arrivals vie for your consideration on a weekly basis, it pays to at least run the numbers on these underdogs. There's no real winner in this case, because the two are as disparate in conception as they are close in specification, but that the Ora came away without two black eyes is cause for celebration. Long live the happy little car.
Like it
Softly, softly
It's no dynamic demon, but the Funky Cat's thick tyres and nicely damped suspension do a good job of ironing out the UK's crumpled roads.
Loathe it
Bad Apple
Ora has still yet to introduce Apple CarPlay via a promised over-the-air update and I hadn't expected to miss it this much.
Mileage: 2900
#Back">Back to the top
Stop! - 12 April 
I've yet to meet a forward collision prevention system I don't despise, but the Ora's is especially irritating. Even in stop-start traffic at sub-5mph, it's perpetually convinced that I'm going to floor it into the boot of the car in front. And its softly spoken request that I "please brake" doesn't carry as much urgency as might be appropriate if I were actually about to have a smash.
Mileage: 2580
#Back">Back to the top
Life with an Ora Funky Cat: Month 2
Is the EV growing on us? Well, that's a matter of perspective - 29 March
I recently shared the above photo on Twitter because I was struck by just how massive the Funky Cat looks when parked next to a pair of (what we used to think of as) big family cars.
This is ostensibly a small hatchback, and indeed we consider it a close rival to the likes of the MG 4 and even the much smaller Fiat 500 and Mini Electric. But it's only next to a Range Rover Evoque that its swollen proportions become obvious, and this made me stop and think: why is such a big car so limited in terms of functionality?
Indeed, here's one of several dumbfounded replies to my tweet: "Wow, there was me thinking they were Fiat 500-sized! Why's the battery so small then?"
Good point: a usable capacity of 45kWh makes the Cat's battery a good deal smaller than that of the latest Peugeot e-208, and this despite our car having 110mm of extra space between the axles and standing 60mm wider. Surely a larger power pack could have been crammed into this floorplan? Clearly keeping the centre of gravity low wasn't a priority – just look how close the Cat's roofline is to the top of the Range Rover!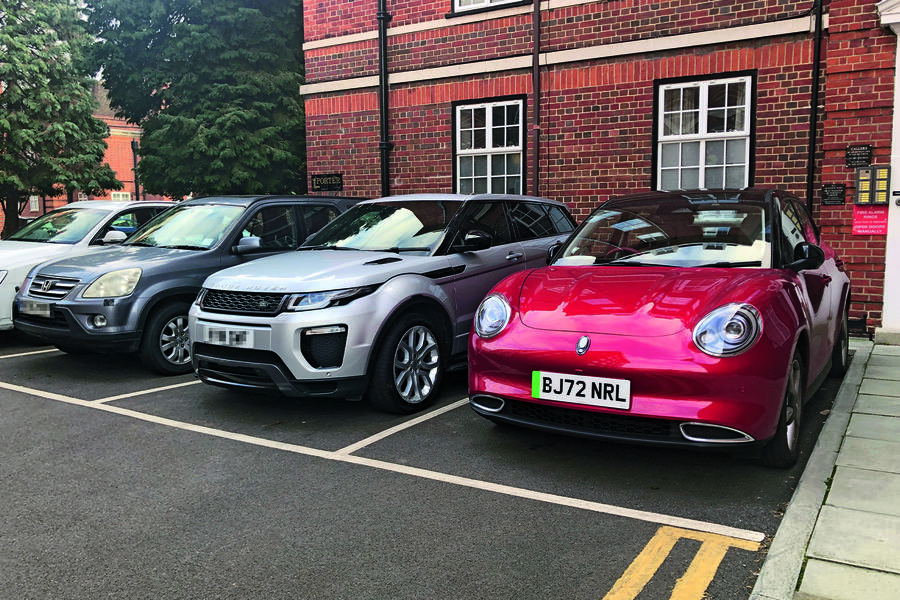 As it happens, I had plenty of time to ponder all this as I nursed the car from Gatwick airport to my flat near Heathrow airport (thanks, British Airways schedule cuts). The Cat had only 60 miles showing when I landed back in England, 50 miles from home. Too close for comfort. Having not planned properly, I was dismayed to discover that Gridserve's exciting new charging forecourt at the entrance to the South Terminal had yet to open and so resigned myself to steering clear of the motorway and taking the slow, suburban way home, and staying below 50mph to eke out every last mile of range.
Heater off, Eco+ mode activated and teeth grinding, I watched red-faced as lorry after lorry lumbered past in the outside lane, and grew increasingly nervous as the traffic built up inside the South Circular, forcing me to do lots of stopping and starting – bad news for efficiency.
I made it by the skin of my teeth and went straight to bed instead of plugging the car in. So it was that I had to crawl into the office the next day with one eye on every lay-by, in case I had to make an emergency stop when the battery died. Which, thankfully, it did not.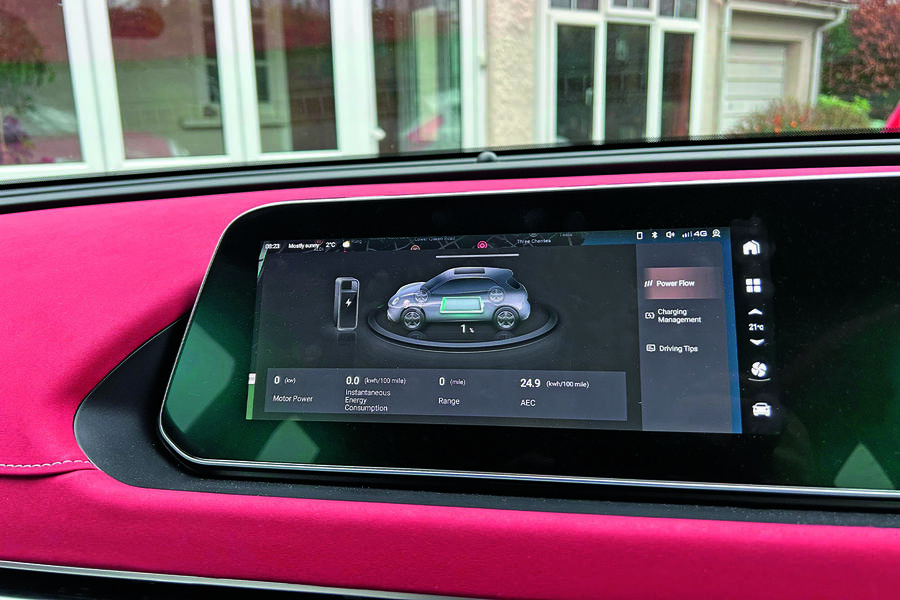 But anyway, I was about to file this report with a picture of the dashboard showing 8% battery remaining – proud as I was with my commitment to hypermiling – when Autocar EV correspondent James Attwood texted to celebrate hitting the 1% mark as he pulled into his driveway in Somerset with the Cat, having left London with 170 miles of range showing. An impressive feat, and one that became a much riskier endeavour once the range dropped below 15 miles when the car's miles remaining readout is unhelpfully replaced with an ominous red "traction battery low" message.
"I was only slightly nervous…" said Attwood, dripping with sweat and visibly trembling.
Is the EV growing on us? Well, that's a matter of perspective - 29 March 
Like
Pleased to see me
I have yet to tire of the protracted happy dance the LED headlights to when the car is unlocked. 
Loathe
Never look back
No rear windscreen washer – or wiper – is a huge oversight on such an upright rear end 
Mileage: 2150
#Back">Back to the top
Icy windscreen? Better fetch that jug... - 15 March
"Ah, a frosted windscreen. No matter, this will be gone in a jiffy," I said to myself one particularly cold morning recently, before climbing in and whacking up the screen heater. And then waiting, and waiting, and waiting... Ten minutes went by before I gave up and ran home for a jug of tepid water. Serves me right for not downloading Ora's phone app so I can pre-heat the car. 
Mileage: 1850
#Back">Back to the top
It's not the best handling EV around - 3 March
You'd expect a car this squat and compact to count urban manoeuvrability among its core attributes, but the Cat is not as easy to thread around London as I'd hoped. Its turning circle of 11.2m is a metre wider than the VW ID 3's and makes this as easy to park outside my flat as the average crossover. Thank goodness for chunky tyre sidewalls and short overhangs. 
Mileage: 1270
#Back">Back to the top
Life with an Ora Funky Cat: Month 1
Welcoming the Funky Cat to the fleet - 22 February 2023
Yeesh. What's redder – the car or my face?
The Ora Funky Cat split opinion when it landed in the UK late last year. When embargoed UK first drives went live, it became abundantly clear that its cheery stance, funny name and competitive pricing couldn't quite compensate for a raft of shortcomings in the dynamic and functionality stakes in the eyes of many a motoring hack. Some reviews were pretty harsh. I, on the basis of a pretty agreeable test drive and objective consideration of rivals, liked it and gave it four stars.
When I got back to the office, the somewhat doubtful road test team made no secret of their scepticism but agreed, at my behest, to reserve judgement until they'd had a chance to get funky themselves – which they now have done. And they, after a much more thorough, multi-day road test, did not like it and gave it two and a half stars.
Allow me to attempt to defend myself. I had just a couple of hours with the car and it was a quite lovely time, all told. The roads were slick, twisty and roughly finished but the Cat felt composed and secure; the infotainment system was poorly integrated but I was promised Apple CarPlay would be introduced in a matter of months; and in light of the astronomical prices being asked for some relatively humdrum metal these days, I thought a few 'quirks' sufficiently ignorable to justify a £30,000-plus price.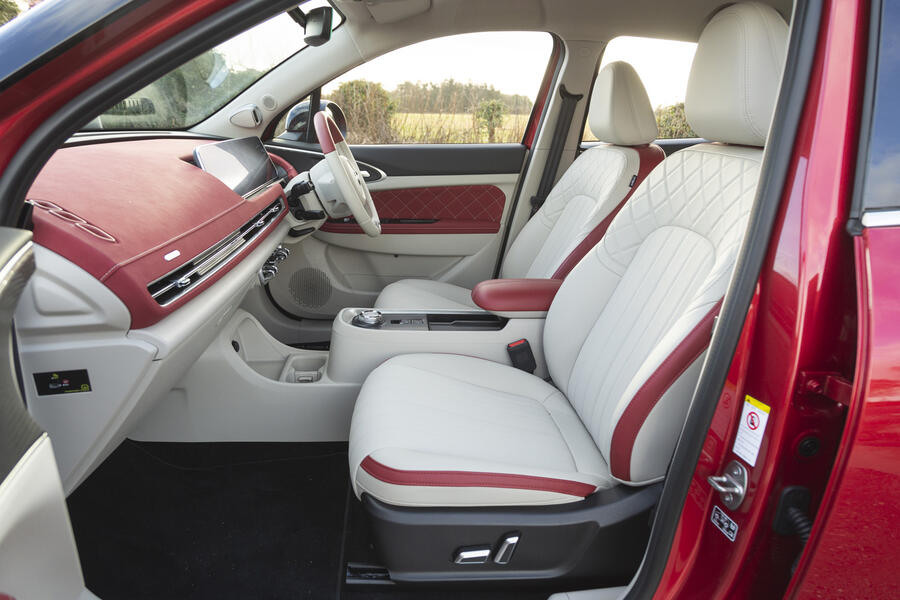 As the road testers have vocally demonstrated, though, the Funky Cat makes an agreeable first impression but over time its lamentable shortcomings are brought to the fore so obviously as to sour the whole experience. But faced with the drudgery of real life, away from Millbrook's fearsome Alpine course and unplugged from the road testers' faithful Amstrad CPC 464, perhaps the Funky Cat can come good and prove itself to be a charming alternative to the more commonly considered names.
The third in a succession of feline-themed long-term test cars to grace my driveway in recent months – but an altogether different moggy from the Jaguar XF and Ford Puma ST before it (must be something about my name) – the Ora Funky Cat should be a pretty agreeable companion, on the face of it.
At this most transformative of junctures for the automotive industry – when both the types of cars on sale and the ways we can own them are being radically overhauled – it pays to consider the odd underdog from time to time. What remains to be seen is just how odd this particular underdog is. Europe-bound Chinese car brands are betting big on the gradual erosion of brand loyalty across the car-buying public, but convincing a long-time Volkswagen Group customer (for example) of the virtues of a strange-looking contraption from an unknown brand with a silly name will be no mean feat. Particularly when its on-paper specification paints it as the runner-up in a number of core areas of competition: charging speed, range and pace.
Convincing me could be less difficult. I do most of my driving in congested suburban London, which means my total mileage is relatively low and my dependence on public charging not as acute as it will be for drivers with more intense usage requirements, so I can't see its real-world range of 160-ish miles and maximum charging speed of 64kW blighting the experience too obviously.
Although it springs to mind that I was similarly optimistic about spending prolonged periods in the capital with the Vauxhall Corsa Electric and Mazda MX-30, and it wasn't long before I grew quite tired of the whole will-we-or-won't-we-make-it routine with them. Let's hope that recent improvements to my local charging infrastructure make this an easier experience.
I also don't foresee the Cat's unimaginative packaging being much of an issue: the boot is comically small, oddly shaped and difficult to load, but apart from the odd bag of eggs and milk, I don't do a lot of load-lugging so I'll happily make do with using the back seats (which, you guessed it, I rarely have cause to use as intended) as a storage solution when required.
I suppose what I'm really trying to ascertain is whether I could be exactly who the Funky Cat is aimed at. I think that anyone whose driving pattern is similar to mine – city-based, low mileage, single occupancy, light loads – could be well served by this quirkily styled but otherwise largely unremarkable EV. It just remains to be seen whether its lacklustre on-paper performance and functionality leave it lagging well behind accomplished rivals like the MG 4 EV and Cupra Born.
Second Opinion
Even though it's not a very good car overall, I find the Funky Cat oddly endearing. It's not bad to drive down a country road, and I like its friendly face. When you live with a car long term, you might want a bit more than that, though. Such as Apple CarPlay.
Illya Verpraet
#Back">Back to the top
Ora Funky Cat specification
Specs: Price New £31,995 Price as tested £32,790 Options Mars Red metallic paint with Starry Black roof £795 
Test Data: Engine Rear-mounted electric motor, 45.4kWh battery Power 170bhp Torque 184lb ft Kerb weight 1,540kg Top speed 99mph 0-62mph 8.3sec Range 193 miles Fuel economy 4.0mpkWh Faults None Expenses None
#Back">Back to the top
https://www.autocar.co.uk/car-review/ora...-term-test